Yankees' win over Blue Jays comes with a price
Cervelli, Nova exit with injuries; Phelps fans nine in superb relief effort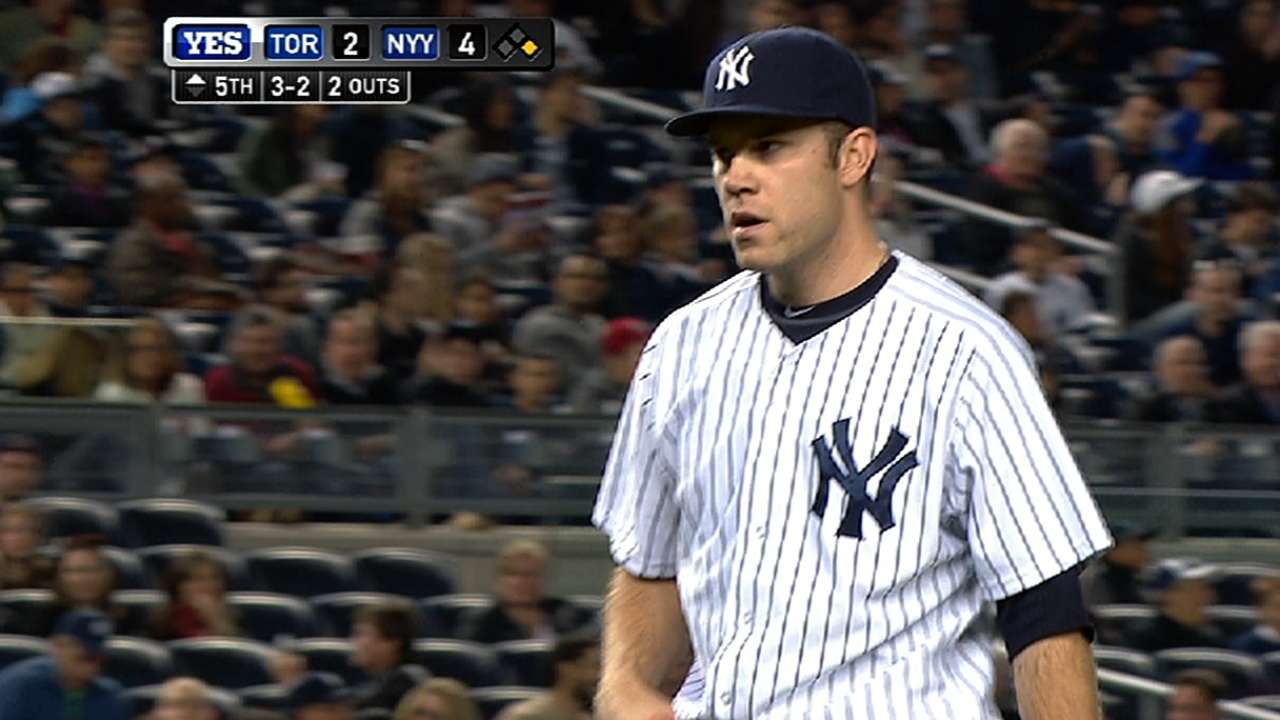 NEW YORK -- Just when the Yankees were about to collect their plaudits as masters of absorbing those repeated blows to their dented roster, the baseball gods dropped a couple of new challenges on their doorstep.

The Yankees lost catcher Francisco Cervelli and right-hander Ivan Nova within the first three innings but were able to withstand three Blue Jays home runs -- two by Edwin Encarnacion -- to post a 6-4 victory on Friday at Yankee Stadium.

To David Phelps, who picked up the victory with four innings of sharp relief in place of the injured Nova, it was just one more example of how resilient this group can be.

"You look, and we've been fighting all year," Phelps said. "We've got a scrappy bunch, guys that have been around and have fought a lot of their careers. We're going to win games in a lot of different ways."

They'll have to keep making those adjustments, as Cervelli's right hand was broken by a foul tip in the first inning, and he will miss a minimum of six weeks after undergoing surgery on Saturday. The Yankees have not yet announced the results of the MRI on Nova's hurting right elbow.

No matter the diagnosis, it has been a rough road for the depleted Bombers, who started the season with stars Derek Jeter, Curtis Granderson, Mark Teixeira and Alex Rodriguez on the disabled list. But manager Joe Girardi said these latest developments haven't swayed his confidence.

"When you're able to accomplish things and continue to go out and continue win games, it's very satisfying," Girardi said. "I'm proud of what these guys have done to this point, and we'll keep fighting. We'll find ways."

The Yankees took advantage of 10 Toronto walks, five of which were delivered by spot starter Aaron Laffey, who allowed two runs in 2 2/3 innings and was designated for assignment after the game.

"I was just kind of all over the place. I was trying to do everything I could to try to find my release point again," Laffey said.

Vernon Wells' sacrifice fly off Laffey in the third inning tied the score, and Lyle Overbay gave New York the lead in the fourth, shattering an 0-for-16 skid by smashing a run-scoring triple to deep left-center off Brad Lincoln and then scoring on a wild pitch.

"We just have good players here," said catcher Chris Stewart, who threw out two runners after replacing Cervelli. "Guys that step up, who have been around the game, that know how to play. Joe puts us in the right spots, and they do the job."

Entering after Nova reported the discomfort in his elbow following Rajai Davis' single up the middle in the third inning, Phelps turned in an excellent performance, striking out a career-high nine.

"You just look at what our starters can do and what they've been able to do if they get the ball to the seventh inning," Phelps said. "Our bullpen has really been taking over from there."

Phelps did the trick, limiting the Jays to Encarnacion's second homer of the night and three other hits over four innings before Joba Chamberlain and David Robertson set up Mariano Rivera's eighth save in eight opportunities.

"In the back of my mind, that's what I was thinking: 'All right, just get the ball to Joba, and let those guys take it from there,'" Phelps said.

Encarnacion has hit five homers in his last four games, and Jose Bautista unloaded a solo blast off Robertson in the eighth inning, but Brett Gardner provided the Yankees with some insurance in the eighth, homering off Darren Oliver.

That set up Rivera, who pitched around three singles to strike out Colby Rasmus and leave the bases loaded.
With the win, the Yanks improved to 12-5 in their last 17 games.

"You get the bases loaded in the ninth, I'm not sure my hair color always needs that, but it's baseball," Girardi said.

Girardi said that it is too soon to outline how the Yankees would replace Nova in the rotation, but Phelps said he would be ready and could throw upwards of 90 pitches if needed. In addition, Adam Warren could claim the role of long man.

"It's not really going to change anything, so there's no reason to dwell on it," Stewart said. "We get guys in who are here to take over in case something happens. It's been happening all year. It's just another situation where we've got to do the same thing."

Catching prospect Austin Romine is expected to join the club from Triple-A Scranton/Wilkes-Barre on Saturday to replace Cervelli. However the arrangement shakes out from here, Girardi said, the formula to keeping the Yankees afloat should be fairly obvious.

"Guys keep stepping up, just like they did tonight," Girardi said. "That was a hard-fought game. You get a gutsy performance by Phelpsie to get us to the seventh inning, and the bullpen comes in and does a good job. You just keep finding ways. That's what you do."
Bryan Hoch is a reporter for MLB.com. Follow him on Twitter @bryanhoch and read his MLBlog, Bombers Beat. This story was not subject to the approval of Major League Baseball or its clubs.