Bailey on wrong end of pitchers' duel in DC
Righty impressive, but bats held to one hit for second straight game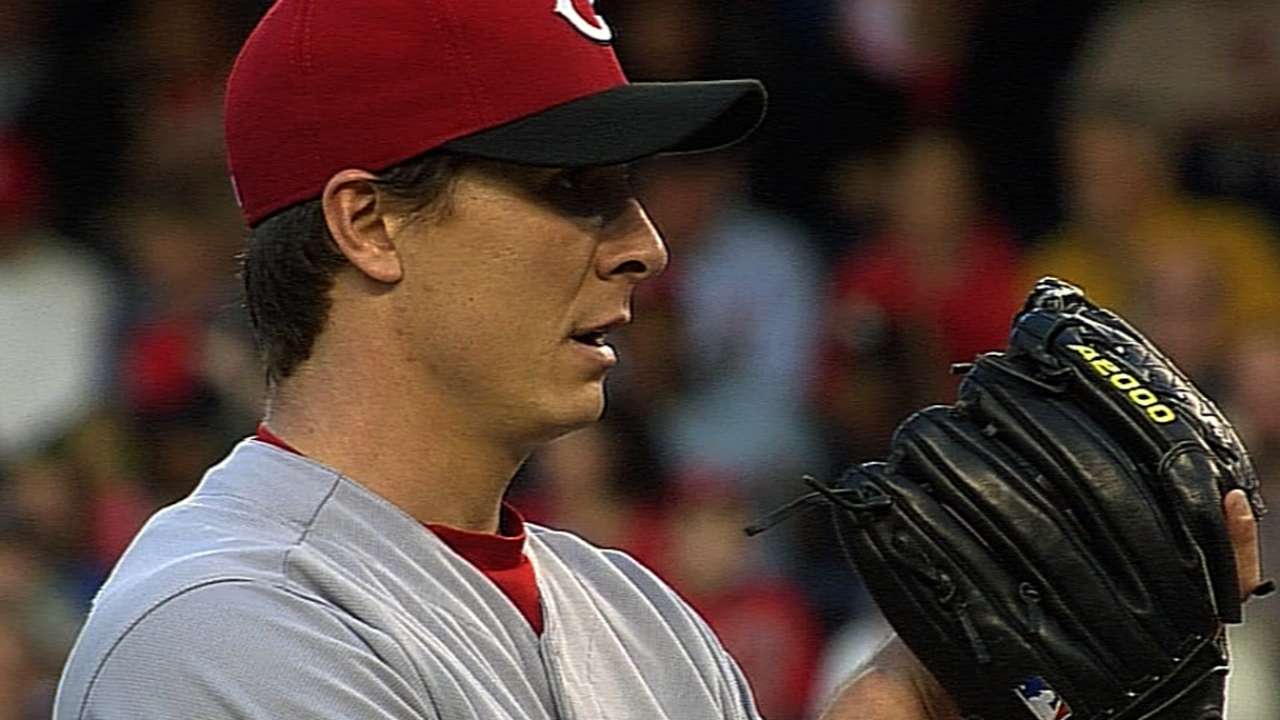 WASHINGTON -- Reds manager Dusty Baker sat at his desk after Friday night's game and tried to explain one of the great mysteries of baseball. The skipper had just watched his team take some very good hacks at Washington right-hander Jordan Zimmermann, and come away with almost nothing.
Zimmermann pitched very well, but the Reds hit the ball in this game. Sometimes they hit it hard, other times not. But in the end, they finished with just one hit for the second straight evening as Zimmermann went the distance for Washington in a 1-0 victory before 32,995 at Nationals Park.
The Reds were one-hit for the second straight time for the first time since July 5-6, 1900, against Brooklyn at Cincinnati's League Field, according to the Elias Sports Bureau. Gio Gonzalez threw eight innings of one-hit ball in Thursday's 8-1 win, and Rafael Soriano finished it in the ninth. In addition, this was the first time a Major League team had allowed one or fewer hits in two straight games since the Cubs did it on Sept. 14-15, 2008, versus Houston in Milwaukee.
The Reds finished with just three baserunners in Thursday's game -- and that's all they got in this one. A Xavier Paul single to start the third was their only hit. Todd Frazier reached on an error in the fifth, and Corky Miller walked three innings later. Cincinnati (13-11) has yet to put a runner into scoring position in the series.
It was clearly frustrating to Baker, because the Reds hit the ball well at times on this night -- it just kept going right at someone.
"The last two nights, they have been good," Baker said. "We had quite a few pitches to hit. We just didn't find any holes."
Zimmermann (4-1) needed just 91 pitches to go the distance. He struck out four and walked one, rarely needing to go deep into counts as the Reds often swung early.
"That was the best I have felt in a long time," Zimmermann said. "I had a really good slider tonight, and a fastball to go with it. We knew they swung early. If you throw a first-pitch strike and make quality pitches … let them get themselves out and let the defense work."
Zimmermann's one-hitter offset a very good effort from Cincinnati starter Homer Bailey (1-2), who gave up just one run on five hits in seven innings.
The right-hander rarely got into much trouble himself, giving up the only run on an RBI single from Jayson Werth in the fourth right after Bryce Harper's triple. Bailey struck out six without a walk.
"You know, on days like this, all you can really do is just kind of tip your hat to Jordan Zimmermann," Bailey said. "He threw a great game. We just so happened to catch him on [one of] his really good nights. What can you do?"
What happened to Shin-Soo Choo on the game's first at-bat might have foretold what this night would bring. Choo hit a grounder that deflected off Zimmermann and right to second baseman Danny Espinosa, who then threw out Choo.
That also happened to Brandon Phillips in the seventh, when his ball banged off Zimmermann and over to shortstop Ian Desmond, who threw out Phillips.
The Nationals had the game's only other real threat in the sixth when Denard Span was on third with one out. Harper then topped one just to the right of the mound. Bailey came off the mound, pounced on the ball, spun and made a quick throw to catcher Miller, who blocked the plate perfectly and tagged out Span.
"I think he threw it in my glove without me seeing it," Miller said with a smile. "Homer, he battled. He had a couple of quick innings and got out of some jams."
The problem on this night was that the offense couldn't support Bailey. Being one-hit two nights in a row isn't fun, but Baker was looking for the positives. He talked about how things go in streaks in baseball, and sometimes there's no rhyme or reason why.
So that leaves a team like the Reds with just one thing to do to solve this mystery -- just keep on swinging.
"I thought we hit the ball actually better than they did, except for a triple to Harper, and then, you know, the base hit to Werth," Baker said. "[Zimmermann] was good tonight, but we didn't find any holes. We've just got to keep swinging until we find some holes."
Jeff Seidel is a contributor to MLB.com. This story was not subject to the approval of Major League Baseball or its clubs.