Zimmermann limits Reds to one hit in shutout
Washington holds Cincinnati to lone knock for second straight game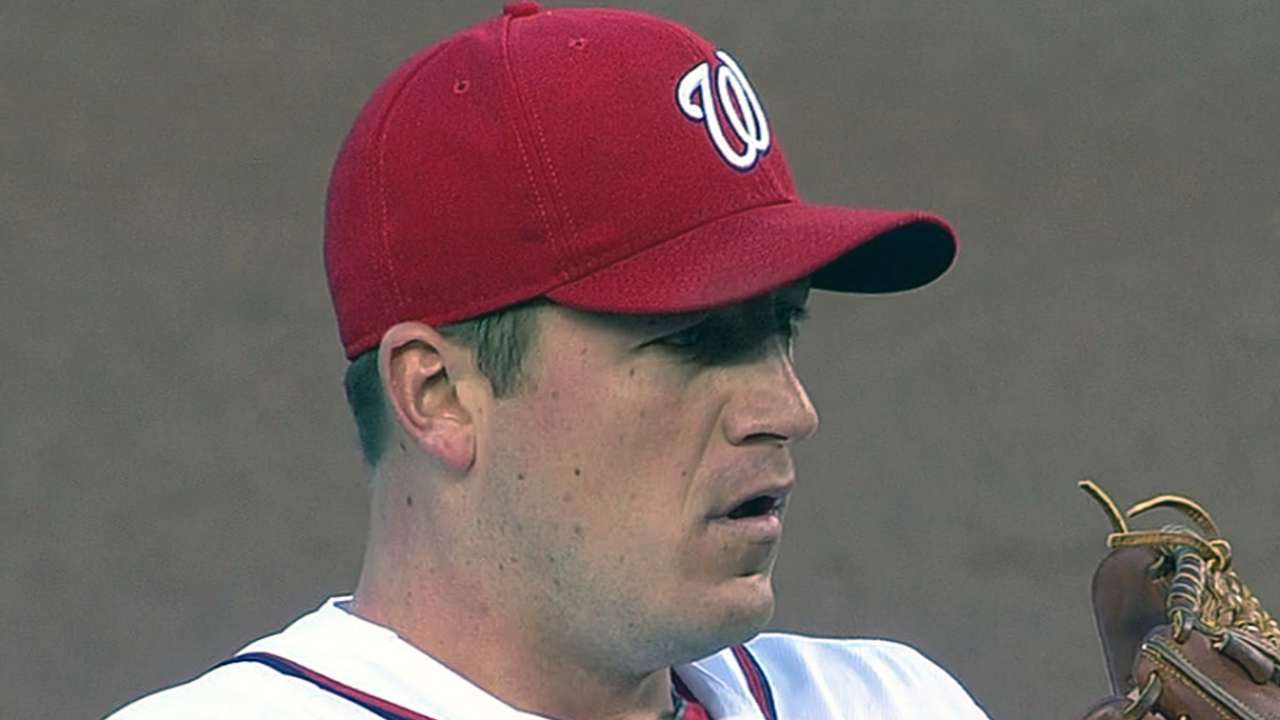 WASHINGTON -- Is Jordan Zimmermann the best pitcher in the Nationals' rotation? As of right now, the answer is yes. Zimmermann pitched his second complete game of the season, and first career shutout, as the Nationals blanked the Reds, 1-0, at Nationals Park on Friday night.
The Nationals have won two straight games and find themselves a game over .500 with a 12-11 mark.
Zimmermann needed just 91 pitches to complete the game. He allowed one hit, Xavier Paul's leadoff single in the third, struck out four batters and had 12 ground-ball outs. He started the game by retiring 12 of the first 13 hitters he faced. The Reds didn't have a runner in scoring position in the game.
Davey Johnson called it the best-pitched game he has seen since he became the manager of the Nationals in 2011.
"Low pitch count, he really went after them," Johnson said. "I never really had any qualms about letting him hit [in the eighth inning]. Even if there was a runner on third and nobody out, I was going to let him hit. … He was throwing the ball good. He earned every right to go all the way. It was fun to see."
Zimmermann has been in the Major Leagues for five years, and he has never pitched 200 innings in a season. Having Tommy John surgery in 2009 is one reason he never reached that goal. Once he came back from the procedure, Zimmermann was on an innings limit until 2012.
"It's just experience. He knows how [the opponents] react to his stuff. He has always been pretty aggressive," Johnson said. "He made good pitches all night. He was pitching out front all night. When you get a club like that, they are going to swing and put balls in play, but they are not going to center on many."
Zimmermann said his goal to reach 200 innings this season, and the way he is going, it won't be hard to reach. He said he is getting deeper into games because he is throwing strikes and trying to not get deep in the count. Zimmermann is trying to put the ball in play, and strikeouts are not a priority this year.
"I don't care about strikeouts. I don't want to walk anyone, so that's what I'm trying to do," Zimmermann said.
Zimmermann said Friday's outing was the best he's felt in a long time.
"I had a really good slider tonight, and a good fastball to go with it," Zimmermann said. "We knew [the Reds] swung early, and we wanted to throw first-pitch strikes and quality pitches, let them get themselves out, and let the defense work. That's what we did tonight."
It marked the second day in a row that a Nationals starter allowed one hit in a game. On Thursday, Gio Gonzalez pitched a one-hitter for eight innings before Rafael Soriano finished the win with a hitless ninth. According to the Elias Sports Bureau, the last D.C.-based team to allow one hit or fewer in two straight games was on Aug. 10-11, 1917, when the Senators faced the White Sox in Washington.
"If my guys attack hitters like they have the last two days, it's going to be a problem. I don't care if it's a good-hitting team or a bad-hitting team," Johnson said. "You don't get a lot of pitches to look at. You are hitting behind all the time. … Low pitch count, you are feeling strong all the way through the game."
Said Reds manager Dusty Baker: "We just didn't find any holes. We've just got to keep swinging. He was good tonight, but we didn't find any holes. We've just got to keep swinging until we find some holes."
Reds right-hander Homer Bailey was almost as good as Zimmermann. Bailey pitched seven innings, allowed just one run on five hits and struck out six batters. The one run scored in the fourth inning. Bryce Harper tripled into the right-field corner with one out and scored on a single by Jayson Werth with the infield in.
"Homer is pretty good. He has a good split-finger. He uses it often," said Harper. "He pitched up in the zone with that fastball. It's a pretty tough pitch. I got pretty good wood on it [on the triple] and I took advantage of it."
In the sixth inning, with a runner on third, Harper hit a ground ball to Bailey, who was able to throw Denard Span out at the plate for the second out of the frame.
"Homer threw excellent," Baker said. "It was a good ballgame, we just came up on the short end of the stick. Things go in streaks, and sometimes there's no explaining why. We went through this last year. Now, we're in that 'Can't buy a run' phase."
But it was Zimmermann who stole the show, winning his team-leading fourth game of the season.
"He pitches his butt off every time he goes out there," Harper said. "He is a competitor, he uses his fastball really well and he throws a lot of strikes. You are going to get a great performance out of him every night."
Bill Ladson is a reporter for MLB.com and writes an MLBlog, All Nats All the time. He also could be found on Twitter @WashingNats. This story was not subject to the approval of Major League Baseball or its clubs.