Goldschmidt, D-backs' bullpen aid Cahill's first win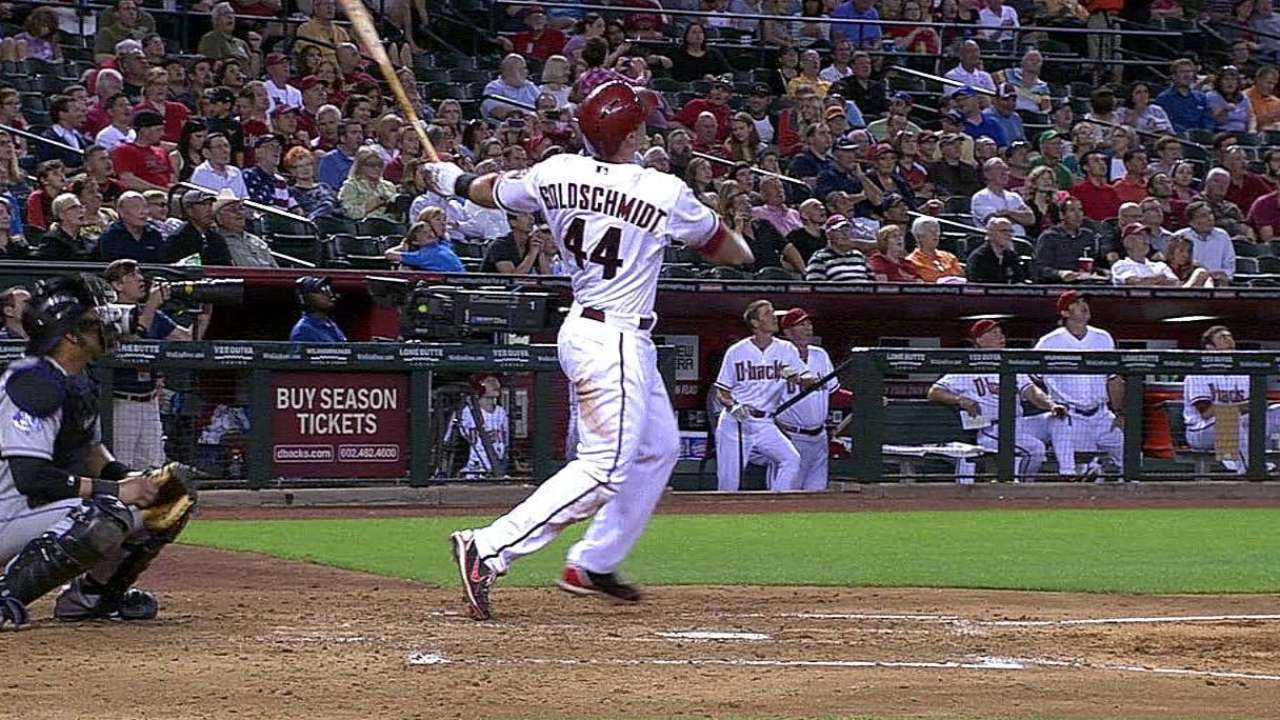 PHOENIX -- The morning after J.J. Putz blew the save on Tuesday evening against the Giants, the D-backs closer received a message from his wife that initially caught him off-guard.
The first words Putz read were, "Great news," a seemingly odd choice for a subject line given that the 36-year-old had just blown his third save in only six chances this year.
What followed next, however, proved to be all the coaching Putz needed to snap out of his early-season struggles. The entire note read: "Great news. The sun came up today."
It was a simple message, but Putz took it to heart and just one day later, the right-hander was back on the mound in a save situation Thursday.
Armed with a renewed sense of confidence, Putz bounced back in a big way, shutting down the Rockies in the ninth to record his fourth save of the season and hand the D-backs a narrow 3-2 victory.
"That's it in a nutshell," Putz said of his wife's message to him. "It's all part of the game. I've been through rough spots before, I'm going to go through rough spots again, it's just a matter of getting through it and trusting yourself."
Unlike his previous few outings, the closer had his splitter working Thursday, especially in the final at-bat of the game in which he struck out Carlos Gonzalez with the sinking pitch.
"I felt pretty good, I was able to command the ball for the most part," Putz said. "The ball felt really good coming out of my hand, the splits were down and I got some chases."
For the bullpen as a whole, not just Putz, Thursday was an important game to get back on track.
Coming off a road trip in which it coughed up five leads, including consecutive blown saves in the club's last two games, the D-backs' bullpen tossed the final four innings of the game to secure the win, which moved the D-backs to within one game of the first-place Rockies.
While Putz turned in a scoreless ninth, Josh Collmenter threw three innings in relief of Trevor Cahill and allowed just one run on two hits.
"Colly was ready for us," D-backs manager Kirk Gibson said. "When you have a guy like that, who can come in and throw strikes, that's what we need. It was a good win for us."
The bullpen needed to be strong because Cahill, who lost to Colorado in his last outing, only lasted five innings. The right-hander struggled with his command, walking four batters and hitting one, and subsequently left the game early with a high pitch count (105).
"It was a little bit all over the place but I was able to get through five and Collmenter was able to pick me up," Cahill said. "I was just falling behind, couldn't put guys away and wasn't getting early contact."
Despite all his struggles, Cahill managed to keep the Rockies at arm's length when they threatened, surrendering just one unearned run on four hits while striking out six. For his efforts, Cahill earned his first win of the season.
"When things aren't going your way, you realize how hard it is hard to win a Major League game," he said. "So I'll take it any way I can get it."
Offensively, Paul Goldschmidt provided the big hit for the D-backs against Rockies starter Jorge De La Rosa, who defeated Arizona his last time out, shutting them out over his six innings of work. Goldschmidt took a 1-2 fastball trailing inside and smacked it for a two-run homer that hit high off the left-field foul pole.
"I knew I hit it well, I was just hoping it would stay fair," Goldschmidt said. "I was watching it go down the line and it ended up hitting the screen on the pole. Obviously, I'll take it."
The D-backs' other run of the game came with a little help from a familiar face. Third baseman Ryan Wheeler, whom Arizona traded to Colorado in the offseason for Matt Reynolds, allowed Goldschmidt to reach base on a throwing error in the second inning. Later in the frame, Wil Nieves gave the D-backs an early lead with a RBI single to left field.
The unearned run snapped De La Rosa's career-high scoreless streak at 18 innings, dating back to April 8.
"He pitched well again, but we were able to scrape across a few this time," Goldschmidt said. "He's a good pitcher, he throws hard, he works both sides of the plate and he has good off-speed pitches too. He's really good. We were lucky to get a few."
Before Goldschmidt put the D-backs ahead for good, the Rockies momentarily tied the game, 1-1, in the fourth with an unearned run of their own when Martin Prado failed to handle a softly hit grounder and Michael Cuddyer came around to score. The error was just the D-backs' sixth all season, which is tied for the fewest in the Majors alongside the Tigers.
The Rockies added another run in the seventh off a two-out RBI double from Troy Tulowitzki before the D-backs finally shut the door.
Tyler Emerick is an associate reporter for MLB.com. This story was not subject to the approval of Major League Baseball or its clubs.