Pierre shoulders blame as Marlins fall to Cubs
Slowey has solid outing as Cubs edge Miami with late offense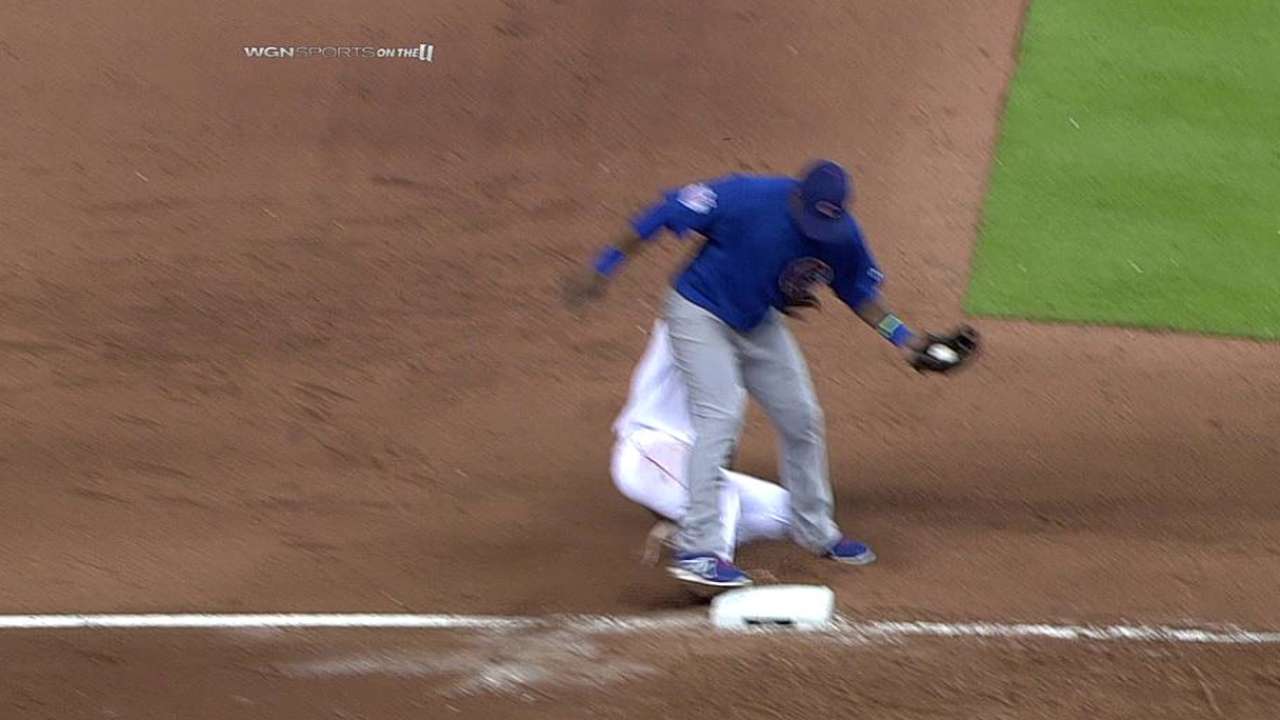 MIAMI -- Since he broke into the big leagues, no one in the Majors has executed more sacrifice bunts than Juan Pierre, who has 163 from 2000 until now.
But it's the failed attempt that took place in the ninth inning on Thursday night that has the 35-year-old distraught.
The Marlins were set up nicely for a ninth-inning rally off Carlos Marmol and the Cubs, but an inability to complete the little things proved costly in Miami's 4-3 loss in front of 15,394 at Marlins Park.
"It's just unacceptable," Pierre said. "I had one job to do. Give yourself up and bunt the guy over. I didn't do it, man. Put this one on me."
Actually, a series of mishaps prevented the Marlins from winning back-to-back games for the first time this season.
In the top of the ninth inning, with two outs, Luis Valbuena laced Steve Cishek's first pitch over the wall in right field for the decisive home run.
"He's just been consistent," Cubs manager Dale Sveum said. "Just his at-bats and obviously his defense. He's got four home runs. He's on pace for 30-something home runs. He's done a great job -- huge pick-up last year."
For the Marlins, there was huge disappointment, because they were threatening off Marmol, who walked Donovan Solano to open the ninth. Pinch-hitter Austin Kearns singled to left, putting runners on first and second with no outs.
Pierre, who takes so much pride in his ability to bunt and practices daily, chopped a sacrifice attempt right in front of the plate. Catcher Wellington Castillo easily handled it and threw to third base to force out Solano.
So rather than having second and third with Placido Polanco up and Giancarlo Stanton on deck, the Marlins had first and second with one out.
Not having a runner on third was magnified because Polanco lined out to deep center field on a ball hit well enough to be a sacrifice fly. Marmol was able to end the game by striking out Stanton on a 1-2 slider that was well off the plate.
"JP needed to get that bunt down," manager Mike Redmond said. "That's kind of the execution we're talking about. We had it set up perfectly. It forces them really to pitch to Polanco with a base open. That really would have changed that whole inning."
Pierre shouldered responsibility.
"Bottom line, in the ninth inning, I didn't get the bunt down," Pierre said. "Pitching, defense, everything went well, except for me getting the bunt down and giving us an opportunity to win that game.
"They clawed back. We got two guys on, and that was the game. Bottom line, ya'll saw it. That was the game -- me not getting the bunt down."
The Cubs were able to rally from two-runs down to tie it, and then they grabbed the lead with Valbuena's blast.
In the ninth inning, Cishek needed just three pitches to strike out Castillo. It was his 11th strikeout in 9 2/3 innings this season. But his next pitch proved disastrous.
Valbuena lined a 94-mph sinker over the wall in right field for a home run.
Cishek was called upon in hopes of preserving the tie for Miami in the bottom of the inning.
"It would be nice to use your closer in save situations instead of to get you to the bottom of the ninth," Redmond said. "It seems like we've only had him in a couple of games to get a save. He hasn't had that many opportunities in the role that we have set up for him."
The Cubs rallied from two runs down, boosted by homers from Valbeuna and Nate Schierholtz, to claim the first of four games in Miami.
Kevin Slowey, the Marlins' most consistent starter, struck out six and gave up three runs in a no-decision. The three runs were a personal high for the year, but he kept his team in the game.
"It's a challenge for us at the moment to be able to put together back-to-back wins," Slowey said. "It certainly isn't for lack of effort or lack of preparation. I think you look back over our young season -- we've competed."
Chicago's Edwin Jackson also worked six innings, allowing three runs.
Each team grinded out long at-bats in the first inning, which lasted exactly 30 minutes, as the starters combined for 59 pitches. And the score was even at one after one.
Chicago got to Slowey for a run on David DeJesus' lead-off double followed by Starlin Castro's RBI single to center.
Miami pulled even off Jackson, loading the bases on a walk by Polanco and successive singles by Stanton and Joe Mahoney. With two outs, Rob Brantly drew a four-pitch walk to plate Polanco.
"Pitchers did their jobs," Stanton said. "It was a good game until the end."
Joe Frisaro is a reporter for MLB.com. He writes a blog, called The Fish Pond. Follow him on Twitter @JoeFrisaro. This story was not subject to the approval of Major League Baseball or its clubs.