Valbuena's ninth-inning jack lifts Cubs over Marlins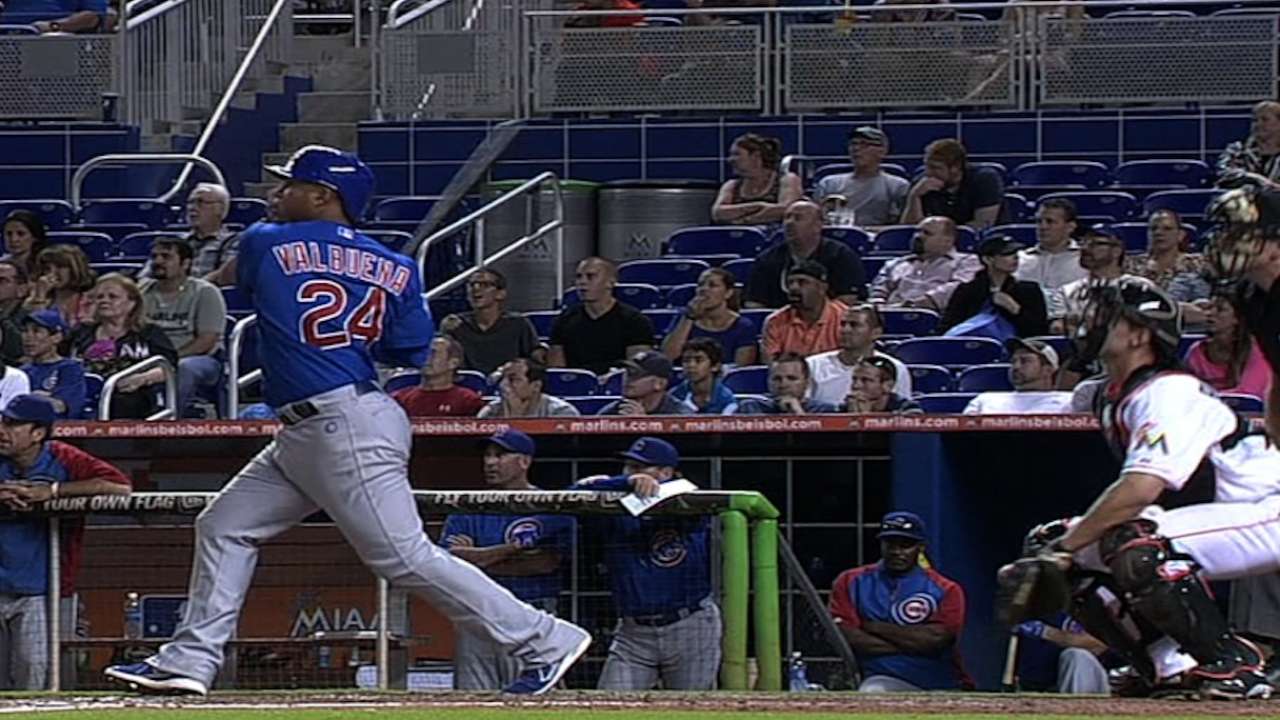 MIAMI -- The Cubs have not had it easy as of late. They've been hit with a daunting early-season schedule that included a stretch of 17 consecutive games against teams that finished with a winning record in 2012.
In last place in the National League Central after going 4-13 through the gauntlet of the Braves, Brewers, Giants, Rangers and Reds, they needed a spark as they began a four-game series against the Marlins, the team with the worst record in baseball.
Third baseman Luis Valbuena provided that spark when he crushed the first pitch he saw from Marlins closer Steve Cishek with two outs in the top of the ninth and sent it into the Marlins' bullpen for a solo home run to break a tie on Thursday.
He pointed his right index finger in the air as he rounded first, because it would prove to be the decisive swing of the game as the Cubs won, 4-3.
"I pointed -- 'Yeah!' -- to the people because I was so happy," said Valbuena, who was 0-for-3 before the clutch hit. He said he approached the at-bat with the intention of hitting a homer to put his team ahead.
Valbuena has hit four home runs in 18 games this season. He homered four times in 90 games all of last year.
Carlos Marmol let the first two runners reach base in the ninth, but ultimately got out of the jam to seal the victory for the Cubs (7-14).
With Juan Pierre bunting to advance runners to second and third, catcher Wellington Castillo picked up the short bunt attempt and fired to third to get the lead runner for the first out. Marmol then induced Placido Polanco to fly out to center and struck out Giancarlo Stanton with an outside slider to pick up the save -- his second of the season and first since April 4.
Marmol has now pitched eight consecutive scoreless outings since Sveum decided to take him out of the closer's role and move to a closer-by-committee.
Despite picking up the save, Sveum was not ready to label Marmol his closer going forward. "He pitches great when he doesn't know he's the closer," Sveum joked postgame.
"I take the ball whenever he gives me the ball. ... If he's going to give me the opportunity, I'm going to take it, like today," said Marmol.
The Marlins (5-17) will be left wondering what could have been had Pierre, a normally reliable bunter, had been able to get a successful bunt down in the ninth.
"JP needed to get that bunt down," Marlins manager Mike Redmond said. "That's kind of the execution we're talking about. We had it set up perfectly. It forces them really to pitch to Polanco with a base open. That really would have changed that whole inning."
Sveum also indicated postgame that had Stanton come up with bases loaded and one out, he would've inserted Kameron Loe, who was warming up, into the game. Stanton is 0-for-4 with four strikeouts in his career against Loe.
Reliever Shawn Camp (1-1) picked up the win after a perfect bottom of the eighth.
Cubs starter Edwin Jackson struggled early, giving up three runs in the first two innings, but he settled in after that. Jackson retired seven batters in a row beginning with the final out of the second inning.
"It was just a matter of trying to battle back," said Jackson, who signed a four-year contract with Chicago in the offseason. "When your team goes down and scores first and then you give up a run, as a starter, you just have to go battle.
"We did that tonight. I battled. The team battled, and that was a great win for us."
After the Cubs came back from 3-1 down to tie the game in the sixth, Jackson ended his night with a no-decision, giving up the three earned runs off five hits and four walks and striking out four over six innings.
With the Cubs down by one in the sixth, Nate Schierholtz tied the game at three when he turned on a 1-1 Kevin Slowey changeup left over the heart of the plate and pecked the right-field foul pole for a home run.
Schierholtz and Castillo hit back-to-back doubles in the fourth to narrow the Cubs' deficit to one and make it a 3-2 game.
Schierholtz finished 2-for-4 with the double and the homer. He has recorded three consecutive multi-hit games against the Marlins dating back to September of last season.
Jackson surrendered a run in the first when he walked Marlins catcher Rob Brantly with the bases loaded. Thirty-five of Jackson's 100 pitches thrown were in the first inning.
Jackson then gave up two more in the second. First, Marlins No. 8 hitter Donovan Solano reached on a single, and after he was sacrificed over to second by Slowey, Pierre knocked him home with an RBI single. Pierre stole second and third and eventually scored on Stanton's fielder's choice.
The Cubs scored Thursday before Slowey could record an out. David DeJesus doubled to left, and Castro, the next batter, singled up the middle to drive him home.
With each team's starters exiting the game after six innings, both bullpens recorded perfect 1-2-3 frames in the seventh and eighth innings.
David Furones is a contributor to MLB.com. This story was not subject to the approval of Major League Baseball or its clubs.