Peguero's moonshot sets tone as Mariners top Angels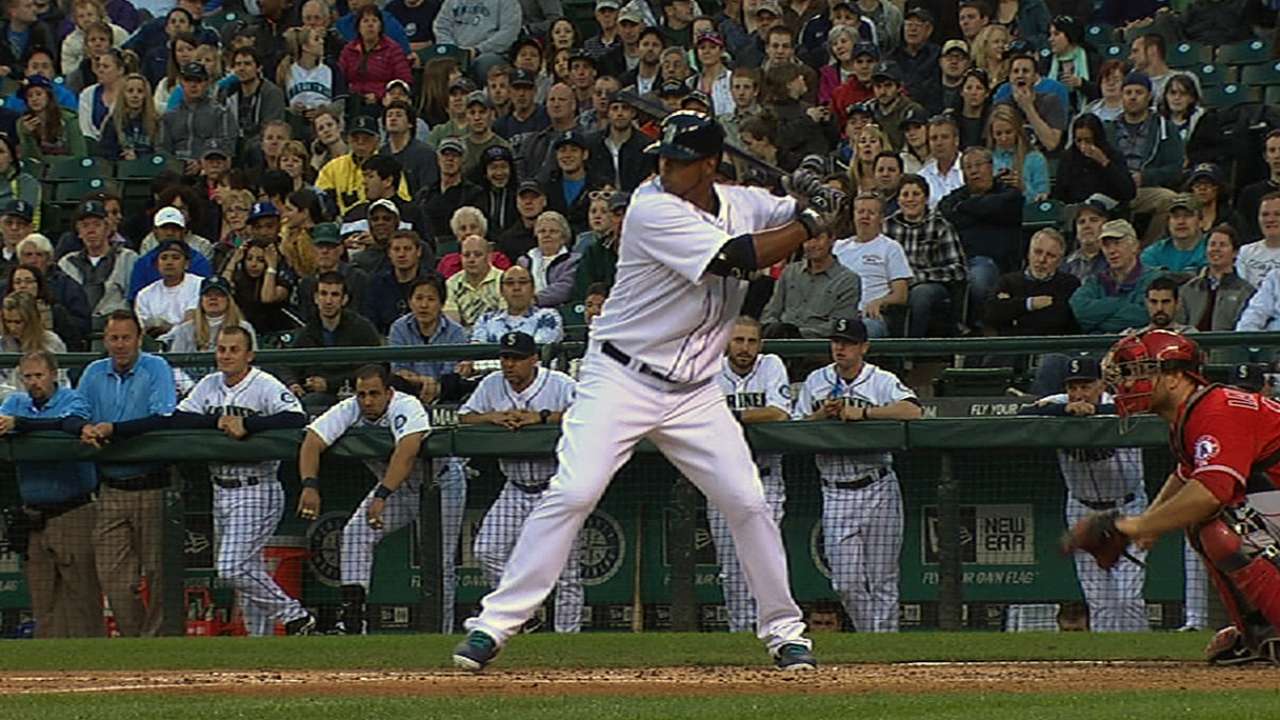 SEATTLE -- It was golf weather in Seattle on Thursday. Sunny, 66 degrees at first pitch, no breeze coming in off the Puget Sound.
And Mariners outfielder Carlos Peguero played the part. He wasn't wearing plaid pants and a collared shirt or looking for birdies, but he teed off in a Major League way.
His monstrous home run in his first at-bat of the season since coming up from Triple-A Tacoma, a great day at the plate from Kyle Seager, stellar mound work from Brandon Maurer and the bullpen and nifty defense were more than enough for the Mariners to beat the Angels, 6-0, before 13,000 at Safeco Field.
"A lot of good things happened," Seattle manager Eric Wedge said.
The game was an intriguing American League West matchup of young right-handers. The Angels had Garrett Richards going against Maurer, who had settled in with two good outings after a rough first two starts of his rookie season.
And it played out that way for a scoreless 2 1/2 innings; that is, until Peguero stepped to the plate to lead off the bottom of the third and delivered an at-bat and a result the Seattle faithful won't soon forget.
The 6-foot-5, 260-pound behemoth of a slugger, who had a .191 average, eight home runs and 82 strikeouts in 199 at-bats in parts of the last two seasons, fell behind Richards 0-2, fought back to a full count, broke a bat on the fifth pitch of the confrontation, with the splintered barrel flying far into the stands behind the Mariners dugout, and kept battling.
On pitch No. 8, Richards spun a slider that broke over the plate and sunk low, maybe six inches off the dirt.
Fore!
Peguero swung his bat like a 7-iron and didn't miss, hitting a fly ball that left the stadium so quickly Angels center fielder Peter Bourjos merely turned around and watched it, along with the rest of the crowd.
The ball soared over the center-field wall, its forward momentum not coming to a stop until it caromed off the upper third of the batter's eye. The blast was estimated at 451 feet, the third-longest in Safeco history behind Barry Bonds (462 feet on June 16, 2006, off Felix Hernandez) and Raul Ibanez (460 feet on June 20, 2007, off Danny Kolb).
"The team was very happy," Peguero said. "They saw that I had a good AB and put a good swing on the ball and got one run for the team. They were just happy for me."
They were more than happy. They were somewhat amazed.
"That's pretty tough to top," Seager said. "I haven't even gotten one out to center field in BP, and he's hitting one off the batter's eye. That's impressive."
The moonshot was worth only one run, but the Mariners capitalized on the momentum right away. Jason Bay singled, Endy Chavez singled him to second with one out, and Seager singled home Bay to make it 2-0.
In the process, Seager extended his career-high hitting streak to 14 games, tying Starlin Castro of the Cubs and Michael Young of the Phillies for the longest in the big leagues this year.
Meanwhile, Maurer was showing why the Mariners made him their surprise No. 4 starter this spring, despite his never having pitched above Double-A.
The 22-year-old gave up seven hits in 6 1/3 innings but minimized the damage and got help when he needed it. Maurer had six strikeouts and walked one batter. He stranded two runners on base by getting the speedy Bourjos to ground in an inning-ending double play in the fifth, and in the seventh, when he put runners on first and second and exited the game after 93 pitches, Carter Capps cleaned up for him by getting another inning-ending double play, this one off the bat of Chris Iannetta.
He also got help from catcher Kelly Shoppach, who pulled off a rare feat by throwing out Mike Trout, who was trying to steal a base after singling in the top of the sixth.
"I'm getting more comfortable," said Maurer, who lowered his season ERA by 1.84 points to 5.61. "Just taking deep breaths, trying to stay through with my legs and deliver a pitch."
It didn't go unnoticed.
"He's got great stuff," Trout said. "You can't take it away from him. He's 95 [mph] with a fastball, pretty hard with a slider, threw me a changeup and a slider. So he's got four plus pitches. He worked in and out, kept us off balance and shut us down."
The Mariners did more damage in the bottom of the seventh, loading the bases for Bay, who singled in two insurance runs. Capps pitched a perfect eighth and Seager struck again in the bottom of that inning, launching a two-run homer off Angels reliever Nick Maronde to cap a three-hit night.
That took away a save opportunity for Mariners closer Tom Wilhelmsen, who still pitched a perfect ninth to seal it.
For a team that just went 1-5 on a depressing road swing through Texas, the homestand opener was a welcome experience.
"We knew we had to play better, and we came out with a little more of an edge today, which was important," Seager said. "But we haven't lost confidence in ourselves. We know that we have a good offense and that we're going to score more runs. It's just a matter of coming together."
Doug Miller is a reporter for MLB.com. Follow him on Twitter @DougMillerMLB. This story was not subject to the approval of Major League Baseball or its clubs.