Parker not at his best as A's stumble in opener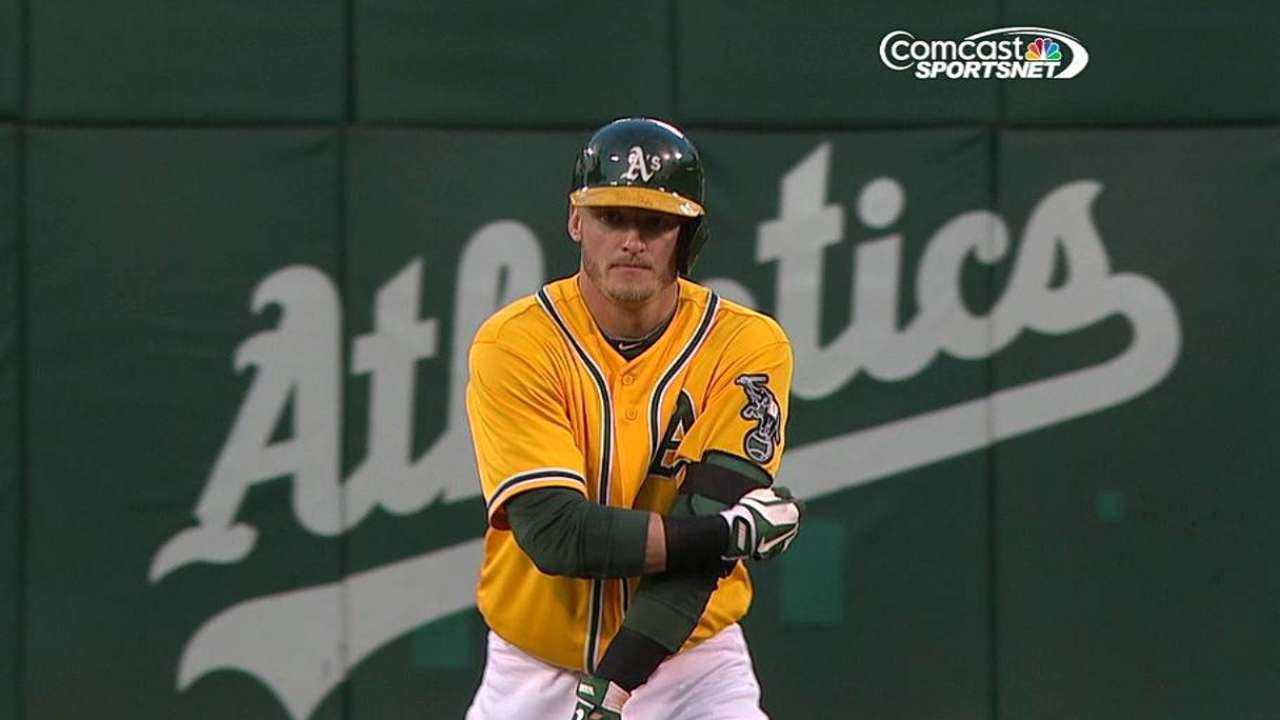 OAKLAND -- Twenty-three games into the season, the A's have been defined by two stretches. First, their nine-game winning streak and now a stretch of six losses over their last seven games, marked by some poor starting pitching.
The current skid continued Thursday night, as a costly third inning in a rocky outing by starter Jarrod Parker led to the A's series-opening loss, 10-2, against the Baltimore Orioles.
Oakland started the inning ahead 2-0 and ended not only behind 3-2, but also without pitching coach Curt Young, who was ejected for arguing about a Nolan Reimold check swing.
"It was a bad game all around for us," manager Bob Melvin said. "It was an ugly game for us." Whether Young was correct, the three runs in the third were only part of Parker's tough evening. Parker tossed 5 1/3 innings and allowed eight hits, six runs and three walks, striking out five. His ERA rose from 7.50 to 8.10, while his ERA at what's known as a pitcher-friendly Oakland Coliseum actually dropped from 12.96 to 11.85 in three starts.
The A's fell to 13-10 overall and 4-8 since their nine-game winning streak. Oakland starting pitchers are 5-8 with a 6.12 ERA in their last 16 games, and that includes three great starts by Bartolo Colon.
"Similar to some of the games we played recently, it looked like [Parker] struggled in some of the early pitches and then found it," Melvin said. "We scored some runs, then we gave it right back. That's been a problem for us the last week or 10 days or so.
"When you score some runs, you want to go back out there and get right back into the dugout and we haven't been able to do that."
Coco Crisp led off the first with a single against Orioles starter Jason Hammel, but the A's only got two hits off the righty after that. Following Josh Donaldson's two-RBI, two-out double in the second inning, it wasn't until Jed Lowrie singled with one out in the sixth that Hammel permitted another one. Hammel walked two, struck out two over six innings and Donaldson's two RBIs were unearned because of an error.
The A's tallied six hits total -- Donaldson (2-for-2 with two walks) was the lone player with more than one -- and two hits came in the ninth inning.
Parker began the game with a four-pitch walk and avoided damage until the third frame. With one out, Reimold doubled after the contested check swing and Nate McLouth followed with an RBI single to right in the third, which cut the A's lead to 2-1. Manny Machado's RBI single to right scored McLouth after the he stole second. Nick Markakis followed with a sharp double to left barely over Donaldson, scoring Machado from first base and giving the Orioles a 3-2 lead.
That was when Young visited the mound to talk to Parker, disputed what happened during Reimold's at-bat and first-base umpire Jim Reynolds ejected him.
"I actually didn't even see it happen," Melvin said. "I was looking at my card. Someone said, 'You better go out and get him.' I looked up and he had already been thrown out. That's my fault for not getting out there sooner. ... It just happened pretty quickly."
Parker exited after allowing a Chris Davis solo home run in the sixth -- his eighth homer of the year -- then walking two batters. Reliever Chris Resop walked his first batter, then on McLouth's grounder, the A's turned one, but McLouth beat the throw, plating one to make it 6-2.
Even the A's bullpen was touched up. The Orioles tallied 15 hits and scored one run in the fifth and two in each of the sixth, seventh and eighth innings.
"Things are coming together now throughout the lineup," said McLouth, who was 2-for-5 with two RBIs and two runs. "We got a number of cheap hits tonight. We found some holes."
"Just one of those nights," Parker said. "I think a couple of balls bounce my way ... It's kind of embarrassing when we put up a two-spot and give it right back. I just have to keep working."
Parker said he would watch tape of his outing and see if anything is different mechanically, but he's "feeling fine."
"It just seems like at times he gets a little out of sync and then all of a sudden he's spotting the ball pretty nicely and then all of a sudden he gets behind four hitters in a row and walks a guy and has trouble getting back and getting that feeling again," Melvin said. "I think that might be the issue right now."
Willie Bans is a contributor to MLB.com. This story was not subject to the approval of Major League Baseball or its clubs.