McLouth, Davis help back Hammel's strong start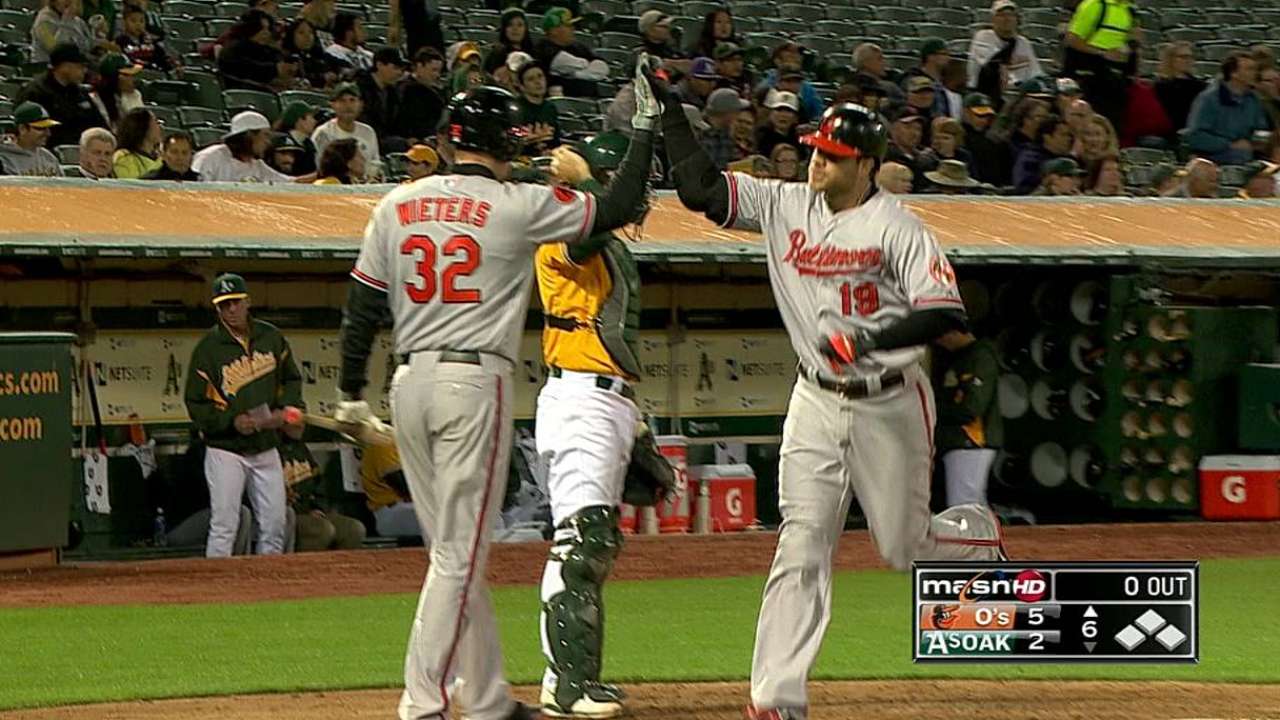 OAKLAND -- Nate McLouth makes leading off look simple. He enjoyed another game that filled up the box score, reaching base safely three more times on Thursday night.
"Knock on wood," Orioles manager Buck Showalter said. "He's healthy."
McLouth had two hits, including a double, drove in two runs, scored twice and added a pair of stolen bases in Baltimore's 10-2 victory over the Oakland Athletics on Thursday night.
"Things are coming together now throughout the lineup," McLouth said. "We have good balance. I'm swinging at good pitches. That's what I'm most happy about."
McLouth is the lone Oriole with more walks (14) than strikeouts (8) and the nearly 2-1 ratio puts him in rarefied company in the league.
"I'm working the count and swinging at the pitches I want to swing at," he said, "instead of having to swing at what a pitcher wants."
McLouth was joined in the offensive slugfest by several teammates. Chris Davis hit a home run on his way to two RBIs, Nick Markakis drove in two runs and the Orioles opened their 11-game West Coast swing on a happy note.
"It's hard to look back and see we were down 2-0," Showalter said. "But we battled back. It's a good start to a tough road trip."
Jason Hammel did not allow an earned run in six innings, an effort the Orioles needed following Wednesday's extra-inning loss to the Toronto Blue Jays.
"I was basically struggling, but getting out of the second inning and limiting the damage was key," Hammel said. "Then the guys scored a lot of runs and I was able to stay aggressive."
Hammel allowed three hits, walked two and struck out two in just his second start in Oakland. At an earlier stage in his career, giving up the two unearned runs would have meant disaster.
"The first few years I'd get so frustrated, I'd try to do too much and would fold," Hammel said.
Showalter had seen the maturity in his pitcher.
"At this stage in his career when he gets mad or frustrated, he's able to channel it in the right direction," the manager said.
Adam Jones had three hits, including an RBI double, as the Orioles won the sixth of their last eight games. Jones has reached base safely in 21 of the 22 games, and has gotten a hit in 20 of them.
Davis reached base in four of his five plate appearances.
"Chris had some really good at-bats," Showalter said. "It's a good sign when he takes the walk instead of trying to force something."
After playing three consecutive one-run games, Baltimore needed a game like this, and so did the relief pitchers.
There were no tense moments or pressure-packed situations for relievers Troy Patton and T.J. McFarland, who combined for three scoreless innings.
Matt Wieters and J.J. Hardy each drove in a run for the Orioles.
The Orioles did commit a pair of errors. They had not made an error in their previous 10 games.
"The biggest thing was giving up a couple of tough runs and making Hammel work," McLouth said. "We were able to bounce back and Hammel cruised from there."
Rick Eymer is a contributor to MLB.com. This story was not subject to the approval of Major League Baseball or its clubs.