Tepesch nearly unhittable as Rangers stay hot
Rookie perfect through four; Texas picks up sixth win in seven games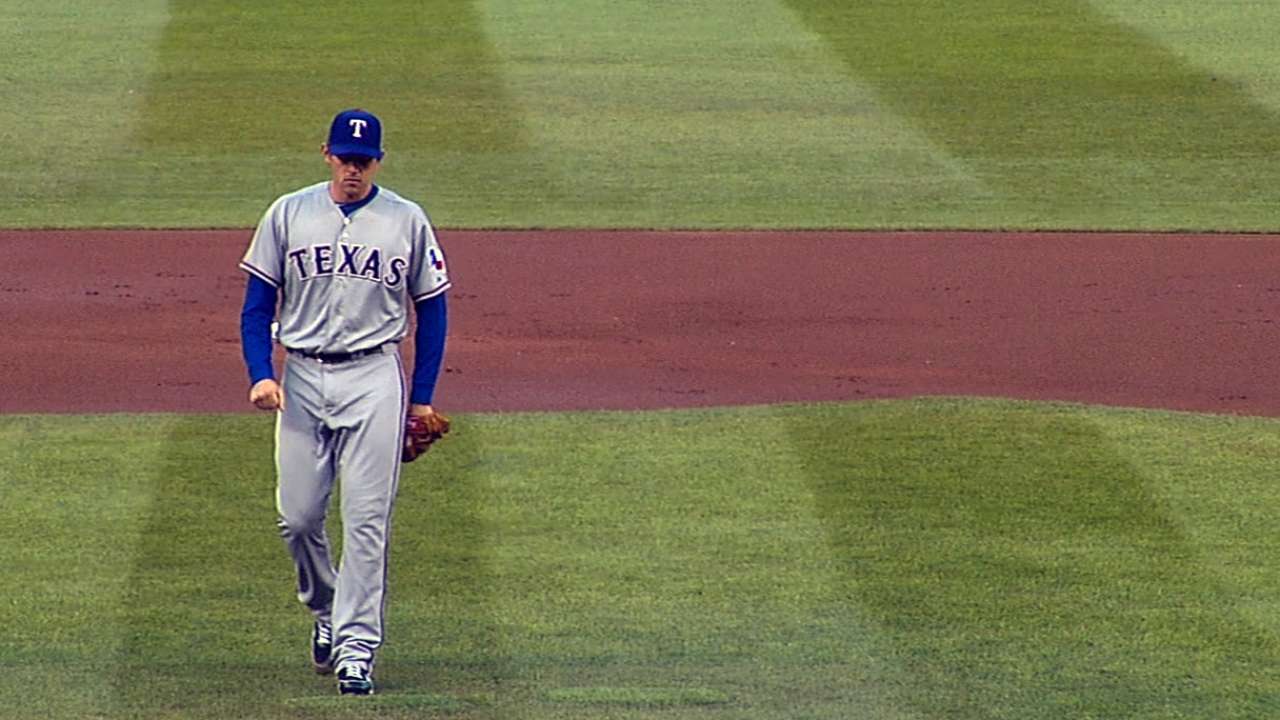 MINNEAPOLIS -- Texas Rangers rookie pitcher Nick Tepesch's has had little difficulty settling into a starting role in his first month on the job.
Tepesch, in only his fourth career start, controlled the Minnesota Twins in 6 2/3 innings to guide Texas to a 2-1 victory in its series opener Thursday at Target Field.
Backed by Tepesch's strong outing, the Rangers survived a bases-loaded Twins rally in the eighth inning, preserving their sixth win in seven games.
A strikeout to Twins leadoff man Brian Dozier set the groundwork for an efficient and impressive outing from Tepesch (2-1). It took until the fifth inning before the Twins registered their first hit on a single by Justin Morneau.
Without a dominant out pitch, Tepesch worked with an early 1-0 lead to keep the Minnesota hitters off-balance with a flurry of strikes. Though his initial strikeout was his only one of the night, 65 of his 90 pitches went for strikes.
"I didn't feel like anything was extra out of the ordinary, but I felt like I commanded my pitches pretty well," Tepesch said. "I felt like I was pretty good tonight."
Tepesch, who allowed five hits, started to wear out by the seventh inning when Josh Willingham caught up with an 88-mph slider for a home run. But left-hander Robbie Ross and the Rangers cleaned up the rocky seventh with minimal damage to preserve Tepesch's solid performance.
Concern had lingered about Tepesch's status after he was taken out in the second inning of his previous start with a bruised right wrist. However, as manager Ron Washington had insisted before the game, the injured wrist was a non-issue.
The soft-spoken Tepesch has been surprisingly imposing this season. He lowered his ERA to 2.53 and has allowed just one run in two of his three full starts.
"He has poise on the mound. He executes pitches very well," Washington said. "That is exactly what he did tonight. If you can execute pitches, it doesn't have to be overpowering, and he can execute. That's what he does."
Right fielder Nelson Cruz didn't back down from his mid-April surge. Cruz's single in the second inning drove in his 12th run in the last five games. With that stretch, he has risen to sixth on the American League's RBI leaderboard (18). Cruz finished the night 2-for-3 with a walk.
Scattering 10 hits and three walks, all nine members of Texas' lineup reached base, although the hot Rangers' offense could only put up two runs.
Shortstop Elvis Andrus's RBI double down the left-field line, which brought in Leonys Martin in the fifth inning, proved to be the decisive hit.
Minnesota was on the verge of tying the game at two in the eighth inning. Three straight batters reached base with only one out before Willingham returned to the plate, one at-bat after his shot to left field. But reliever Tanner Scheppers got Willingham to hit a 3-2 pitch into the ground, which resulted in an inning-ending double play.
Struggling Twins starter Vance Worley, who entered with a 7.11 ERA, managed to surrender only two runs, but the Rangers forced him to an early exit after he tossed 102 pitches in five innings of work.
"I thought everything was coming out of my hand a little up the first couple of innings," Worley said. "But then I settled down and everything worked the way I wanted it to. They fouled off a lot of pitches to get my pitch count up, which made it tougher to go deep into the game, but for the most part I'm happy with what I did."
Making only his second appearance in the last nine games, Joe Nathan notched his seventh save of the season with a scoreless ninth. With a runner on first and two outs, Nathan had a gut-check moment when pinch hitter Ryan Doumit launched a pitch to deep left field.
Outfielder David Murphy, however, didn't flinch.
"Thank God he didn't give me any panic," Nathan said. "He didn't move at all … he just kind of stood there camped, so I knew once I turned and saw him that everything was fine."
The Rangers moved to 15-7 on the year, putting them in a tie for the third best start in franchise history.
Nate Sandell is a contributor to MLB.com. This story was not subject to the approval of Major League Baseball or its clubs.