Farrell: Aceves demotion solely performance-based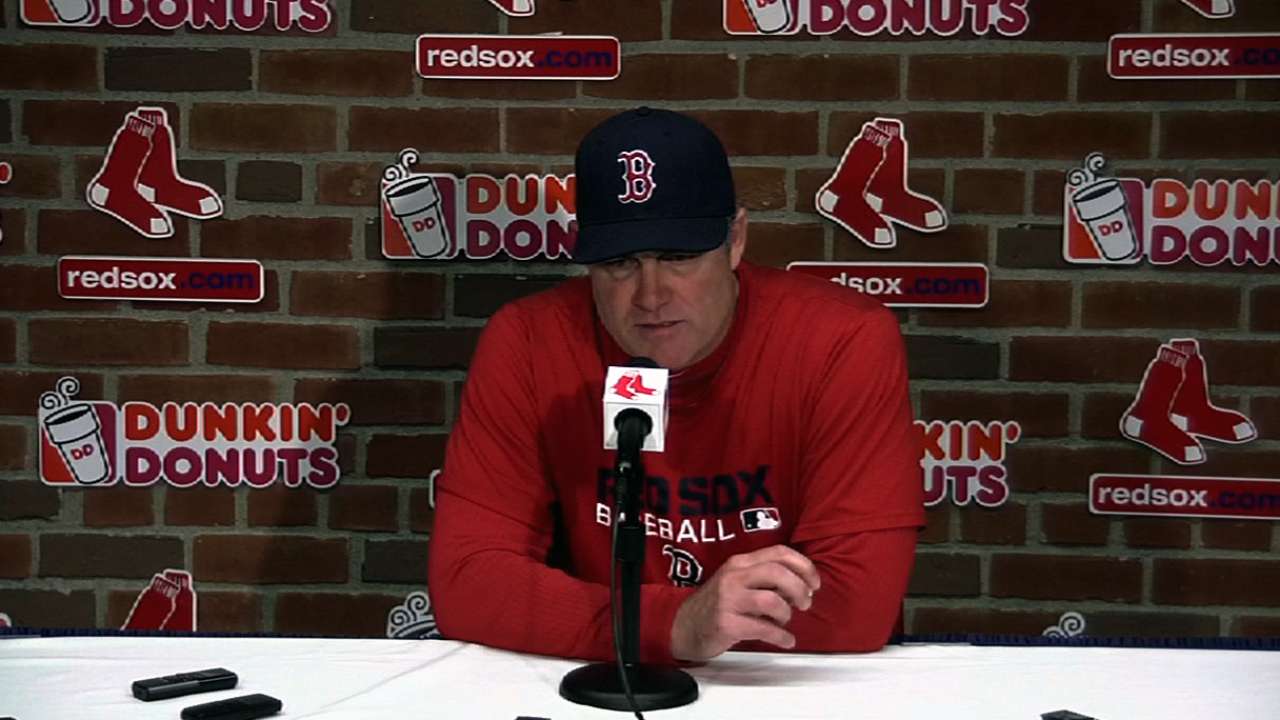 BOSTON -- With John Lackey likely to return from the 15-day disabled list on Sunday, Alfredo Aceves has gone from a starter in the Red Sox's rotation to just another depth guy at Triple-A Pawtucket.
On Thursday afternoon, manager John Farrell and general manager Ben Cherington explained the decision to send Aceves to the Minors, noting that it was purely a performance-based move and completely unrelated to personality issues or a lack of focus, as Aceves showed in Spring Training when he was reprimanded by Farrell for not giving 100 percent in batting practice.
"This was not about a lack of effort," Cherington said. "He's a hard worker. This was just strictly a matter of performance. He just wasn't getting enough guys out. He hasn't for a while. Guys have moved ahead of him, so he's got to go down and earn it back. There's going to be 25 different guys in the clubhouse and they're not always going to be the same, but in his case, it's a performance-based decision and he's got to pitch better."
Aceves will continue to work out of a starting role in Pawtucket, but with Franklin Morales progressing, No. 4 prospect Allen Webster pitching well and Rubby De La Rosa working his way back from Tommy John surgery, there could be more attractive options should the club need another starter down the road.
Aceves has been much better as a reliever throughout his career, posting a 3.56 ERA out of the bullpen as opposed to a 5.04 ERA out of the rotation, but Farrell said the Red Sox don't have a need for him as a reliever.
"He is a depth starter for us," Farrell said. "Whether that's six, seven, eight or nine is more predicated on rest and who's available on a given day.
"There are other guys ahead of him in that bullpen role. I can't say that the performance issues we talked about were solely in a starter's role. Again, good question, but we have other people who are ahead of him, and regardless of the role, there's got to be that consistency that we're talking about."
Lackey, who made a speedy recovery from a right biceps strain that looked like it could have been worse than the diagnosis, should return Sunday to take Aceves' spot in the rotation. Even if Lackey can pitch only five innings, the Red Sox have an off-day Monday for the bullpen to recover, if needed.
"Once the strain settled down, and the fact that he was able to get out and make a rehab start was encouraging with no restrictions there," Farrell said. "He didn't feel any discomfort of any kind. He'll go into Sunday, provided tomorrow he checks out and is on line for Sunday, he should go in with little hesitation from a mental standpoint in that start."
Jason Mastrodonato is a reporter for MLB.com. Follow him on Twitter @jmastrodonato. This story was not subject to the approval of Major League Baseball or its clubs.