Hellickson's up-and-down outing can't match Sale
Right-hander fans eight, walks four over six innings; Lobaton homers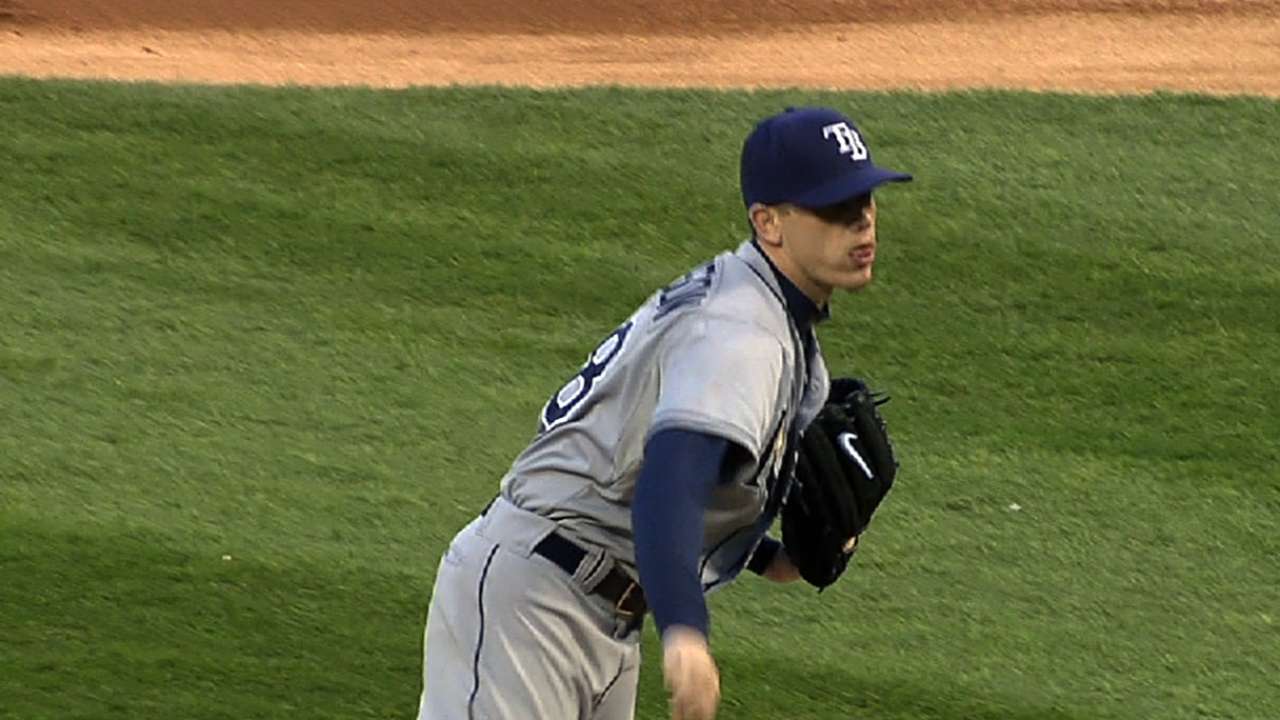 CHICAGO -- For much of his time on the mound Thursday night, Jeremy Hellickson was virtually untouchable. But a shaky beginning and a staggering finish was enough to do him in and end the Rays' streak of impressive starts in a 5-2 loss to the White Sox at U.S. Cellular Field.
Hellickson (1-2) allowed five runs (all earned) on five hits in six innings. He allowed three runs in the first inning and then was touched up for a two-run home run in the sixth. In between, he allowed just one hit while registering seven of his eight strikeouts.
Before Thursday, Rays starters had gone at least eight innings in the previous three games. Over the previous five games, the starters had held opponents to a .137 batting average (21-for-153). But it was apparent early on Thursday that both streaks would be in jeopardy.
"The first inning he was not sharp," Rays manager Joe Maddon said of Hellickson. "Everything was up and they took advantage. They got their three runs and they did a nice job of situational hitting in the first. Then he was really good. Fastball was down, changeup was down and the curveball was really good."
Hellickson has allowed 15 runs this season, with eight of them coming in the first inning.
"I couldn't get the ball down," he said of early struggles. "That was the main thing and they took advantage of it."
After the Rays grabbed a 1-0 lead in the top of the first inning, Hellickson allowed four of the first five batters to reach base. Alejandro De Aza and Jeff Keppinger, the first two batters, each doubled to tie the score at 1. Following a walk to Alex Rios and a fly out by Adam Dunn, Paul Konerko drove in the second run with a single to left and Conor Gillaspie plated the third run with a sacrifice fly.
Hellickson then settled down and retired eight straight batters before issuing a one-out walk to Gillaspie in the fourth inning. Alexei Ramirez then followed with a double down the left-field line, but the Rays' defense bailed out Hellickson by throwing out Gillaspie with a perfect relay from left-fielder Desmond Jennings to third baseman Evan Longoria to catcher Jose Lobaton.
Hellickson averted further damage by striking out Tyler Flowers to end the fourth.
White Sox starter Chris Sale (2-2) also settled down after a shaky start, but Lobaton pulled the Rays to within 3-2 with a solo home run with two outs in the top of the fourth.
It was Lobaton's first homer of the season and the Rays dugout reacted by giving him the silent treatment.
"I didn't really care," he said of the lack of reaction. "I was happy. Everybody was kind of quiet, but that's not a big surprise on this team. Every day it's something different."
What was also different Thursday was Hellickson, who was coming off seven shutout innings against Oakland last week, getting smacked around at times. After cruising for four innings, Hellickson issued a leadoff walk to Rios in the sixth before Dunn followed with a line drive into the right-field bullpen to make it 5-2.
Hellickson called the offering to Dunn a "stupid pitch," but Maddon had his focus elsewhere in the sixth.
"I don't care about Dunn's home run," Maddon said. "It was the walk to Rios before that that set everything up. Otherwise, from the first inning to the home run, he pitched really, really well, and a lot like he did the previous two games."
Besides the first inning, Hellickson also has struggled to win on the road. He now is 0-5 despite a 3.24 ERA over his last seven road starts dating back to Aug. 15 last season.
"The second to the fifth inning was as good as I've thrown," he said. "Then in the sixth inning I walked the leadoff guy and made a pretty stupid pitch to Dunn. I settled down again after then, but it was too late by then."
Sale, who faced just one batter over the minimum in his final three innings, allowed two runs (both earned) on four hits in seven innings. Dunn said that's exactly what the White Sox expected after providing the cushion.
"Late in the game, you give Chris a three-run lead, we kind of like our chances," Dunn said. "It was good timing. We were able to keep it moving early and whenever you give your ace a lead early, you have a pretty good chance to win."
John Jackson is a contributor to MLB.com. This story was not subject to the approval of Major League Baseball or its clubs.