Dunn, Sale propel White Sox past Rays
Slugger hits two-run homer; left-hander fans seven over seven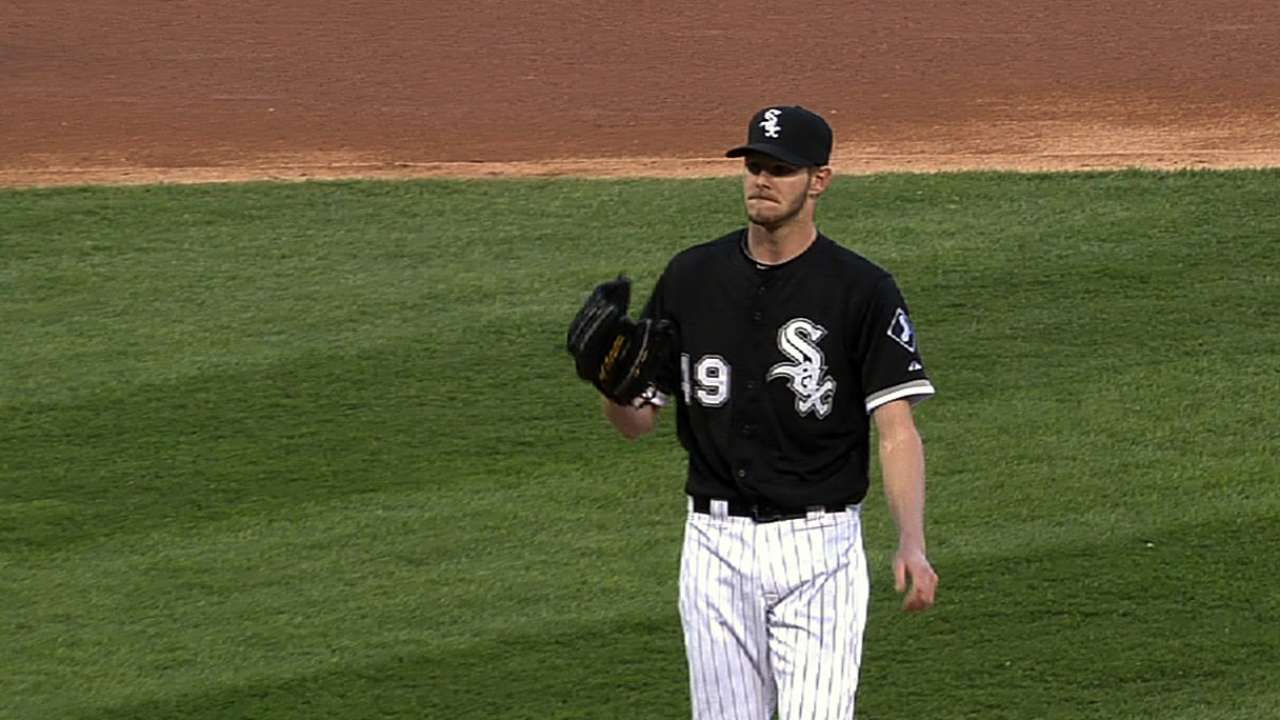 CHICAGO -- The most important moment coming from Thursday's 5-2 White Sox victory over the Rays at U.S. Cellular Field came in the form of a mound discussion between White Sox starter Chris Sale and catcher Tyler Flowers in the second inning.
This conversation followed a rare walk on the wild side by the White Sox ace, who had issued two-out free passes to eighth hitter Jose Lobaton and ninth hitter Sam Fuld on eight straight pitches. So what was the message delivered by Flowers to his talented young hurler, who showed his frustration by snatching a return throw back from Flowers with his pitching hand after the Fuld walk?
"What kind of details did he give you?" said Flowers with a wry smile.
Moments before Flowers made this particular postgame inquiry, Sale explained the discussion.
"It was kind of funny actually," Sale said. "[Flowers] said, 'In the nicest way I can possibly say this, when you start getting into trouble, you start kind of trying too hard and doing too much.'
"[Pitching coach Don Cooper] came out and kind of reiterated the same thing. From then on, I kind of kept a level head and just tried to do my thing and pitch the way I could."
Based on results from the remainder of the club's second straight victory, mission accomplished.
Sale (2-2) set a season high with four walks in the first two-plus innings, but he didn't issue another free pass the rest of the game. He threw 104 pitches over seven innings, striking out seven and allowing four hits and two runs.
Evan Longoria gave the Rays (10-12) a 1-0 lead in the first with a single to left scoring Desmond Jennings. Jennings moved to second with two outs when second baseman Jeff Keppinger threw to first on Ben Zobrist's grounder instead of tagging Jennings between first and second when Jennings stopped short of the tag attempt. That first-inning run he allowed was part of Sale's overall frustration, exacerbated by his walks.
Three runs scored by the White Sox (9-12) in the bottom of the first off Jeremy Hellickson (1-2) erased the top of the frame and put Sale in a comfort zone. Back-to-back doubles from Alejandro De Aza and Keppinger tied the game, with Paul Konerko picking up an RBI with a single to left and Conor Gillaspie adding a sacrifice fly.
"That first inning was not sharp," said Rays manager Joe Maddon of Hellickson, who slipped to 0-5 with a 3.24 ERA over his last seven road starts. "Everything was up and they took advantage. They did a nice job of situational hitting in the first."
"I just couldn't get the ball down. That was the main thing," said Hellickson, who struck out eight but allowed five runs in six innings. "I couldn't make a pitch when I needed."
Lobaton cut the lead to one in the fourth with a solo homer, but Adam Dunn gave Sale and the White Sox breathing room with a two-run blast to right on an 0-1 Hellickson pitch in the sixth. Dunn's fourth home run and 410th of his career followed a leadoff walk to Alex Rios.
Despite finishing 1-for-4 and having eight hits in 74 at-bats this season, Dunn hit the ball hard in all four at-bats Thursday. That effort followed his three-walk game Wednesday against the Indians. He understands that the results don't necessarily back up his assessment, but Dunn feels good at the plate and felt especially good after increasing the White Sox lead to three.
"Late in the game, you give Chris a three-run lead, we kind of like our chances," Dunn said. "It was good timing. We were able to keep it moving early and whenever you give your ace a lead early, you have a pretty good chance to win."
"Again, you keep working at it, keep grinding," said White Sox manager Robin Ventura of Dunn. "Tonight was a step forward as far as he is feeling comfortable in what he's trying to do. Hits a ball good, a line drive the other way, finally gets one and gets it."
Addison Reed picked up his seventh save in seven tries and has factored in eight of the club's nine wins this year. This victory also marked the first time the White Sox scored more than three runs since they scored seven on April 17 in Toronto.
"I'll take five," a smiling Ventura said. "Five is a good number for our pitching staff."
Prior to Thursday's contest, Sale had issued six walks in 26 innings to go with his 23 strikeouts. Sale settled down against the Rays as the game went on thanks to finding his arm slot and direct advice from his battery mate.
"It's nothing bad," Flowers said. "I went out there and I said, 'When was the last time you had success when you get mad and start throwing the [heck] out of it?' He said, 'I don't remember one.' I said, 'That's my point. What are we doing?'"
"You kind of forget what you're doing, with TV cameras and people and all that stuff," Sale said. "That's kind of one of the things I really need to work on, controlling my emotions and stuff."
Scott Merkin is a reporter for MLB.com. Read his blog, Merk's Works, and follow him on Twitter @scottmerkin. This story was not subject to the approval of Major League Baseball or its clubs.