Bullpen falters in extras as Tigers fall to Royals
Verlander leaves after seven with blister, Rondon blows save in debut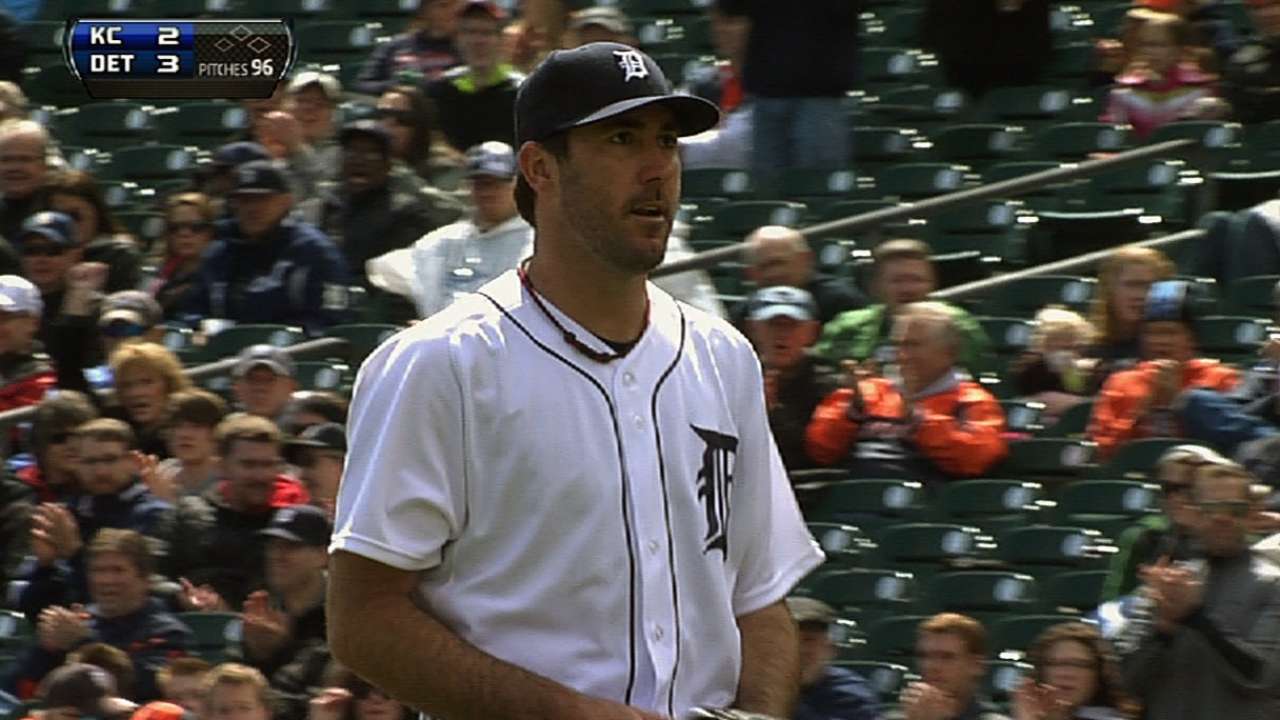 DETROIT -- Was it all a mirage, this Tigers bullpen in working order? Or was it numbers working against them?
It all lined up so well for Detroit on Wednesday night when the Tigers welcomed back their closer of the past. By Thursday afternoon, they were debuting their closer of the future with an eighth-inning lead. It didn't go well from there.
By the 10th, as Alex Gordon was rounding the bases on his first Major League grand slam, a drive into the center-field shrubs that punctuated an 8-3 Royals comeback victory, the Tigers had to have the feeling of a bullpen mix that was little relief.
It wasn't exactly manager Jim Leyland's Plan A. He didn't have closer Jose Valverde, whose return Wednesday night was his fourth outing in six days dating back to his stint at Class A Lakeland. He did not want to press Al Alburquerque, who threw a season-high 26 pitches Wednesday with hip tightness mixed in, into use.
He had Joaquin Benoit for the ninth inning, and he had to mix and match to get there. He was an inning away, with Justin Verlander needing 96 pitches to plow through seven innings.
Then Verlander got a blister. By the end of the 10th, the Tigers bullpen had gotten blistered.
"If he doesn't have the blister, we probably get him through one more inning, maybe even two," Leyland said. "But, I mean, those things you can't help. But once again, we got five hits. Everybody focuses on [the bullpen], but we got five hits today."
That happens with James Shields going eight strong innings. Games like this are why the Royals traded so much to get him. Shields has never lost at Comerica Park, and he won a 4-2 duel with Verlander last April with eight solid innings thanks to a four-run ninth off Verlander.
If the Tigers were going to pull this one out, they'd have to make a few runs work. For a second straight year, they needed three more outs from Verlander for a chance to beat Shields. For a completely different reason than last year, they couldn't get it.
The blister is on Verlander's thumb, near his fingernail.
"I noticed it after my last start and it wasn't too bad," Verlander said. "It started getting a little bit worse after the fifth. I started noticing it and after the seventh, I talked to our pitching coach, and we kind of came to a joint decision. At this point in the year, there's no point in creating something that possibly could become a nagging issue, so we just made the decision to call it a day."
The Tigers lost one starter to a blister last year, having to shelve Drew Smyly for two weeks in June. They weren't going to risk it again. Neither Verlander nor Leyland expect it to affect his next scheduled start on Tuesday.
On came Bruce Rondon, the hard-throwing 22-year-old rookie just recalled a couple days earlier. He competed in Spring Training for the closer's job before losing out. Now he made his big league debut in the setup role some thought he might fill as a way to ease into late-inning work.
"If you're here, you've gotta pitch," Leyland said. "We would like to throw him in under a little different conditions, but it just wasn't going to be that way today, because we were a little short."
Though Rondon threw hard as advertised, hitting 100 mph five times, he struggled around the strike zone for the six hitters he faced. That allowed the Royals to manufacture the tying run, pinch-running with Jarrod Dyson following Billy Butler's leadoff single. Dyson stole second easily, then took third on Eric Hosmer's groundout.
Rondon came close to the strikeout he needed, getting Lorenzo Cain to foul off back-to-back 100-mph fastballs for an 0-2 count. The first slider that followed was too low, and Cain watched it bounce in the dirt. The second was just high enough for Cain to lift into center field for a sacrifice fly.
Rondon left in the ninth following Salvador Perez's leadoff single. Phil Coke stranded him there, but fell apart after Cain's one-out double in the ninth.
"Cokey just lost control of the strike zone," Leyland said.
Just seven of Coke's 21 pitches in the 10th went for strikes. Take away the four pitches for an intentional walk to Jeff Francoeur, and it still wasn't a good ratio.
A day after Leyland opted for Benoit over Coke to face Mike Moustakas, citing the track record, he kept Coke in to face the left-handed hitter. Moustakas drew a five-pitch walk before a wild pitch to Francoeur moved the runners up to second and third. That prompted an intentional walk of Francoeur to set up a force play at any base but also left Coke with no base to put another runner.
The plan backfired when he fell behind on a 3-0 count to backup catcher George Kottaras, batting for the first time in the game, en route to a five-pitch walk.
Darin Downs got the second out on a force play at the plate, but had to challenge Gordon with a 2-0 pitch. Gordon hit it out to straightaway center.
"It's a big outfield," Gordon said, "and I think there was a storm coming in that kind of blew it out a little bit. Honestly, I had three punch-outs on the day and I was just trying to make contact. Sometimes that's what happens."
The Tigers can't afford many more of these. It was only their second loss when leading after seven innings, but their third loss in four extra-inning affairs, and it raised the bullpen ERA to 4.89 for the season, including 37 walks in 66 2/3 innings.
It wasn't the full bullpen they had just put together. It was the bullpen they had to work with, and it had one too many innings to cover.
Jason Beck is a reporter for MLB.com. Read Beck's Blog and follow him on Twitter @beckjason. This story was not subject to the approval of Major League Baseball or its clubs.