Buchholz overpowers Astros, first to five wins
Papi remains hot with 3-for-4 night, including home run to center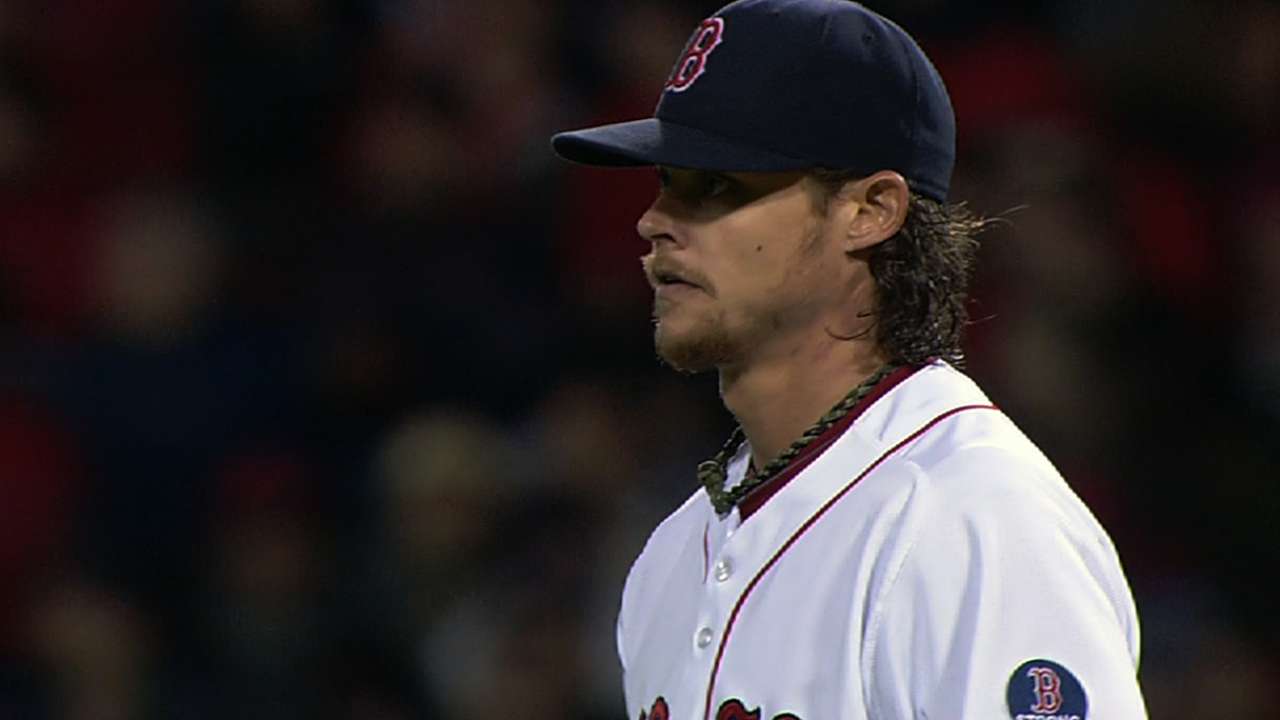 BOSTON -- At some point, a hot streak is no longer considered a streak. At some point, it becomes the new norm.
This might be the new Clay Buchholz. Or maybe it's Buchholz circa 2010.
Buchholz hurled 7 2/3 innings of two-run ball as the Red Sox cruised to a 7-2 win over the Astros, making Buchholz the first five-game winner in the Majors.
Catcher Jarred Saltalamacchia said Buchholz, who struck out 10 batters, didn't have his best stuff on Thursday night.
"To me, that's what makes a great pitcher -- an ace," Saltalamacchia said. "Think about CC Sabathia, a guy that's at the top of the league in pitching every year. What does he do? He battles. If he doesn't have his best stuff, he finds a way to get it done. Similar to what [Jon Lester] did yesterday. That's what Clay's able to do. That's what you need and that's what sets you apart from everyone else."
In the Astros' first visit to Fenway Park since 2003, their offense struggled to get anything going, scoring one run in two separate innings that began with a leadoff double.
Aside from the two-base knocks, the Astros could hardly touch Buchholz. Of his 10 strikeouts, six were sent down looking, as the right-hander had both his two-seamer and cutter painting corners.
"When he's able to start commanding the zone and things like that later in the game, that's when you can see why he's as good as he is," said Astros catcher Jason Castro. "He can pretty much throw any of his pitches at you at any time and never really seems to throw the same pitch twice, back-to-back, and that makes it harder to get a feel on him."
The Red Sox scored four runs in the first inning off Houston starter Philip Humber, who has posted an ERA above 7.00 since throwing his perfect game on April 21, 2012.
Daniel Nava, batting second in place of Shane Victorino, who was held out of the lineup with back tightness and isn't expected to return for a few games, walked twice, including once in the first inning to start the four-run rally. Dustin Pedroia and David Ortiz followed with singles before Mike Carp hit a broken-bat double that dropped into right field and scored Ortiz.
Ortiz went 3-for-4 at the plate and has now gone 11-for-20 since returning from the 15-day disabled list on Saturday. He had the RBI single in the first inning, his first home run of the season in the third inning and a single up the middle in the fifth.
"I've been putting good swings on the ball and things have been happening," said Ortiz, who feels like his previously-injured right Achilles is feeling better every day. "It's a little deeper than what I can explain to you guys. It comes down to feeling at the plate. Some pitches, when you are locked in at the plate, they're not going to be hits, they're going to be homers.
"When you're not there, sometimes they're going to be outs, sometimes they're going to be rollovers, sometimes they're going to be just singles. It's a process."
Seven runs were more than enough for Buchholz.
While manager John Farrell has insisted that Buchholz's hot start is sustainable, his lights-out performance on Thursday paired with a look into the statistics proves that the skipper may be onto something.
Since May 27, Buchholz has made 25 starts. On three separate occasions, including this season, he's strung together a streak of at least four games in which he allowed two runs or fewer.
Over 177 2/3 innings since May 27, Buchholz has posted a 2.89 ERA.
"He's done a very good job of pitching ahead in the count, most of all," said Farrell, "and it's allowed him to pitch to a scouting report and exploit some holes of given hitters."
Perhaps what's been most impressive about Buchholz this season is his ability to close out innings with runners on base.
His left-on-base percentage (or strand rate), which can often indicate how lucky a pitcher has been, was a measly 69.7 percent last season.
Buchholz entered Thursday night having left an astounding 94.4 percent of his runners on base this season, the third highest mark among qualified pitchers in the Majors according to fangraphs.com. He stranded five of seven baserunners Thursday.
And the long ball, which has cursed Buchholz in the past, has been almost a non-factor this season, when he's allowed just one home run. He thinks he's finally been on the lucky side, saying, "balls that were homers last year that I'm missing in the middle of the zone, they're either fouling them off or swinging through them or taking them."
Saltalamacchia said there's much more than luck going on for a pitcher who has struck out 39 batters in 37 2/3 innings.
"He hides the ball really, really well," Saltalamacchia said. "He's good at deception. He mixes his times up to the plate, he slide-steps, he picks, he holds. When nobody's on, he hides the ball well. It gets on you. It's not just because he's missing over the plate. He's got good stuff. It's showing."
Jason Mastrodonato is a reporter for MLB.com. Follow him on Twitter @jmastrodonato. This story was not subject to the approval of Major League Baseball or its clubs.