Yanks knock three homers to make winner of Kuroda
Right-hander clamps down on Blue Jays after allowing early taters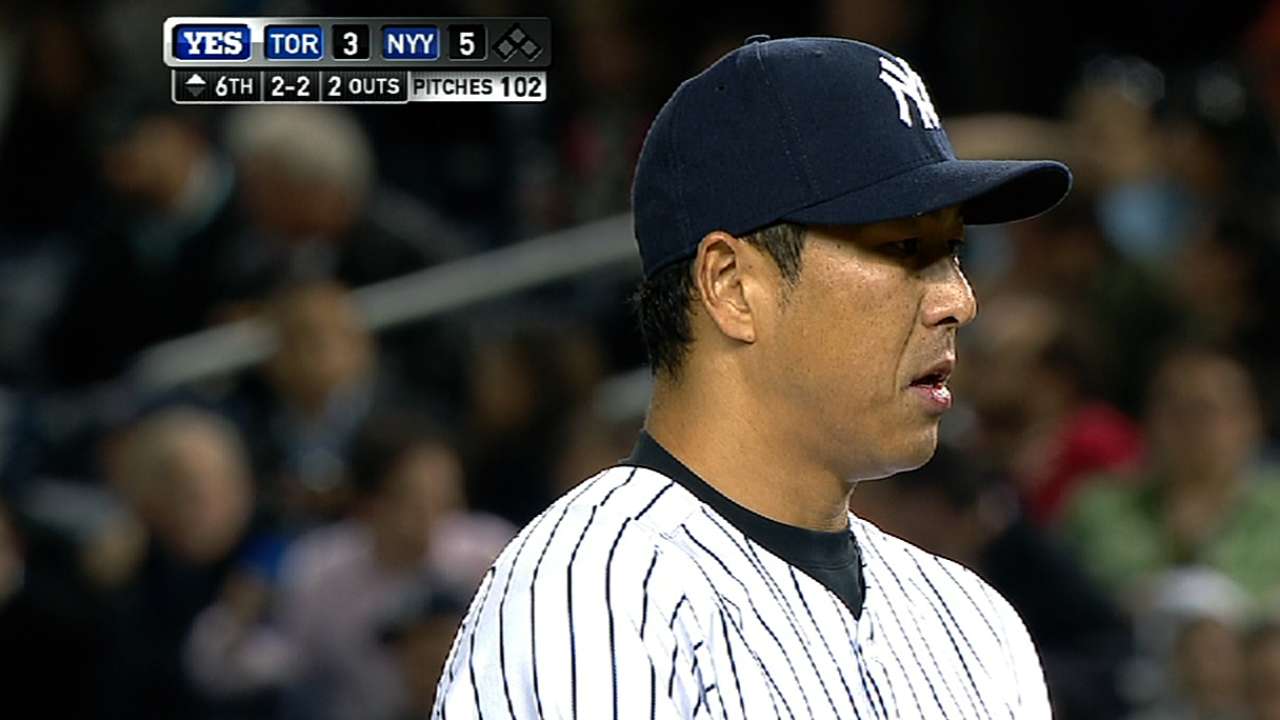 NEW YORK -- Hiroki Kuroda was standing in the center of the diamond without his weapons, and the Yankees could sense there was trouble brewing, the sort that often spells an early night for a starting pitcher.

From his perch in the dugout, manager Joe Girardi suspected that Kuroda had no sinker, no slider -- not much of anything, really, to challenge hitters. But by the end of the night, Kuroda had come away with a win, as the Yankees defeated the Blue Jays, 5-3.

"This," Girardi said, "might be his best performance of the year."

Kuroda allowed three early runs but clamped the damage there, lasting for six innings. That was long enough for the cavalry to arrive, as Robinson Cano mashed a three-run homer, and the Yanks also got home run power from Vernon Wells and Francisco Cervelli.

Mariano Rivera pitched a scoreless ninth for his seventh save in as many opportunities, preserving the third victory of the year for Kuroda, who retired 13 of the last 14 batters he faced and did not permit a hit after the second inning.

"All I thought was, 'Just hang in there, pitch by pitch, and [you'll] be able to overcome,'" Kuroda said through an interpreter. "Considering how it started, I think I was able to put together a decent outing."

Kuroda said that he had to keep his focus and also put his trust in Cervelli's knowledge of the Blue Jays' scouting report, not flinching as the catcher called more and more breaking balls.

By the end of the third inning, Kuroda had discovered a slider he could work with, and that was enough to keep him off the ropes.

"We had some big hits off Kuroda early, but he settled in," Blue Jays manager John Gibbons said. "He's one of the great pitchers out there."

Edwin Encarnacion opened the scoring with a two-run homer in the first inning, and Brett Lawrie slugged a solo shot in the second to put the Jays up by three. But Kuroda held the Blue Jays to a total of six hits, walking one and striking out three.

"I think he started to take a little more time and throw pitches down," Cervelli said. "I started calling him a lot of breaking balls, too. Find a way to put him on the line, and he can throw his best pitch, the two-seam fastball. I always say he's a warrior. He tries to get more than five innings all the time."

The trio of homers came off Toronto starter Mark Buehrle, who was saddled with his first loss as a member of the Blue Jays.

Wells hit the first homer, putting one into the netting covering Monument Park in the second inning, and Cano gave New York the lead when he homered to right field with Jayson Nix and Brett Gardner aboard in the third.

The blast was Cano's seventh in his last 15 games; the sweet-swinging second baseman is batting .391 with 13 runs, six doubles and 17 RBIs over that span.

"He makes this game look so easy," Wells said. "You're getting a chance to watch somebody pretty special play this game. To me, there's some at-bats where he's not going to make an out. It doesn't matter what the pitcher throws him, it doesn't matter who's on the mound.
"It's just something where you have a feeling that he's fouling off some nasty pitches, and if he gets a pitch to hit, he's not going to miss it. Those kind of guys are the guys you pay to watch each and every night."

Cano's blast was his third off a left-hander this season, and he has homered in three of his last four games. He did not hit his seventh homer last season until May 26, his 46th game of the year.

"It doesn't surprise me," Gardner said. "I don't think it surprises anyone around here. He's a special player, a special hitter. It's a lot of fun to watch him hit."

Cervelli completed the power display by homering to left field in the fourth off Buehrle, who permitted seven hits in 5 1/3 innings. The lefty walked none and struck out three.

There were fireworks in the seventh inning, when Gibbons was ejected after the umpiring crew reversed a call on Ben Francisco, who was initially ruled out on a bunt to third base.

Francisco returned to first base when crew chief Jeff Kellogg ruled that Encarnacion had juggled the throw at first base, but the play was reduced to a footnote when Brad Lincoln retired the next two hitters to escape the inning.

"Our thought process," Kellogg said, "is [that] we're going to try to get the plays right. That's it."

Joba Chamberlain avoided a scare when he struck his pitching hand reaching for a Lawrie infield hit in the seventh. Chamberlain pitched a scoreless frame and David Robertson followed suit, getting the ball to Rivera for the ninth, and the Yankees logged their 11th victory in their last 16 games.

"We're finding a way to win," Gardner said. "Sometimes it isn't pretty, but we're taking advantage of the opportunities given to us."
Bryan Hoch is a reporter for MLB.com. Follow him on Twitter @bryanhoch and read his MLBlog, Bombers Beat. This story was not subject to the approval of Major League Baseball or its clubs.