Early lead gets away from Buehrle, Blue Jays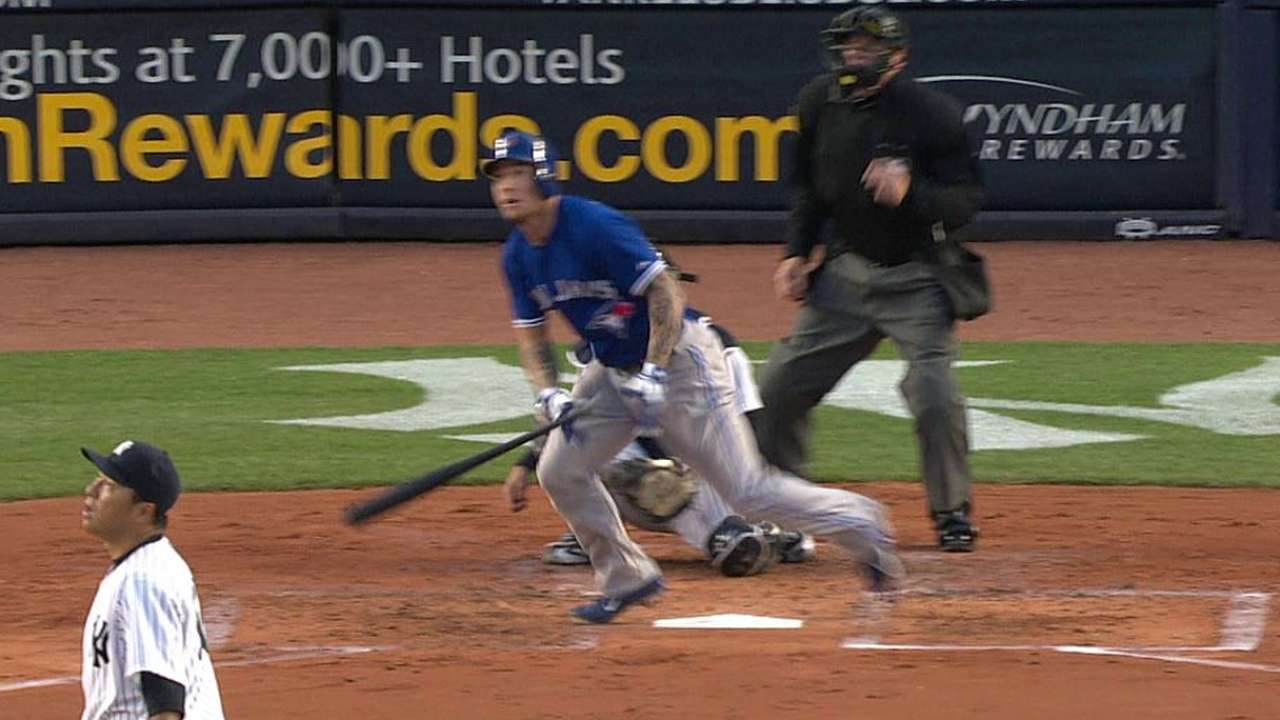 NEW YORK -- Left-hander Mark Buehrle likely won't look back on his first month in a Blue Jays uniform with the fondest of memories.

Toronto's No. 3 starter has struggled for most of April, and even when he's making the right pitch, in the right location, it hasn't resulted in a lot of positives.

That was the story again on Thursday night, when Buehrle surrendered three home runs -- including a three-run shot off the bat of Robinson Cano -- in a 5-3 loss to New York at Yankee Stadium.
"Went fastball in, got in, and he hit it out," said Buehrle, who also gave up solo shots to Vernon Wells and Francisco Cervelli. "He's a great hitter, and I think that's why this game is kind of frustrating at times. You make pitches and they get hits.
"I'd love to have it back now, but at the time, I got it in there, threw it where I wanted to, and he hit. Nothing I can do about it."
Buehrle's April hasn't exactly gone as planned. He finished the month with a 1-1 record but an ERA of 6.35 in five starts. Three of those outings lasted 5 1/3 innings or fewer, with at least five earned runs.
The first month of the season usually goes better than this for Buehrle, but throughout the course of his career, he has been prone to slow starts. His career ERA of 4.27 in March/April is the highest he has for any month, and the mark may be ugly thus far in 2013, but his teammates haven't necessarily done him very many favors, either.
The Blue Jays missed making a number of plays behind him in his outings. Buehrle is a ground-ball pitcher and so requires strong infield defense, and at times that has been missing. It happened again on Thursday night, when a pair of infield hits led to the Cano homer.
Even so, Buehrle was frustrated with himself despite not having any regrets about the location of the pitch to Cano.
"Right before that, two infield hits, and then a home run," Buehrle said. "That changes the game. We had come out quick and scored three runs. I give up hits and solo home runs, but any time guys are on base and it's a two-, three-run [homer] or a grand slam, that's what kind of kills us."
The downward turn was made even more disappointing because Buehrle had been staked to that rare lead early in the game. Toronto's offense has been struggling of late, but Edwin Encarnacion and Brett Lawrie ensured that things started on the right foot.
Encarnacion got everything rolling with a first-pitch homer in the first inning off Yankees right-hander Hiroki Kuroda. The two-run shot was his third home run in as many days and fifth of the season.
The first baseman got off to a slow start but appears to be heating up, as he is batting .310 with four homers and 10 RBIs in his past 12 games.
"The good thing for me and for my team is that I have been feeling better," Encarnacion said. "So that, for me, is going to help my team to win, because we need to keep playing better, better ball. I know they need me, and I know I've been feeling better, so we're going to get them tomorrow.
"I've been swinging at my pitch and looking for my pitch. I was swinging at a lot of pitches outside of the strike zone at the beginning, so now I try to look for my pitch."
Lawrie got into the action in the second, when he sent a solo homer over the wall in right. It was his first home run in 10 games this year after missing the beginning of the season with an injured oblique.
The early homers were a continuation of a recent power surge that started Wednesday night, when the Blue Jays hit four against the Orioles. But from that point on, Kuroda settled in and didn't allow another run the rest of the way.
Kuroda was charged with just those three runs on six hits while striking out three during his six strong innings.
"I think he started to take a little more time and throw pitches down," Cervelli said. "I started calling him a lot of breaking balls, too. Find a way to put him on the line, and he can throw his best pitch, the two-seam fastball. I always say he's a warrior. He tries to get more than five innings all the time."
The lack of offense has been a continuing trend. The Blue Jays have scored three runs or fewer in all but eight of their 22 games and now find themselves five games under .500.
Gregor Chisholm is a reporter for MLB.com. Read his blog, North of the Border, and follow him on Twitter @gregorMLB. This story was not subject to the approval of Major League Baseball or its clubs.