Gordon's tape-measure slam powers Royals to win
Shields pitches eight strong innings; Butler reaches base four times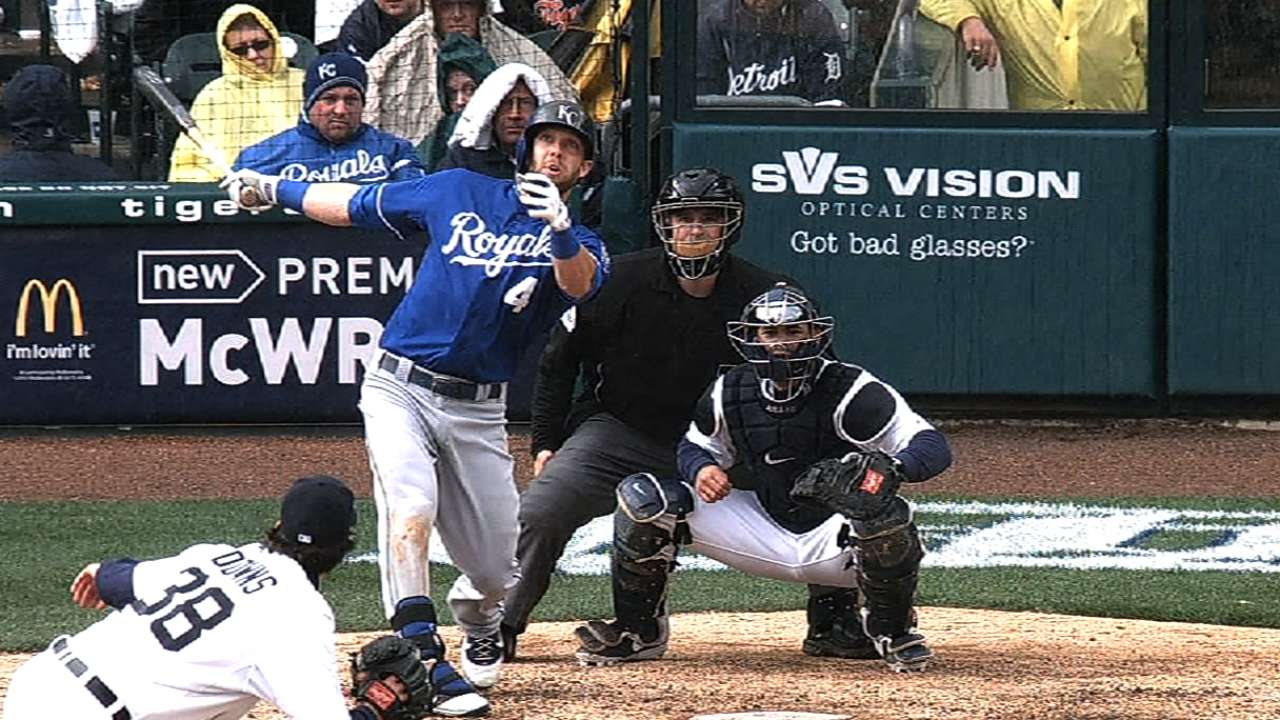 DETROIT -- Justin Verlander finally cracked. Or at least the skin on his right thumb did.
With their long-time tormentor out of Thursday's game, the Royals exploded for five runs, including Alex Gordon's grand slam, in the 10th inning for a stunning 8-3 victory over the Detroit Tigers on a chilly, wet afternoon at Comerica Park.
The win gave the Royals a 4-3 record on a trip through Atlanta, Boston and Detroit, in which they lost the first game in each city. They retained first place in the American League Central and hold a 1 1/2-game lead over the Tigers, the preseason favorite.
"This was a phenomenal road trip for us," Royals starting pitcher James Shields said. "About August, I think we're going to look back at this road trip and it's going to be pretty crucial. We did a great job of coming back in some games, did a great job of grinding out some wins. It shows what kind of character our team has and I'm very proud of them."
Before Verlander left with a thumb blister after seven innings, the Tigers held a 3-2 lead but Shields kept the Royals within range. He worked eight innings and retired the last 10 batters he faced.
"In those situations, he ups his game," manager Ned Yost said. "The deeper he gets in those situations, the tougher he gets."
Neither starting pitcher in the matchup of the teams' No. 1 pitchers got a decision. Verlander was trying to improve on a 15-2 record he holds over the Royals but the blister stopped him.
"I started noticing it and after the seventh, I talked to our pitching coach and we kind of came to a joint decision," Verlander said. "At this point in the year, there's no point in creating something that possibly could become a nagging issue, so we just made the decision to call it a day."
Tigers manager Jim Leyland turned the mound over to right-hander Bruce Rondon, making his Major League debut. Billy Butler greeted him with a single to right and swift Jarrod Dyson ran for the Royals' beefy designated hitter, who reached base four times.
"Generally I don't like to pinch-run for Billy in the eighth but I knew we had to take the opportunity right there to at least tie the game," Yost said.
Mission accomplished. Dyson promptly stole second, moved to third on Eric Hosmer's ground-out and scored on Lorenzo Cain's sacrifice fly. It was 3-3 and Shields zipped through the top of the Tigers' lineup in their half of the eighth.
It came down to the 10th when, with one out, the Royals went to work on left-hander Phil Coke. Cain doubled and Mike Moustakas coaxed a walk. After a wild pitch, Jeff Francoeur was intentionally walked to load the bases.
So that would bring up Salvador Perez, right? Nope, he had been lifted for a pinch-runner in the previous inning and seldom-seen backup catcher George Kottaras was at the plate.
"He's going to give you a professional, no-panic at-bat in those situations and he did it again," Yost said.
Kottaras patiently went to a 3-1 count and drew a walk that forced home Cain to break the tie. Another lefty, Darin Downs, took over and got Chris Getz to tap into a force-out at the plate.
Two out, bases still loaded, Gordon at bat. On a 43-degree afternoon in which rain and sunshine kept trading places, the rain was coming down. The count went to 2-0 and Gordon sent a ball soaring high toward the center-field wall 420 feet away.
Was Gordon expecting the ball to get that far?
"In Detroit? No, never," Gordon said. "It's a big outfield and I think there was a storm coming in that kind of blew it out a little bit. Honestly, I had three punch-outs on the day and I was just trying to make contact. Sometimes that's what happens."
What happened was that the ball landed in the first tier of shrubbery behind the wall, an area rarely visited by batted balls. A 4-3 lead had ballooned to 8-3.
It was the first grand slam of Gordon's career and the sixth in extra innings by a Royals player. The last previous such slam was by Danny Tartabull in 1991.
Closer Greg Holland, already heated up to preserve a one-run lead, came in to pitch a perfect 10th. That gave the win to Tim Collins, who worked a 1-2-3 ninth inning.
"It was a good battle, two aces going out there and competing pretty well," Gordon said. "Both of them pitched great and one of these days we're going to get James Shields a win when he pitches like he does."
Shields, in his five starts for the Royals, has a 3.09 ERA but just a 1-2 record with two no-decisions. One of his losses was a complete-game effort against Toronto.
The turning point for him on Thursday came when Miguel Cabrera, with one out and two on in the fifth, hit a wicked smash but right at Moustakas at third base. He made the catch and caught the runner far off second for a double play.
"That was a big AB right there," Shields said. "When you've got Cabrera with runners in scoring position, that's a tough one. Luckily he hit it right at Moose and we got a double play out of it and got us out of a big inning."
The Royals also survived an injury scare in the fourth inning when Prince Fielder slid into Perez's left leg as he crossed the plate. No damage to Perez's surgically-repaired knee, just a temporary tweak in his hip.
Butler continued his long success against Verlander with two singles, an RBI and a walk against him. That makes him 23-for-55, .418, in his career against the Tigers' right-hander.
"There were a lot of heroes in this game and we played well altogether," Gordon said.
Good enough to conclude a trip with a 4-3 record against three tough teams.
"It was a good road trip," Yost said. "We're still not firing on all cylinders and winning baseball games."
Dick Kaegel is a reporter for MLB.com. This story was not subject to the approval of Major League Baseball or its clubs.