Gio, Espi help Nats make quick work of Reds
Lefty one-hits Cincy over eight, second baseman tallies three RBIs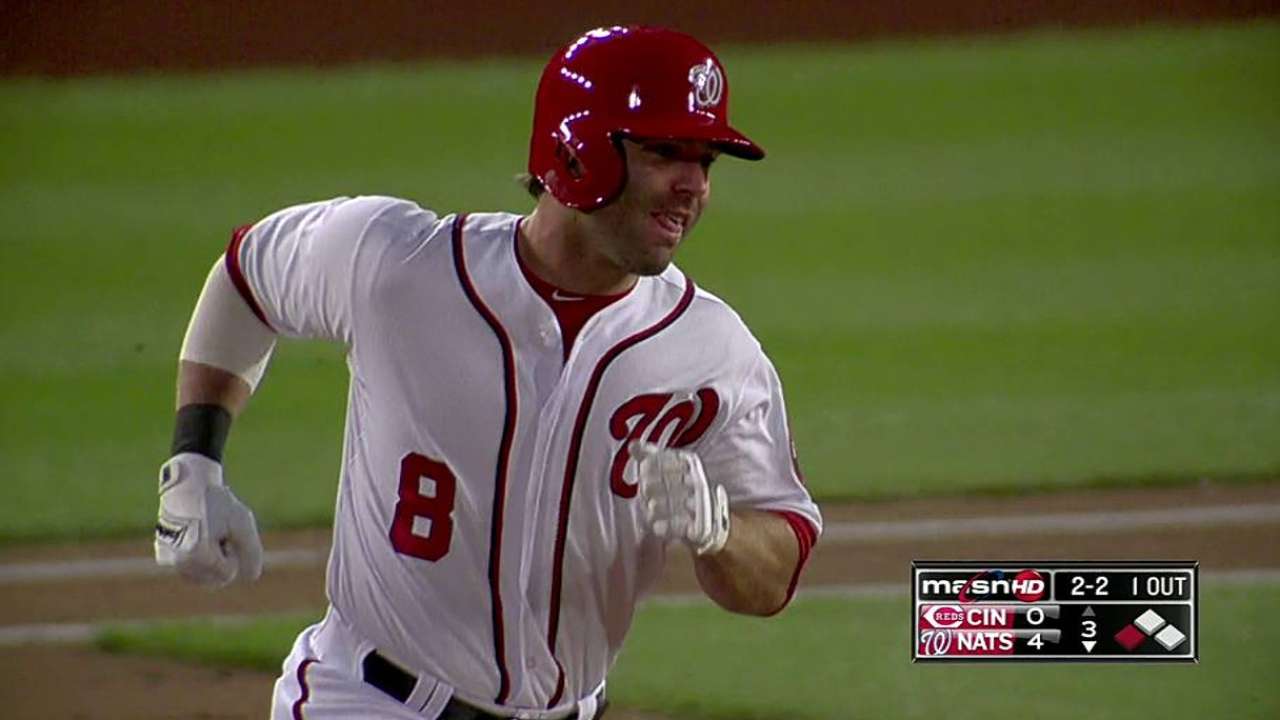 WASHINGTON -- After watching his team lose four straight games, manager Davey Johnson decided not to make massive changes to his lineup. The only thing he did was insert third baseman Steve Lombardozzi into the second spot and drop right fielder Jayson Werth into the cleanup spot.
It's a good thing that Johnson showed patience, because the offense came back to life behind Gio Gonzalez as the lefty allowed one hit in eight innings to help the Nationals defeat the Reds, 8-1, at Nationals Park on Thursday night. Washington is now back at .500 with an 11-11 record.
"Getting going was the main thing. It was a big day. A lot of guys were able to get base hits," Johnson said. "They swung the bat very good. Bronson Arroyo is not easy to hit, because he throws a lot of soft stuff. It's hard to sit on the [fastball], but I was pleased with everybodys' at-bats during the game."
The Nationals had great at-bats against Arroyo, especially second baseman Danny Espinosa. Johnson kept saying that he believed in Espinosa, who was hitting .155 entering Thursday's game. It was Espinosa's 26th birthday and he ended up with two hits and knocked in three runs.
Espinosa drove in the first run of the game in the second inning, hitting a double to right-center field, scoring Ian Desmond. Espinosa would later score on a single by Denard Span.
"I didn't feel super strong out there, but I've felt like that plenty times and had decent games," Arroyo said. "[The Nationals] have a pretty good hitting lineup, and they hit some balls where we weren't and they hit some balls hard when I made some mistakes."
The Nationals scored four more runs off Arroyo in the next inning. Espinosa highlighted the scoring with a two-run homer. Bryce Harper hit his eighth home run, a solo shot over the center-field wall to lead off the frame.
"I was really happy for Espi to see him swing the bat well," Johnson said.
Johnson said it was good to see Espinosa smile during the game. Even after he made his first out of the game -- a groundout to second baseman Brandon Phillips -- Espinosa remained positive and felt he could have gone the other way with the ball.
"I was just going up there, trying to have a good at-bat, trying to get a pitch to hit," Espinosa said. "I don't think I have been pressing. I don't think the guys have, either. Everyone feels pretty loose. It's frustrating to lose, but I feel everyone has been loose. We just went out there and played ball."
The Nationals added two more runs, against reliever Logan Ondrusek, in the eighth inning as Span tripled over the head of center fielder Shin-Soo Choo to make it a seven-run game.
Entering Thursday's action, Gonzalez had allowed 12 runs over his previous nine innings. Johnson said he wanted to see Gonzalez pound the zone, and the lefty did. Gonzalez started the game by retiring the first 11 hitters he faced.
Gonzalez pitched eight innings and struck out seven batters. Joey Votto was the only player to get a hit against Gonzalez, a solo shot over the left-field wall in the fourth inning.
"Gio was just outstanding," Johnson said. "Probably any other time, after a couple of bad outings, I would have let him finish that ballgame, but he was over 110 pitches (112) and I didn't want to do it. But outstanding effort. Great job."
What was the difference between Gonzalez in his last two starts and the one on Thursday? He threw a lot of first-pitch strikes.
"He started right after them," Johnson said. "In the previous two games, he was missing early. [On Thursday], he was mixing his curveball. He was throwing them for strikes. … It was a fun game. Gio did one heck of a job. He really pounded the zone."
Said Gonzalez: "They got me runs early. I wanted to go out there and try to pound the strike zone. I had great defense behind me. Great offense. I didn't want to let them down this time."
Bill Ladson is a reporter for MLB.com and writes an MLBlog, All Nats All the time. He also could be found on Twitter @WashingNats. This story was not subject to the approval of Major League Baseball or its clubs.