Arroyo touched early as Reds can't crack Gio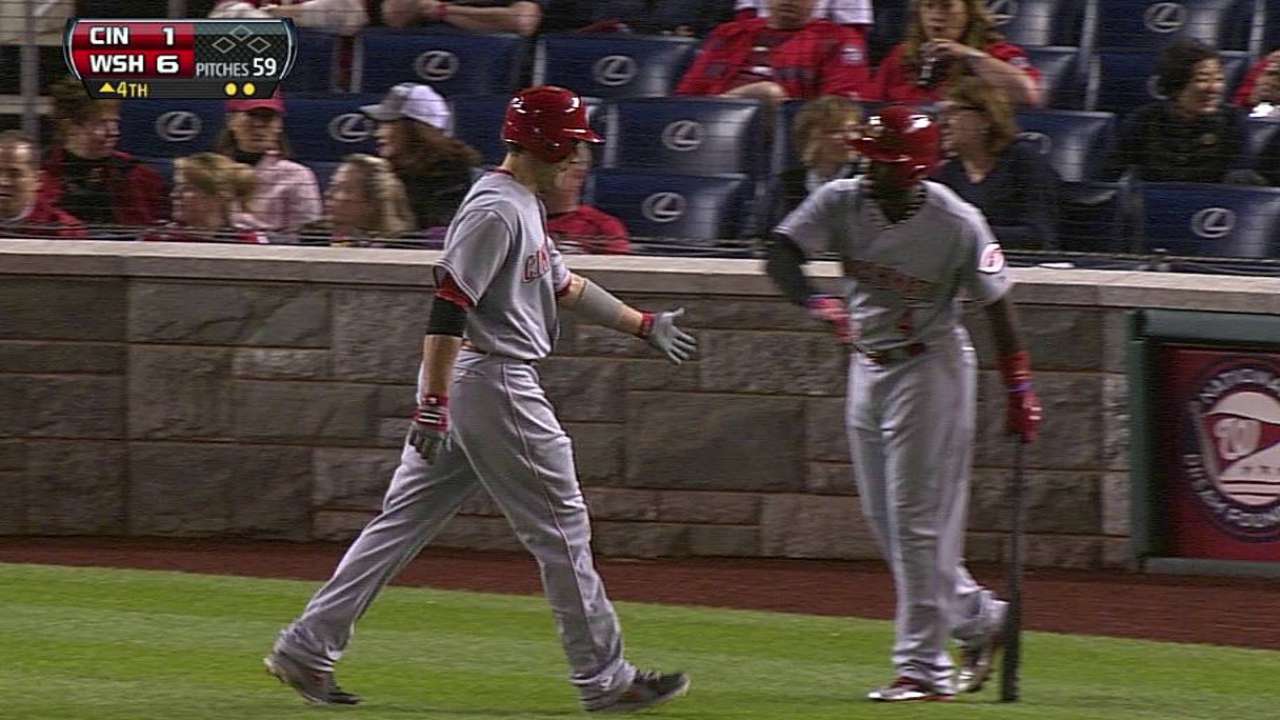 WASHINGTON -- Sometimes in baseball, teams have the misfortune of going against a pitcher who's just too good and has it all together in that game. The Reds had to endure that when they ran into the buzzsaw named Gio Gonzalez on Thursday night.
The Reds came into this series opener as one of the best offensive teams in the National League. But Gonzalez completely shut them down, allowing just one hit and three baserunners in eight innings as Washington rolled to an 8-1 victory over the Reds before 24,748 at Nationals Park
Cincinnati (13-9) just couldn't do much of anything against Gonzalez (2-1). The left-hander retired the first 11 Reds before Joey Votto homered in the fourth. Devin Mesoraco walked twice, and those were the only baserunners the Reds came up with against Gonzalez in his eight-inning stint. Gonzalez struck out seven.
"Gio had his control," Reds manager Dusty Baker said. "He had his fastball working. He had his curveball. Gio can pitch. I've been watching Gio for a few years, and when he's on, he's on."
Gonzalez had struggled at times in the first part of 2013, entering the game with a 5.85 ERA. But he used his pitches well, had his control and proved too much for the Reds on a night where he threw 78 strikes out of 112 pitches.
"Gio's a guy with an All-Star track record, and a guy who could have won the Cy Young [Award] last year, so it's not surprising," Votto said. "I'm not making an excuse for our team. It's a credit to him, how he pitched tonight."
Votto was the only Red to do anything against Gonzalez. He clubbed a solo homer to left with two outs in the fourth. The first baseman became the first Cincinnati player to reach base, and no one else made it into scoring position.
What made things tougher for the Reds was watching Washington (13-11) take a big early lead against starter Bronson Arroyo (2-2). The Nationals had a 6-0 edge after three innings, and that helped Gonzalez relax and settle into a rhythm.
"It was one of those things," Gonzalez said. "They got me runs early. I wanted to go out there and pound the strike zone. I was just trying to stay locked in."
The Nationals came into the game in a slump, having lost four in a row and scoring only a total of four runs in those games. Their offense, however, awakened as the Nationals scored twice in the second, one run coming on a Danny Espinosa double and another on Denard Span's RBI infield single for a quick 2-0 lead.
Washington added four more in the third thanks to a leadoff homer by Bryce Harper, Ian Desmond's RBI groundout, and Espinosa's two-run homer. Arroyo nearly got out of the inning after giving up just one run as Adam LaRoche hit what looked like a double-play ball to Votto at first with one out and one out.
But Votto's throw to second hit the sliding Jayson Werth and bounced into center. That put runners on second and third with two outs, and Desmond followed with the groundout before Espinosa's homer for a 6-0 lead.
"I didn't feel super strong out there, but I've felt like that plenty of times and had decent games," Arroyo said. "They've got a pretty good hitting lineup, and they hit some balls where we weren't, and they hit some balls hard when I made some mistakes."
Baker said that Arroyo didn't have his best stuff but gave the veteran right-hander credit for gritting his way through six innings. After giving up those first six runs after three innings, Arroyo blanked the Nationals in the next three innings, allowing only two more hits.
Making it through six innings is something that will help the Reds' bullpen since they've already worked a lot and won't have an off-day until next Thursday.
"He was getting some balls up," Baker said. "They didn't miss them today, but he gave us what he had. I told him, I said, 'Hey man, you could have come out of that game in the third inning.' We didn't win the game, but he saved our bullpen for the next six games before getting an off-day."
Jeff Seidel is a contributor to MLB.com. This story was not subject to the approval of Major League Baseball or its clubs.