Hefner delivers, but Mets fall short vs. Dodgers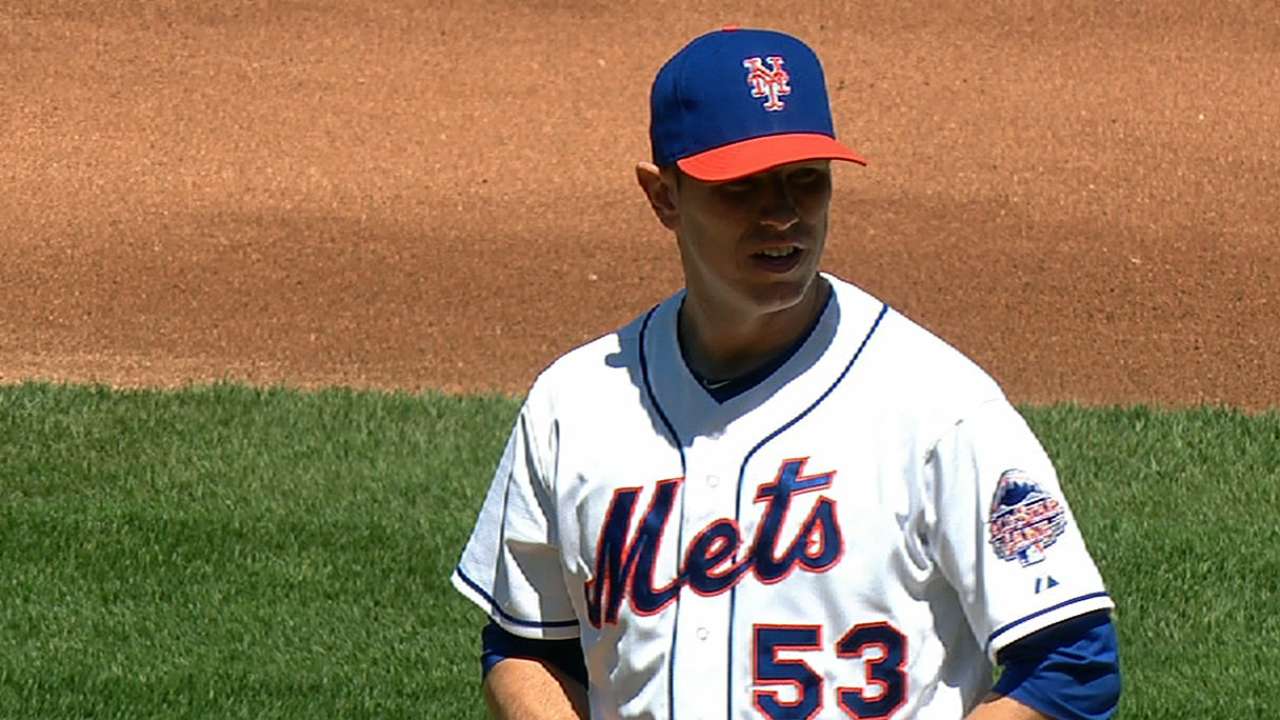 NEW YORK -- When the Dodgers arrived at Citi Field this week for a three-game set, they looked at the schedule, saw Jon Niese and Matt Harvey pitching Games 1 and 2 for the Mets, and likely figured their surest shot for a win would be against Jeremy Hefner in Game 3.
Hefner was determined to prove otherwise.
"When the guys come to the park and they see my name, I don't want it to be, 'Oh man, we've got to score 10 runs because Hef's pitching,'" Hefner said of his Mets teammates. "I want it to be, 'Oh, Hef's pitching today. Let's just grind out a couple, and we'll be in it."
That is precisely what happened Thursday afternoon at Citi Field, even if the end result was not as Hefner envisioned. The Mets' fifth starter gave them seven effective innings, but a sluggish offense and ineffective bullpen sunk the Mets in a 3-2 loss to Hyun-Jin Ryu and the Dodgers.
"I don't like mediocrity," Hefner said. "I don't settle for mediocrity. So I've been really trying hard in between starts in my bullpens to make things sharper, trying to clean my mechanics up a little bit. The results of that are kind of what happened today."
Andre Ethier came up with the winning hit for the Dodgers, lining an RBI single off Scott Rice to snap a 1-1 tie in the ninth. Rice opened the inning by serving up a double to Nick Punto, then intentionally walked Matt Kemp with one out to set up Ethier's hit. A batter later, Juan Uribe plated another run on an infield hit off Bobby Parnell.
"This is the type of win we haven't been grinding out the last week or two," Ethier said of the scuffling Dodgers. "We kept after it. Maybe this is the turning point in getting us the feeling we can win close games."
It was all Los Angeles needed considering the performance of Ryu, who started strong before losing some effectiveness as the game progressed. The Korean lefty retired seven in a row to start the game, had that streak snapped on Justin Sellers' fielding error, then set down another three in a row. But the Mets rallied in the middle innings, converting Ruben Tejada's leadoff walk into their first run on David Wright's sacrifice fly in the sixth.
Tejada played a significant role throughout that rally, moving to second base on Daniel Murphy's hit and scrambling to third on a wild pitch that did not stray far from home. That allowed Wright to plate him without the benefit of a hit.
But the Mets squandered a golden opportunity to take the lead in the bottom of the eighth, putting their first two men on base against Dodgers reliever Kenley Jansen. Wright struck out, Lucas Duda flied out and Marlon Byrd whiffed, and just like that the threat was complete. Ike Davis opened the ninth with a homer off Dodgers closer Brandon League to make it a one-run game, but the next three Mets went down quietly.
"You give credit to them," Wright said. "They kept us off-balance. Their bullpen came in and did a nice job today. You're talking about those close games, and they did a better job than we did with some of that situational hitting."
After plunking the game's first batter and allowing him to score on Kemp's RBI single, Hefner was nearly untouchable through seven innings. The right-hander retired nine straight and 13 out of 14 over one middle-innings stretch, giving way to a pinch-hitter in the bottom of the seventh. He struck out four and walked three, using three double plays to his advantage -- with Tejada involved of each.
Despite the loss, Hefner's performance was critical for the Mets, who entered the game with an 8-2 record in games that Niese and Harvey started and a 2-7 record in games that they did not. Hefner in particular had been a primary culprit, struggling through a schedule that saw several of his starts pushed back or abbreviated due to weather and rotation issues. Once, he pitched in relief.
Now that the schedule has stabilized a bit, the Mets are going to need Hefner, Dillon Gee and Shaun Marcum at their sharpest if they want to compete consistently in the NL East this summer. That does not necessarily mean imitating the styles of Harvey and Niese; it simply means keeping the Mets within striking distance, as they were Thursday.
"I'm not going to be Matt Harvey," Hefner said. "I'm not going to throw up those types of numbers. So I have to go and mix speeds, keep the ball down, keep the ball in the yard -- kind of all of the things that I've been really working on for me to be successful."
Anthony DiComo is a reporter for MLB.com. Follow him on Twitter @AnthonyDicomo. This story was not subject to the approval of Major League Baseball or its clubs.