Ryu outstanding as LA takes two of three in New York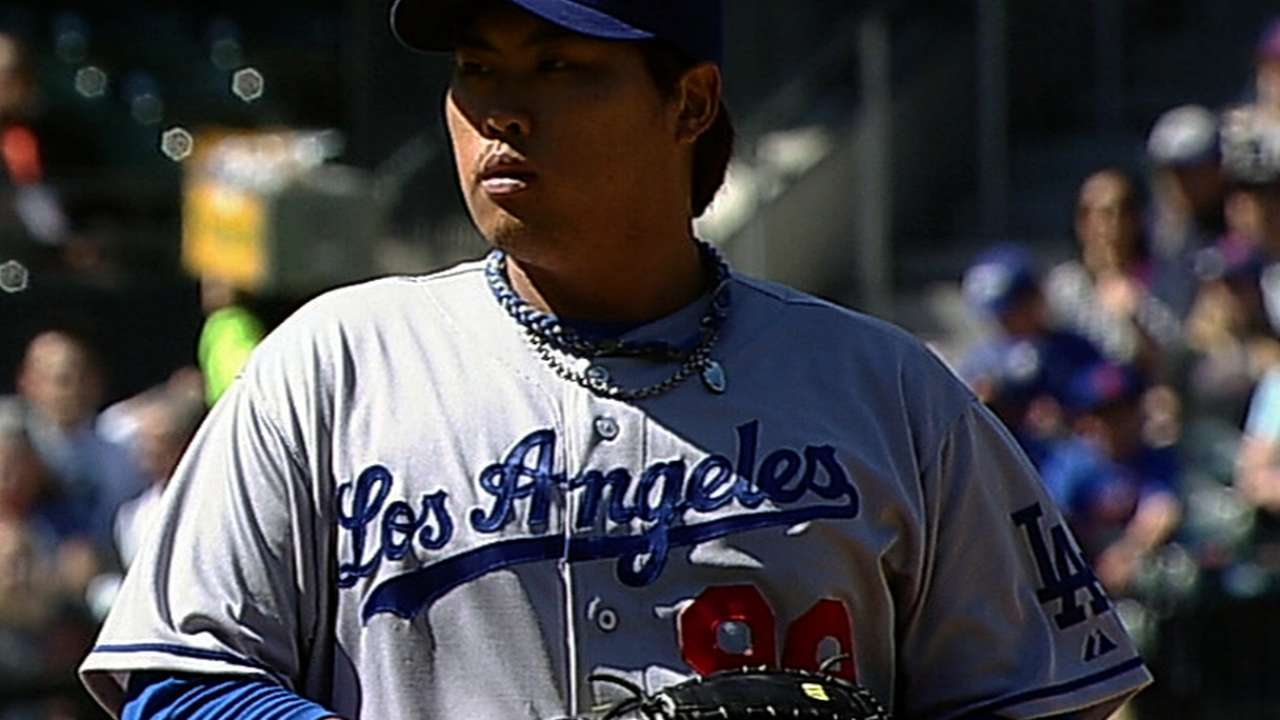 NEW YORK -- After losing both ends of a doubleheader and starting pitcher Chad Billingsley for the year while in Baltimore last weekend, a trip that could have been disastrous for the Dodgers ended Thursday with the momentum that only a win can generate.
They manufactured a two-run rally in the top of the ninth with RBI hits from Andre Ethier and Juan Uribe, then closer Brandon League overcame a leadoff homer by Ike Davis to avoid a second blown save in less than 24 hours by nailing down a 3-2 win over the Mets.
"This is the type of win we haven't been grinding out the last week or two," said Ethier, whose one-out single off former Dodgers farmhand Scott Rice scored Nick Punto, who led off the ninth with a clutch double. "We didn't fold after [Davis'] homer. We kept after it. Maybe this is the turning point in getting us the feeling we can win close games."
The Dodgers went 4-8 during a stretch of 12 games in which nine were on the road. But they were able to rebound after losing in 10 innings Wednesday night on Jordany Valdespin's walk-off grand slam and won a series for the first time since April 9-11.
"We set the tone after a tough loss to bounce back," said manager Don Mattingly. "That kind of gets the momentum going a little bit."
This game for the most part was a non-decision duel between starting pitchers Hyun-Jin Ryu of the Dodgers and Jeremy Hefner of the Mets, with almost identical results -- one run on three hits and three walks over seven innings of a 1-1 tie. Ryu struck out eight, Hefner four.
"First time seeing him, his slider is pretty deceptive because it did two things," said Davis. "Sometimes he threw one that just went straight across, and then the other one would have depth. I think we only had three hits off him. One was a broken bat and the other one was a little soft liner to right. We didn't find a lot of barrels off him."
Ryu, rebounding from his worst start for the Dodgers while pitching in front of another noisy contingent of fellow Koreans, did something most modern-day pitchers don't do.
After wobbling in a 32-pitch sixth inning that saw the Mets tie the game at 1, he gave the bullpen a much-needed rest by coming back out to pitch a 1-2-3 seventh inning, finishing with 109 pitches.
"The last four games, our bullpen pitched 18 innings and was taxed pretty good," said Mattingly. "That was a big decision for us [to send him back out for the seventh]. He told us he could do it. It's a big win for us."
Between the top and bottom of the seventh, backup catcher Ramon Hernandez told Ryu to scrap the slow curveball that had gotten him into the seventh-inning mess, which started with a leadoff walk to Ruben Tejada.
"For some reason, maybe it was because there was a lot of wind, but that's why his ball was bouncing on home plate," said Hernandez. "We swept it off and stuck with the slider, fastball and change."
Kenley Jansen took over, only for Tejada to send his third pitch up the middle for a single. The pitch was a slider and Jansen didn't throw anything else but cutters after that. He walked Daniel Murphy after Tejada's hit, but put the next three Mets down, two on strikeouts, his cutter up to 95 mph. He was credited with the win.
"It was nice to see Kenley get out of that," said Mattingly. "I don't like to see him get into it, but he geared up a notch."
Punto started the winning rally with a double off Rice, who spent 14 years in the Minor Leagues (including two with the Dodgers and three in Independent Leagues) before finally breaking through this season.
"It was nice getting a pitch I could handle," said Punto. "We needed a run."
Adrian Gonzalez grounded sharply to first base, moving Punto to third. Matt Kemp, who singled home the Dodgers' first-inning run, was walked intentionally to bring up Ethier, who lined a soft single to center to break the tie.
"The group execution was good," said Mattingly.
Ethier has struggled against left-handed pitchers in recent years, but is hitting .267 against them this year.
"About the only thing I am hitting right now," he joked. He also was only 2-for-21 with runners in scoring position coming into the game.
"This is not only good for the team, it's good for me, it's good for everyone," he said. "I haven't been capitalizing when I get that one good pitch to hit. Maybe I'm overaggressive, maybe I'm underaggressive. I've just got to get back in the rhythm."
Kemp hustled to third, so on Uribe's infield single into the hole at short, Kemp was able to score an insurance run that turned out decisive. Uribe also had three walks.
It was a good trip for Kemp, as he went 11-for-24 with five RBIs and his first homer.
Ken Gurnick is a reporter for MLB.com. This story was not subject to the approval of Major League Baseball or its clubs.