Manuel gets hook as frustration with bats grows
Phillies score four, but drop third straight as bullpen takes another loss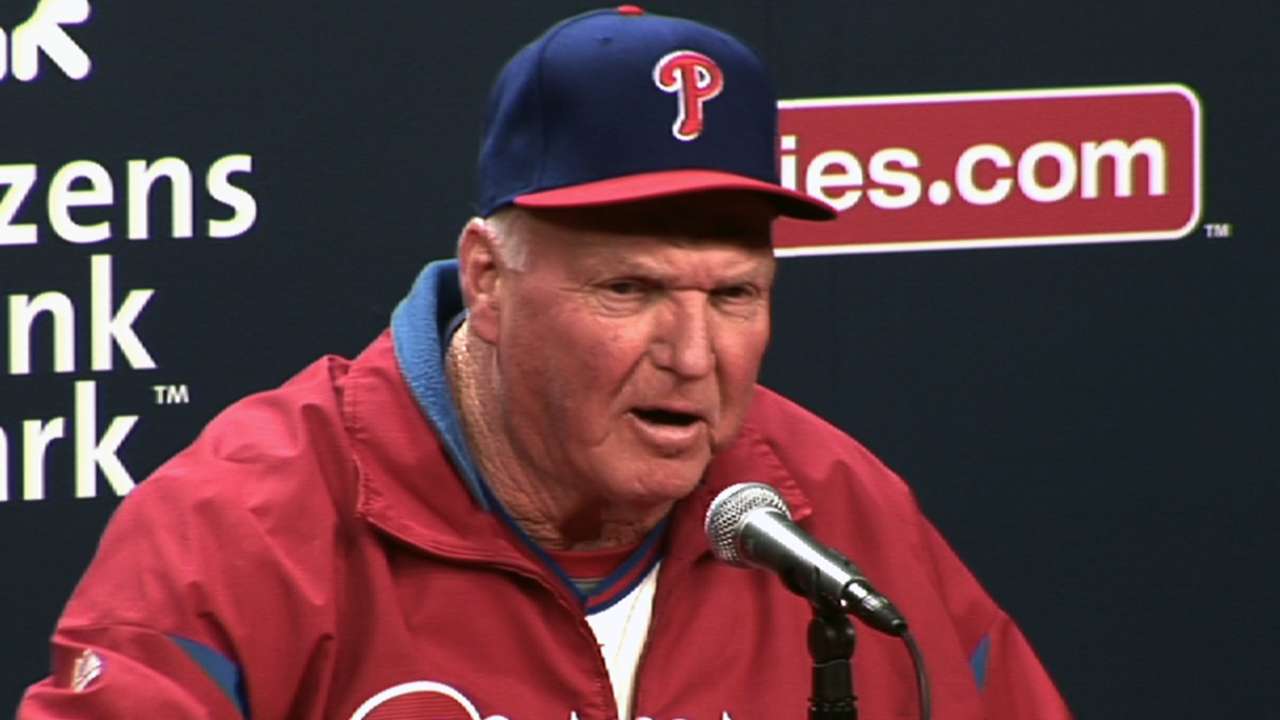 PHILADELPHIA -- Charlie Manuel was ejected, getting the thumb from third-base umpire Dan Iassogna. The argument was about a play in the ninth inning of the Phillies' 6-4 loss to the Pirates on Thursday afternoon at Citizens Bank Park, a play in which batter Clint Barmes bunted and then appeared to interfere with catcher Erik Kratz' attempt to throw to second base.
Really, though, it was about the fact that, once again, the Phillies didn't hit. The Phillies' manager is an unabashed hitting guy, and he's had a hard time keeping a lid on his frustration lately.
The Phillies have scored three or fewer runs in 11 of their past 14 games, including three shutouts. Even though they exceeded that Thursday, they're averaging just 2.71 runs per game in that span, the fewest in the National League.
In the series finale against the Pirates, they went 2-for-16 with runners in scoring position.
Which is why they dropped their third straight to Pittsburgh, even though Cole Hamels, Roy Halladay and Cliff Lee were the starting pitchers. According to research, it's the 18th time the three aces have pitched in a row for the Phillies. It's the first time the club lost all three games.
Manuel has changed leadoff hitters, from Ben Revere to Jimmy Rollins. On Wednesday, he batted Michael Young third, splitting up left-handed hitters Chase Utley and Ryan Howard. Thursday, he didn't start Ben Revere in center for the first time this season.
And the Phillies still fell to a season-worst five games under .500.
"I've been trying to do everything I possibly can. Everybody's getting a chance to play," Manuel said. "Believe me, we're trying. But at the same time, we're not getting it done. We definitely have to hit better. We have to score more runs. Our guys know that. We're just in a period right now where we're not playing good at all. We're just not playing good baseball and we're also having things not go our way. I always talk about the luck involved and everything that goes into play. And right now, we're in kind of a bad turmoil, or whatever you want to call it."
The Phillies had a lead twice. Twice the Pirates came back to tie the score before breaking it open in the eighth.
"We had a one-run lead. Then Gaby Sanchez hits the home run [in the sixth]," Lee said. "We come back and regain the lead, put up two runs there in the sixth, and then they tied it back up. I've got to do a better job of keeping us in the lead right there. That was a big inning for our offense to be able to do that, and I don't feel good about allowing them to re-tie the game right there."
Lee walked Pirates leadoff hitter Starling Marte with one out in the seventh. With two out, Andrew McCutchen singled to put runners on first and second. And then it happened.
"I felt like I made some decent pitches," Lee said. "To [Sanchez], a fastball in. I think I broke his bat. He got a hit right there. [Michael] McKenry, I had him 0-2. I felt like I made a perfect pitch. Another broken bat for a hit. There's really not a whole lot I can do there. But I've got to do a better job of keeping myself from getting in those situations where a hit or two can get them back in the game.
"I'm not really happy about that, especially about walking Marte after getting one out and nobody on. He's fast. I've got to do a better job of making him swing his way on base. After that, I felt like I made decent pitches. Things just went their way that inning."
Between Sanchez and McKenry, Manuel visited the mound, but said later he had no intention of taking Lee out of the game, in part because he wanted to stay away from relievers Mike Adams, Antonio Bastardo and Jeremy Horst, all of whom pitched Wednesday night.
Still, the score was tied until the Pirates batted around against Phillippe Aumont and Chad Durbin in the eighth.
With one out, Aumont hit Barmes with a pitch. Travis Snider and Marte singled to load the bases. Pinch-hitter Garrett Jones doubled off the base of the wall in right to drive in the two runs that put Pittsburgh up for good; a Sanchez sacrifice fly tacked on an insurance run before the inning was over.
"I look at it as that I made one bad pitch," Aumont said. "I got it over the plate, and he got a hold of it. I got a couple ground balls that found a hole. That's just the way it goes."
The 6-foot-7 right-hander has dominant stuff, but at times has been hurt by lack of command.
Said Manuel: "I think you see when he's good, and then you get to see him when he struggles at times. When he hit the guy, that kind of opened things up. But he's got all the potential in the world. He's big, he's strong, he can throw 96 mph. He needs experience and he needs command. And when I talk about growing pains, that's what you're going to see out of him for a while. He's going to have those growing pains until he feels totally relaxed and confident and pitches up to his potential. And when he does, he's going to be very good."
In the meantime, the manager is just hoping that his team will start scoring more runs. That would solve a lot of the problems the Phillies are going through at the moment.
Paul Hagen is a reporter for MLB.com. This story was not subject to the approval of Major League Baseball or its clubs.