Brewers' nine-game win streak comes to end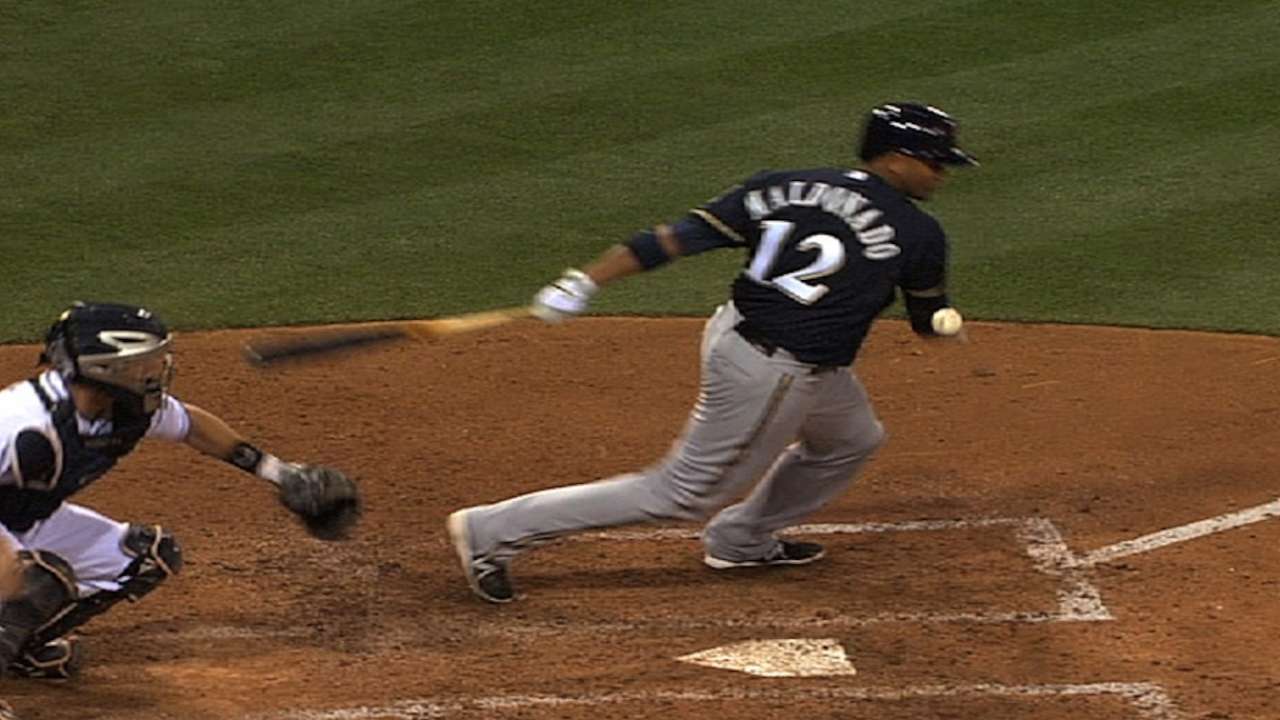 SAN DIEGO -- Ron Roenicke was well aware that the Brewers' winning streak had to come to an end at some point.
So it wasn't his club's 2-1 loss to the Padres Wednesday night -- snapping a nine-game run of victories -- that had the Brewers' manager so irked afterward.
Instead, it was the way the ballgame ended -- with plenty of controversy from an umpiring crew that had seen its fair share of it all series.
With two outs in the ninth and Milwaukee trailing by a run, first baseman Martin Maldonado came to the plate with the tying run on second base. He bounced a chopper in front of the plate that rebounded off the dirt and hit Maldonado as he made his first move up the line.
Even on replays, it was tough to judge whether he had yet left the box, but home plate umpire Paul Emmel leapt from his crouch to call Maldonado out.
"To end the game, you better know darn well that he's out of the box," said Roenicke, who was tossed on Tuesday night for arguing a check-swing call. "You could see the ball coming off his shoulder as Maldy's taking a step to first base. He's definitely not out of the box."
With Emmel's out call, an impressive nine-game winning streak -- tied for the seventh longest in club history -- came to an end.
Logic dictates that lengthy winning streaks are harder to sustain in baseball than in any other sport. Sure, an entire club can get red-hot, but on any given night, it only takes one brilliant outing from an opposing pitcher to override all of that momentum.
On Wednesday in San Diego, Edinson Volquez delivered that brilliant outing, shutting Milwaukee out for seven innings in what was easily his finest start of the season. The veteran right-hander entered the game winless and with an 8.84 ERA.
"We knew we were in for quite a challenge," Brewers left fielder Ryan Braun said. "We've faced him enough in the past to know that when he's throwing strikes, he's challenging. He had command of all his pitches tonight."
Brewers righty Marco Estrada wasn't too bad himself in notching his fourth consecutive quality start. He went 6 1/3 innings, allowing two runs -- one earned -- on five hits.
"It was probably the best I've felt all year," Estrada said. "I thought I located pretty well. But, obviously, one pitch got away from me."
That one pitch was a hanging breaking ball in the fourth inning that Padres left fielder Carlos Quentin crushed into the third deck of seats jutting out from the Western Metal Supply Co. building in left field.
An inning later, the Padres added to their their lead thanks to a rough defensive frame by Milwaukee second baseman Rickie Weeks. First, Weeks dropped a tricky pop-up, allowing Nick Hundley to reach base.
Then, on Volquez's ensuing bunt, no one covered third base, allowing Hundley to advance. Weeks threw to third anyway, hoping to hit sprinting shortstop Jean Segura in stride. But the throw went by Segura into foul territory, allowing Hundley to score, putting San Diego in front, 2-0.
"The third baseman crashed hard and there was no retreat by him," Padres manager Bud Black said. "Nick recognized it was a foot race. That's a tough play."
Roenicke noted that third baseman Yuniesky Betancourt has spent most of his career at shortstop. Neither Betancourt nor Estrada had the presence of mind to retreat to third base after charging.
"These guys have a responsibility to be in there for the bunt," Roenicke said. "Marco has to be in there for the bunt that's back at him and Yuni's got to cover the bunt if it's down third. You hope they react soon enough."
The Padres could have -- and probably should have -- taken the lead in the second. Estrada ran into trouble, but managed to pitch out of a bases-loaded, no-out jam. He got Padres second baseman Jedd Gyorko to line into a double play before freezing Hundley with a 2-2 changeup that tailed over the outside corner.
Milwaukee, meanwhile, didn't generate much against Volquez. Only one runner even reached scoring position -- Weeks, who stole second after snapping a four-game hitless streak with a fourth-inning single.
The Brewers' first real scoring chance came in the ninth when Betancourt knocked in Carlos Gomez with two outs for their first run. That set the stage for Maldonado, whose chopper ended the streak in one of the more agonizing and controversial ways possible.
"There's no good way to end a winning streak," Braun said. "You just move on to the next one. It was a great streak -- the longest one I've been a part of, and I've been on a few pretty good teams. "We'll just move on to the next one and try and start a different streak."
AJ Cassavell is a reporter for MLB.com. Follow him on Twitter @ajcassavell. This story was not subject to the approval of Major League Baseball or its clubs.