Backed by key hits, Cobb upstages Pettitte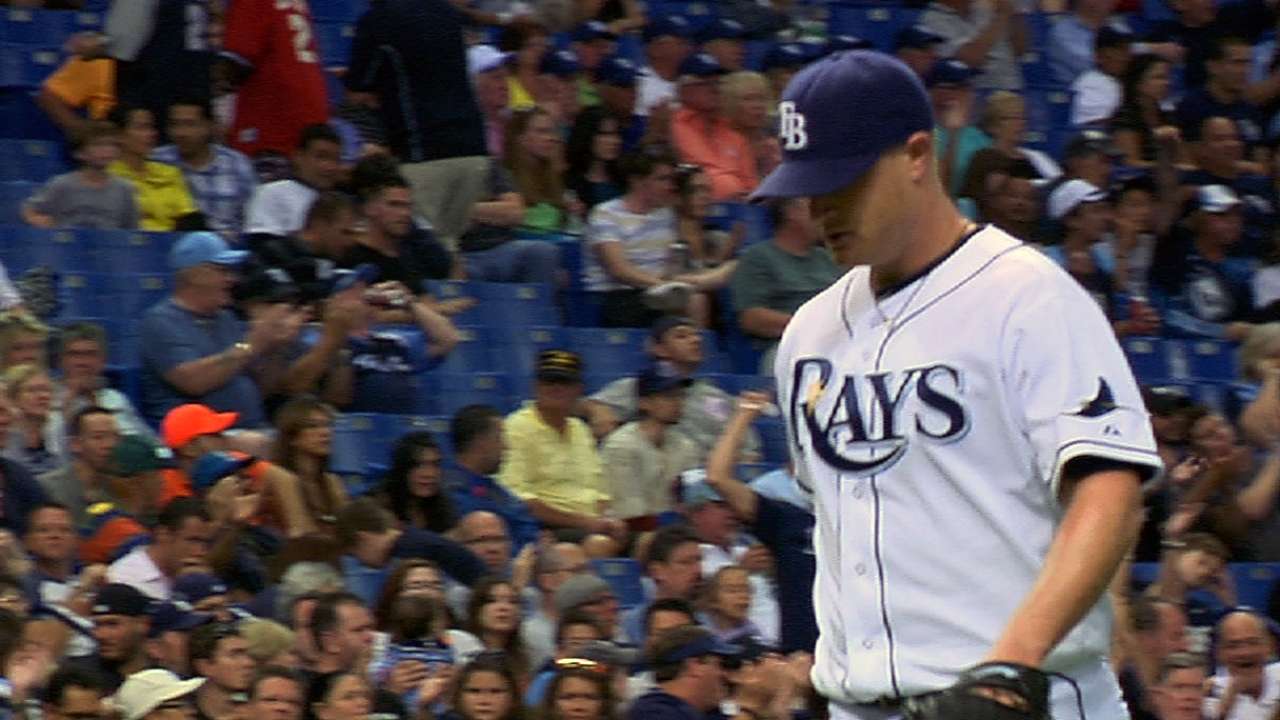 ST. PETERSBURG -- Alex Cobb brought the magic on Wednesday night as the Rays closed out a much-needed winning homestand with a 3-0 victory over the Yankees at Tropicana Field with 19,177 watching.
Cobb picked up his third win of the season with 8 1/3 sensational innings, while Ben Zobrist and Sean Rodriguez came through with big hits to pace the Rays' offense.
"I felt really good out there tonight," Cobb said. "I knew throwing out my first bullpen [session] that I was going to have good fastball location. … When you have that mindset going into the first couple of innings, you get in kind of a groove and things just start to work out for you."
The 25-year-old Cobb entered the ninth having allowed just two singles and a walk, but Brett Gardner's clean single through the right side with one out ended the right-hander's night after 105 pitches and seven strikeouts.
"He has a good idea how to pitch, man," Gardner said. "Like anybody else, if he's hitting his spots and mixing and matching his curveball and his changeup in there, throwing his fastball on the inside corner, [he'll succeed]. He threw well."
Joe Maddon was criticized for lifting ace David Price in favor of Fernando Rodney in the ninth inning of Tuesday night's 4-3 loss. But the previous night's decision did not affect the Rays manager's thinking on Wednesday night.
"[Cobb] was going out there with the thought of, 'One man on, he was done,'" Maddon said. "That's how I had it set up with the bullpen guys. He still had really good stuff. They were coming to their really thick part of the order again, and once he got up to 106 with a man on base, I thought that was the right time to bring Fernando in."
Rodney followed, recording his third save in four opportunities despite allowing the Yankees' fourth and final single to bring the tying run to the plate, first in the form of Robinson Cano, then Travis Hafner. Rodney retired both.
"It's nice having Fernando in that particular moment," Maddon said. "He's fine. He's going to have a great season once again. To get Cano and Hafner, that's pretty impressive stuff. That is a real closer mentality with great stuff."
By winning, the Rays finished their homestand with a 5-1 mark, which sat particularly well after the club went 2-7 on its first road trip of the season.
"That was a tough road trip," Cobb said. "It was becoming not too fun to be in the clubhouse. And we definitely made up for that during this homestand with fun."
Cobb referenced Maddon's decision to bring in a magician, a DJ, a cockatoo and penguins during the course of the homestand in an effort to relax his team.
Tampa Bay moved to 10-11 on the season as it prepares to open a 10-game road trip through Chicago, Kansas City and Colorado.
After 4 1/2 scoreless innings featuring the best of starters Andy Pettitte and Cobb, the Rays broke serve.
Pettitte, who had struck out seven Rays through four, hit Jose Molina on the left foot to start the fifth. Kelly Johnson followed with a single to right that Yankees right fielder Brennan Boesh let roll through his legs to put runners on second and third.
Pettitte recovered to strike out Desmond Jennings and Ryan Roberts, but the veteran left-hander could not escape the jam unscathed. Zobrist drove a 2-1 pitch to the right-center-field gap for a two-run double to put the Rays up, 2-0.
"It was just really not a great sequence for me," Pettitte said. "It wasn't a terrible pitch, but obviously it was the wrong pitch at that time."
Rodriguez homered to center field to lead off the bottom of the sixth and push the lead to 3-0.
"I just told myself to be aggressive," Rodriguez said. "He had a high pitch count, and he had been obviously getting to each one of us, finding a way to get to each one of us. Zo had that quality at-bat with those two runners on; that was big to pick us up. I just wanted to get on leading off. .. Fortunately, I got a good pitch to hit."
Despite allowing just three runs (two earned) and striking out 10 in six innings, Pettitte took his first loss, falling to 3-1 on the season.
"He had good stuff," Maddon said of Pettitte. "He had really good stuff. His velocity was up to 91 [mph]. Slider, cutter, fastball location -- everything was really good. I was impressed that we got three runs on him. I thought, 'This guy's not going to give anything up tonight. I could see 0-0 late in the game.' That was pretty impressive."
Not only did the Rays right the ship during the homestand, they also settled into the identity forecast for them this season.
"We're going to pitch," Rodriguez said. "That's basically what we built our team on this year -- good pitching, good defense and timely hitting."
Bill Chastain is a reporter for MLB.com. This story was not subject to the approval of Major League Baseball or its clubs.