Yanks' four singles don't back strong Pettitte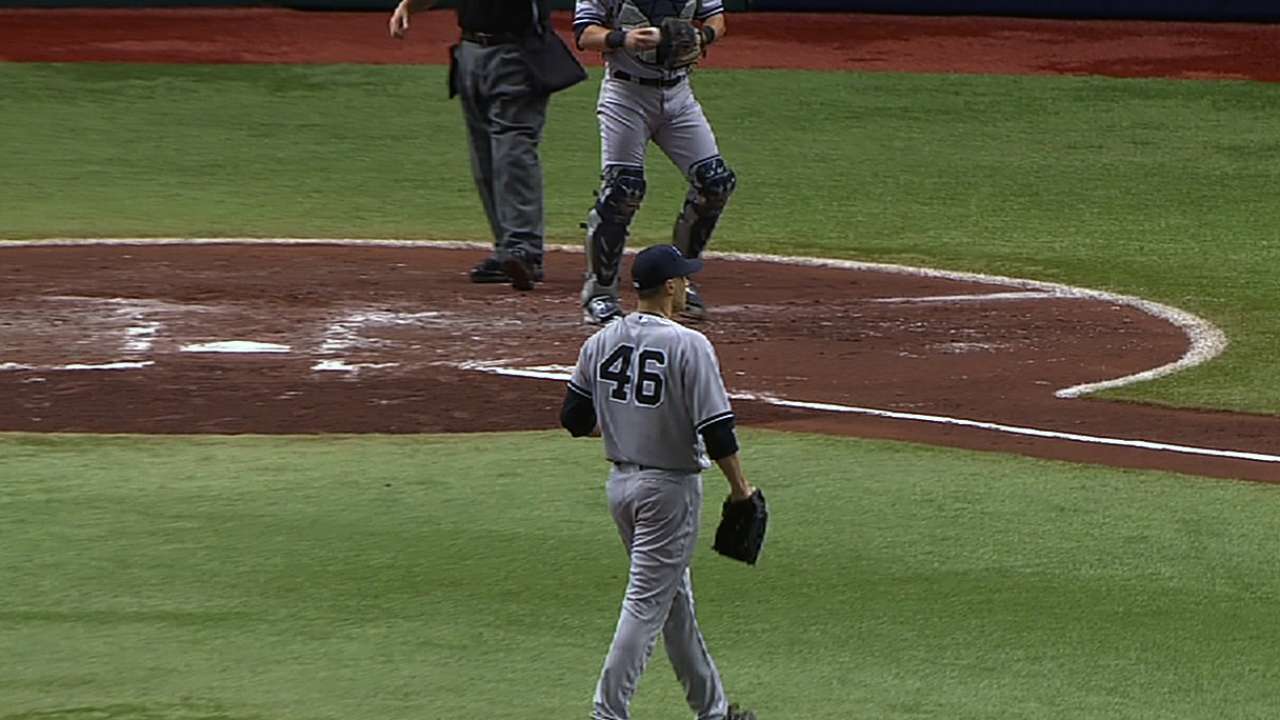 ST. PETERSBURG -- The perfectionist that he is, Andy Pettitte walked out of Tropicana Field on Wednesday night scowling, still second-guessing his handling of a pitch sequence back in the fifth inning.
He might have saved himself the mental thrashing, since there was nothing he could have done to help the Yankees' bats. Alex Cobb pitched 8 1/3 masterful innings and led the Rays to a 3-0 victory in the rubber match of the three-game series between the American League East rivals.
"He has a good idea how to pitch, man," Yankees outfielder Brett Gardner said of Cobb. "Like anybody else, if he's hitting his spots and mixing and matching his curveball and his changeup in there, throwing his fastball on the inside corner, [he'll succeed]. He threw well."
Cobb allowed three hits, just two of which left the infield, before yielding to closer Fernando Rodney for the final two outs of the game. The 25-year-old right-hander struck out seven and walked one, sending the Yanks to their 13th loss in their last 16 games at The Trop.
"He didn't make any mistakes," Yankees manager Joe Girardi said of Cobb. "He kept the ball out of the middle of the plate and used his three pitches. His changeup's an outstanding pitch, and I thought he used his curveball. He moved his fastball in and out. He didn't leave anything in the middle of the plate."
Eduardo Nunez's second-inning single, Jayson Nix's sixth-inning infield hit and Gardner's ninth-inning hit were New York's only knocks against Cobb, who won for the third time in four starts this season.
"I felt really good tonight," Cobb said. "I knew throwing out of my first bullpen [session] that I was going to have good fastball location. When you have that mindset going into the first couple of innings, you get in a groove and things just start to work out for you."
Saddled with his first loss of the season despite striking out 10, Pettitte acknowledged that Cobb "threw a great game, and we weren't able to do much." But the lefty was still kicking himself over the fifth, when the Rays scored their first runs of the night as Ben Zobrist hammered a 2-1 curveball for a two-run double.
"It wasn't over the middle of the plate," Pettitte said. "It was just really not a great sequence for me. It wasn't a terrible pitch, but obviously it was the wrong pitch at that time, I think."
Matching zeroes with Cobb until the fifth, Pettitte opened the frame by hitting Jose Molina on the left foot with a 1-2 slider. Kelly Johnson followed with a single to right field that scooted past Brennan Boesch, setting up runners at second and third with no outs.
"I just came up too quick," Boesch said. "You try not to make an error all year, but it happened. Physical mistake."
Girardi said that Boesch's error changed the landscape of the inning, especially with the slow-footed Molina as the lead runner on the bases.
"[Pettitte] has to work a little harder to get strikeouts," Girardi said. "I'm not so sure that both runs score on Zobrist's hit. It's hard to say; maybe he gets a double-play ball. It's just different."
Pettitte said that he had conceded in his mind that he would probably give up a run in that situation and tried to induce ground balls, but Desmond Jennings and Ryan Roberts both struck out. Pettitte tried to rally to fan the side but couldn't snap his curve past Zobrist's bat.
"I had two strikeouts and a chance to get out of it, and I didn't do it," Pettitte said. "That was obviously really the game right there."
Sean Rodriguez homered to left-center field off Pettitte in the sixth inning to increase the Rays' lead to three runs. Pettitte scattered seven hits over his six innings, allowing three runs (two earned).
"They must have turned up the AC when I hit the ball," Rodriguez said. "I just told myself to be aggressive. [Pettitte] had a high pitch count; he'd been getting to each one of us, finding a way to get to everybody."
One positive note for the Yanks was a pair of sparkling defensive plays turned in by Nunez at shortstop.
Nunez flagged Yunel Escobar's second-inning bouncer up the middle and fired a strong throw to first base, then did his best Derek Jeter impression by taking a hit away from Molina on a sixth-inning chopper in the hole to Nunez's right, throwing across his body on a hop to Lyle Overbay.
"For sure, I'm trying to prove I can do that and keep proving that," Nunez said. "I have to work hard, and I think I'll be OK."
In the end, the three-game trip to St. Petersburg further confirmed what the Yankees knew all along. Getting closer looks at Matt Moore, David Price and now Cobb, the Yanks' hitters can plan on having a battle on their hands when the Rays come back around next month.
"I mean, it's the same thing if we play Toronto or Boston, it seems like," Gardner said. "Every night, we're facing one of the best. ... We've got real good pitching, too. We needed to give Andy a lead tonight and couldn't do it."
Bryan Hoch is a reporter for MLB.com. Follow him on Twitter @bryanhoch and read his MLBlog, Bombers Beat. This story was not subject to the approval of Major League Baseball or its clubs.