Angels sent reeling by Rangers' nine-run fourth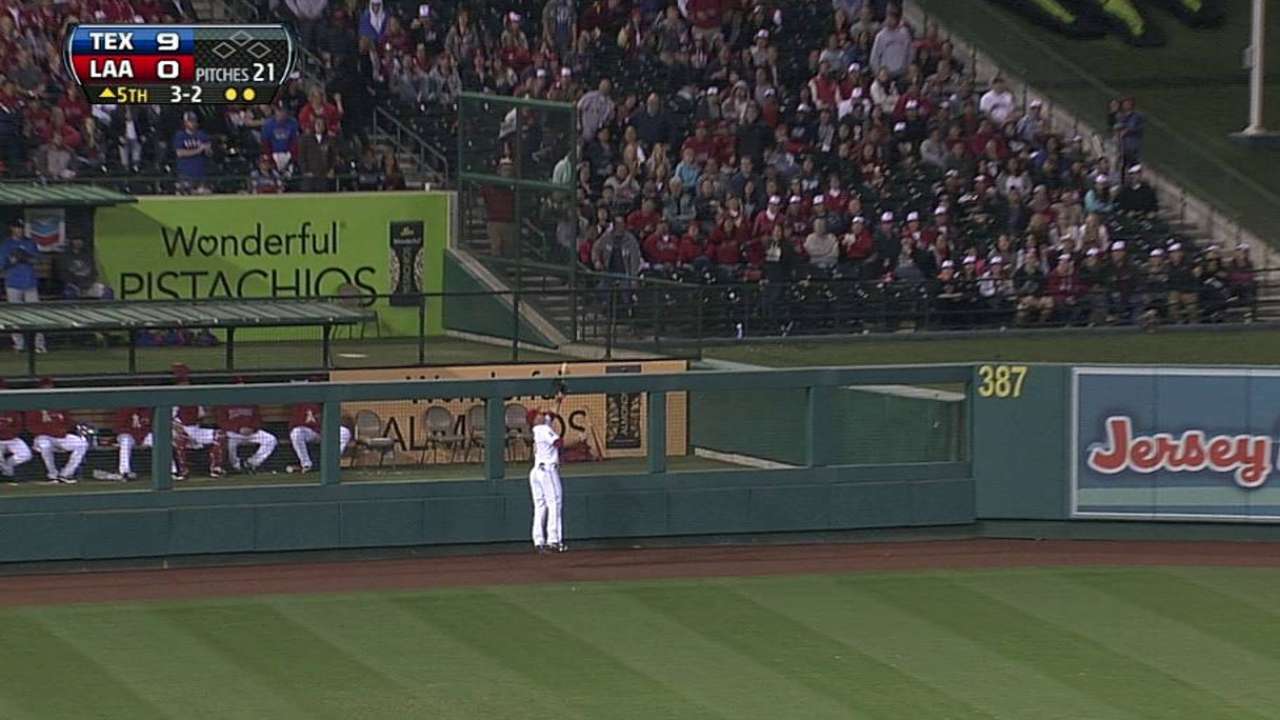 ANAHEIM -- With Michael Roth making his first career start and the Angels unsure how much stamina he had, manager Mike Scioscia said Wednesday's series finale had the potential to be a "staff night."
The Angels' ensuing 11-3 loss to the Rangers was exactly that.
After having used Scott Downs, Dane De La Rosa and Ernesto Frieri in each of the past two games -- not to mention Sean Burnett being unavailable because of forearm stiffness -- the Angels entered the series finale against the American League West rivals with a bullpen that consisted of just four relievers -- Jerome Williams, Michael Kohn, David Carpenter and Nick Maronde.
While Scioscia was undoubtedly hoping for Roth to pitch deep into the game and preserve a depleted bullpen, that never came to fruition as Roth lasted just 3 1/3 innings and the Angels were forced to use all four of their available relievers.
Roth cruised through the first three innings, allowing just one hit.
"He did a good job of mixing and matching early in the game," Scioscia said.
But in the fourth, his start -- and the entire game -- unraveled.
The left-hander allowed the first five batters to reach base via three singles and two walks and only recorded one out before Carpenter took over. Inheriting a bases-loaded situation and a 2-0 game, Carpenter walked Ian Kinsler, struck out Elvis Andrus, but then gave up a two-run single to Lance Berkman and a three-run home run to Nelson Cruz. Nick Maronde finished off the inning, but the damage was done.
"Whenever you walk the leadoff guy, that's never a good thing," Roth said. "I made some OK pitches, they put some good swings on it, but two walks is what really killed me."
Rangers third baseman Adrian Beltre grounded out against Roth in the first, but in the fourth he walked twice, scoring both times.
"He's a little funky and throws strikes," Beltre said. "We've never faced him before, so it was a little difficult at first. After that, guys started having good at-bats and doing a better job."
When the Angels finally escaped the fourth, they had used a trio of pitchers and had allowed 13 Rangers batters to score nine runs on five hits, five walks and one wild pitch.
A 9-0 deficit is hard to overcome on any night, but with Yu Darvish carving up the Angels, it seemed nearly impossible.
Darvish, who was throwing his fastball in the upper 90s and his breaking ball in the mid 60s, struck out 11 while allowing three hits over six scoreless innings.
"He threw a good game, pitched well," Scioscia said.
William Boor is an associate reporter for MLB.com. This story was not subject to the approval of Major League Baseball or its clubs.