Royals overrun in first go-around with Tigers
Davis struggles in brief outing as K.C. lets 4-1 lead slip away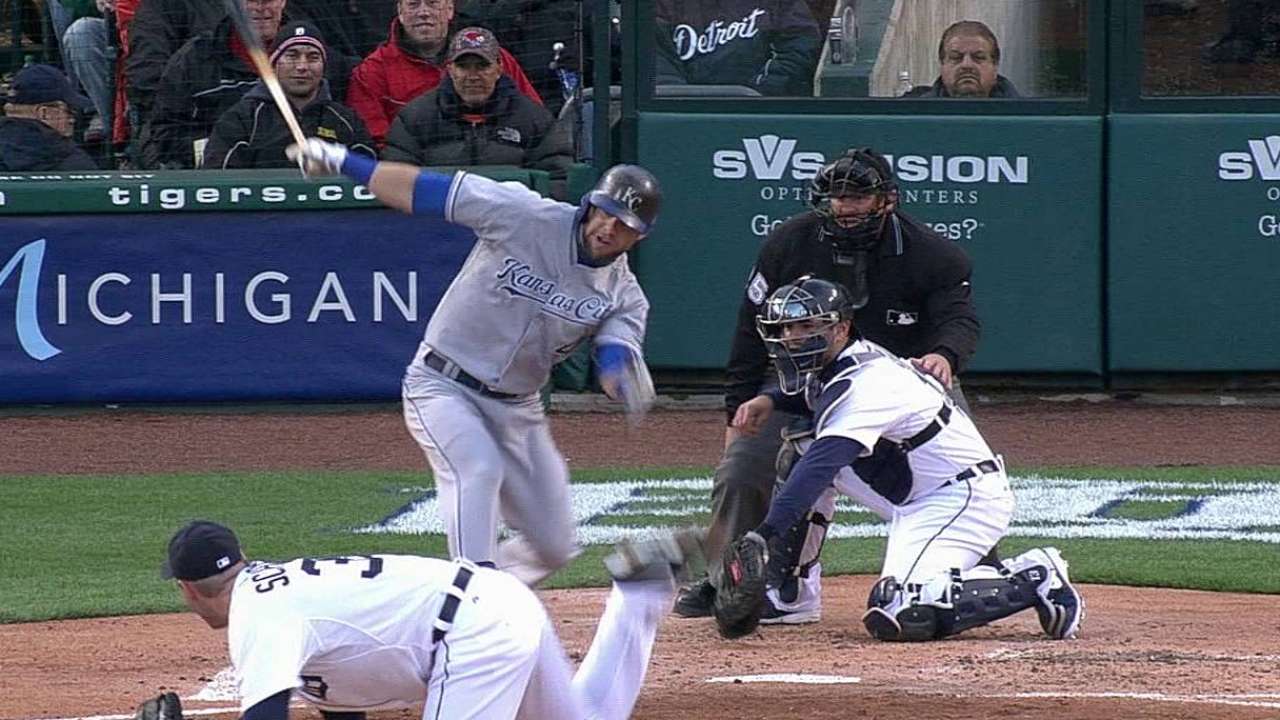 DETROIT -- Round one goes to the Detroit Tigers. But there are still 18 rounds to go.
The Tigers, heavy favorites to win the American League Central, knocked off the ambitious Kansas City club, 7-5, on a cold Wednesday night with 30,347 hardy fans at Comerica Park. Even so, the Royals still hold first place by a half-game margin over Minnesota and Detroit.
In the first of the two teams' 19 meetings, the Royals jumped away to a 4-1 lead, but frittered it away as the frigid evening progressed. Actually, the issue was settled by the fifth inning because neither team scored in its last four innings.
"It just wasn't a good night for us, top to bottom," the Royals' Billy Butler said. "That's just the way it was. We just didn't execute on either side of the ball very good."
The best news of the night for the Royals was the third inning, when they shed the rust of two off-days and pounded out five straight hits off Tigers right-hander Max Scherzer.
Salvador Perez led off with a single to right field and Chris Getz did likewise, ending an 0-for-13 skid that began right after he belted a home run at Atlanta. Alex Gordon doubled down the right-field line for the first run. Alcides Escobar and Butler each cracked an RBI single and Eric Hosmer lofted a sacrifice fly to deep center field. Scherzer ended the inning by getting Lorenzo Cain on a double-play grounder, but the Royals were ahead, 4-1.
However, Royals starter Wade Davis couldn't hold it.
"I don't think the weather was any factor," Davis said. "I just fell behind everybody and didn't make pitches. And even when I did make pitches, they hit 'em. When you get a team like that, that can swing the bats well and you give 'em any opportunity to score runs like I did, they're going to do it."
The Tigers got two runs back in their half of the third, when Miguel Cabrera hit a mighty double off the center-field wall, Prince Fielder walked, Victor Martinez ripped an RBI double and Jhonny Peralta singled in a run.
The inning ended strangely when, on Peralta's hit, right fielder Jeff Francoeur's throw reached the catcher so far ahead of Martinez that he merely veered away from the plate and retreated to the dugout. Perez wasn't even obliged to tag Martinez because he conceded the out.
"Trust me, it was a really long year for me last year, so I won't do anything stupid. If I'm out, I'm out. If I'm safe, I'm safe," said Martinez, who missed last season due to knee surgery.
"I saw the catcher getting the ball and I was almost halfway to the plate. There's no reason to run over the catcher, no reason to try to do anything stupid. I want to keep playing baseball."
So it was 4-3 and things crumbled for Davis and the Royals in the fourth inning. There were two on and one out, when Torii Hunter rapped what looked like an inning-ending double-play grounder to third baseman Mike Moustakas. But the ball skipped through Moustakas for an error and instead of the Royals running into the dugout, the Tigers were running around the bases.
Three batters later, Davis found himself behind, 6-4, and being replaced by Luis Mendoza, brought out of dry dock after not pitching in 11 days. He walked the first two batters, forcing in the Tigers' seventh run of which four were unearned.
"The first two hitters I faced, I was out of rhythm," Mendoza said. "It feels good in the bullpen, but in the real game, it's tough. I just tried not to get hurt. Maybe I should've attacked the hitters more."
But he was credited with 2 1/3 scoreless innings and is scheduled to start Sunday's game against Cleveland.
The Royals had a juicy opportunity in the fifth, when they loaded the bases with no outs against Scherzer. Butler tapped into a forceout at the plate before Hosmer drew a run-producing walk. That was it, though, because Scherzer struck out both Cain and Moustakas.
"You get bases loaded like that and you've got to capitalize on it," Butler said.
The Royals were just 4-for-11 with runners in scoring position.
"We had some chances," manager Ned Yost said. "Under tough conditions, I thought we had some good at-bats and I thought Hoz looked great, looked much better."
Hosmer, just 4-for-17 previously on the trip, had a perfect night with a double, a sacrifice fly and two walks. He and Cain both walked with two outs in the seventh to provide the Royals with their last gasp. With Moustakas, a left-handed batter coming up, Tigers manager Jim Leyland bypassed left-hander Phil Coke and brought in right-hander Joaquin Benoit instead.
"Unconventional," Leyland said and explained: "I brought Benoit in to face Moustakas instead of Coke, because Moustakas has hit him pretty good (3-for-7). He's 1-for-6 off Benoit, and we feel that Benoit's pretty good with lefties. It wasn't that I didn't trust Coke to get him out. It's just that you're going to use two pitchers there if he doesn't get him, because they have Francoeur and Perez behind him. That's why that move was made."
It worked. Moustakas popped out, sky-high, to Fielder.
Benoit added a perfect eighth and the game ended with as much of a Hollywood finish as Detroit can muster. Jose Valverde, the flamboyant closer who was unceremoniously bounced by the Tigers after last season, was brought back from Class A after signing a Minor League deal just three weeks ago.
Giving a standing ovation with a sprinkling of boos, Valverde returned with a 1-2-3 ninth and a save.
"I was impressed that he threw that well, having limited appearances and no Spring Training," Yost said.
Dick Kaegel is a reporter for MLB.com. This story was not subject to the approval of Major League Baseball or its clubs.