Valverde, Tigers 'pen winning script vs. Royals
Closer fires 1-2-3 ninth for first save, V-Mart gets two timely knocks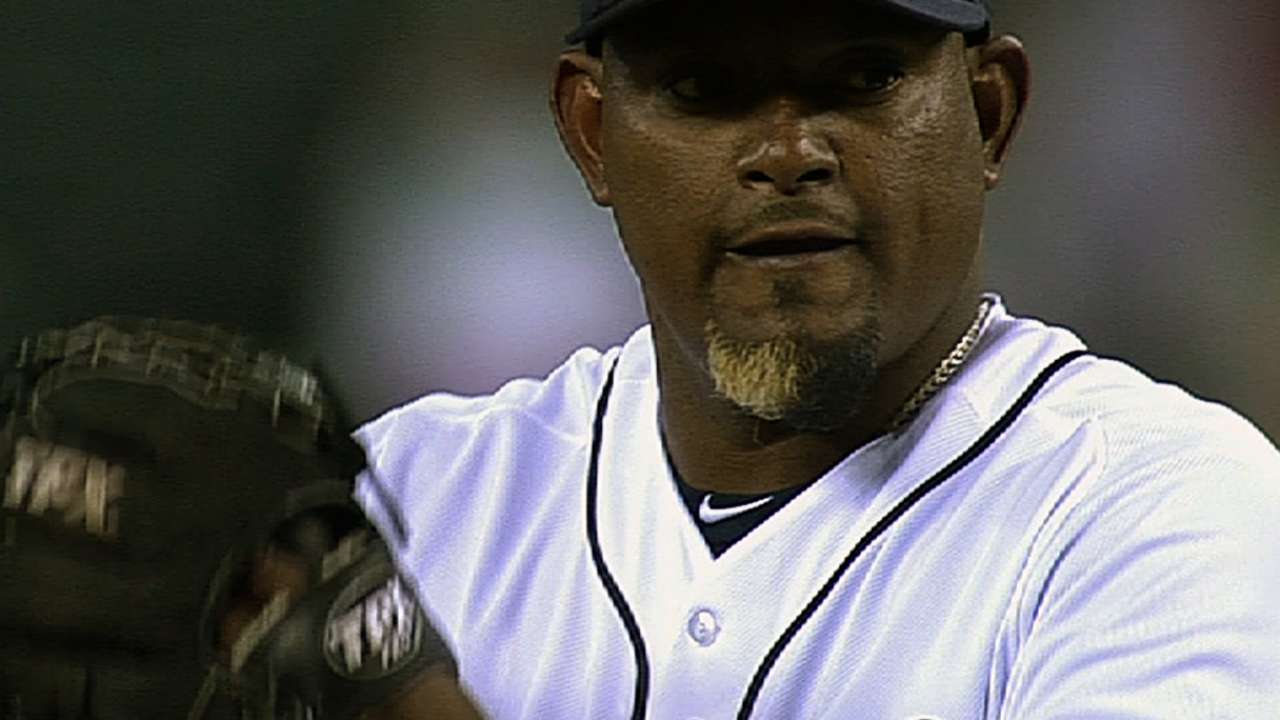 DETROIT -- The bullpen door opened, and Jose Valverde lingered there, like he had so many times before. He might as well have been waiting for a time warp.
Six months after the Tigers bade farewell to Valverde at Comerica Park, there he was, back with his old team, back in his old role. With three outs in the ninth to finish off a 7-5 win over the Royals, he was seemingly back to his old stuff.
"From what I saw today, it looks like he'll get outs for us for sure," catcher Alex Avila said.
Just as important, the bullpen was back to its old order.
This is what a bullpen with a set closer looks like. This is the bullpen the Tigers had hoped to eventually get to this year. It was just with a guy at the end they didn't expect to see again.
"If this works out with Papa Grande, that would be music to everybody's ears," manager Jim Leyland said. "You get guys in the order that you want them. For one night anyway, it worked out pretty good."
Valverde, for his part, wasn't emotional about it. It just looked that way.
The goggles are gone, the stomach is a little smaller, and the chin beard is split down the middle between bleach blond and dark. The rituals, however, are the same.
He was standing at the gate when the crowd reaction began. Initially, some boos were scattered among the cheers. After a couple seconds, the cheers seemingly took over, and Valverde took off through left field towards the mound.
"I don't pay attention too much to the reaction," Valverde said. "I think they were excited. But what I have in my mind all the time, when I'm running for the mound, is make good pitches, throw strikes, get a fly ball or strike them out, and that's it."
It was good that Valverde had that focus, and not just for the two flyouts and a ground ball he induced to retire the top of the Royals lineup in order. The crowd reaction on each pitch resembled late-season fervor. Some of those fans, no doubt, were freezing in the 39-degree temperature and cheering for the game to end so they could go home, standing up and moving around in a futile effort to keep warm. Most of them, though, were reacting to Valverde, getting that old mix of trepidation and anticipation when he went to two full counts.
"That's a tough one," Leyland said. "You knew the first one back, there was going to be a little emotion there with the crowd, and probably for him, but certainly for me. I think all the coaches and the pitchers and the players on the bench were pulling so hard for him. Tonight, it worked out fine."
The win ended Detroit's four-game skid and moved the Tigers to within a half game of Kansas City atop the American League Central. More important than sorting out the standings at this point, though, was sorting out the bullpen.
After playing matchups in the final innings for the first three weeks of the season, the Tigers signed Valverde to a Major League contract on Tuesday to close after he pitched in three games at Class A Lakeland as a warmup. Once Max Scherzer stranded the bases loaded in the fifth to carry a two-run lead to the bullpen, the order was set.
Al Alburquerque, who dazzled in late-inning stints over the past week with some of the best pitching he has shown as a Tiger, was on his way to doing the same with a scoreless sixth inning before back-to-back two-out walks put the potential tying run on in the seventh.
Joaquin Benoit, who had been Detroit's closer for the past two weeks, returned to his old setup role, but entered an inning early. For one batter in the seventh, Leyland was playing matchups.
"I brought Benoit in to face [Mike] Moustakas instead of [lefty Phil] Coke," Leyland said, "because Moustakas has hit him pretty good. He's 1-for-6 off Benoit, and we feel that Benoit's pretty good with lefties."
Benoit ended the threat with a popout from Moustakas that Prince Fielder ran down in front of home plate and caught against his chest, then Benoit stayed on for a perfect eighth.
That led to Valverde, who topped out at 95 mph on the radar gun, backing up scouting reports from Florida on a night when everybody seemed to have trouble hitting top speed in the cold. It definitely affected the grip on the ball, which is why Valverde didn't throw the splitter he worked in this spring.
"I'd like to see you throw a split-finger in that," he said.
With a sinker and a cutter moving, though, he never felt like he needed it.
"I've caught him for three years," Avila said. "I've caught him where his ball hasn't had much movement, and I've caught him in years past when he's had a little bit of sink, a little bit of cut. Today it looked like he was able to command both, and was able to go to both sides of the plate."
Said Royals manager Ned Yost: "I was impressed that he threw that well, having limited appearances and no Spring Training."
The Tigers pulled ahead with a four-run fourth inning on just two base hits. The inning turned on a potential double-play ball that went through the legs of third baseman Moustakas for an error, scoring Omar Infante for the first run and setting up Austin Jackson to score the go-ahead run on Miguel Cabrera's ensuing sacrifice fly. A bases-loaded walk to Jhonny Peralta set up an insurance tally before Victor Martinez singled in another run.
Martinez, who was 2-for-20 with runners in scoring position coming into the game, had two hits and two RBIs in those same situations on Wednesday.
"It was a great inning," he said. "They scored four runs, and we came right back with the same answer. I think that really set the tone for us for the rest of the game, made our pitching staff feel a little comfortable going out there to do their job."
Jason Beck is a reporter for MLB.com. Read Beck's Blog and follow him on Twitter @beckjason. This story was not subject to the approval of Major League Baseball or its clubs.