Torrealba, Fowler heroes in Rockies' 12th-inning win
Torrealba had walk-off single, Fowler game-tying double in ninth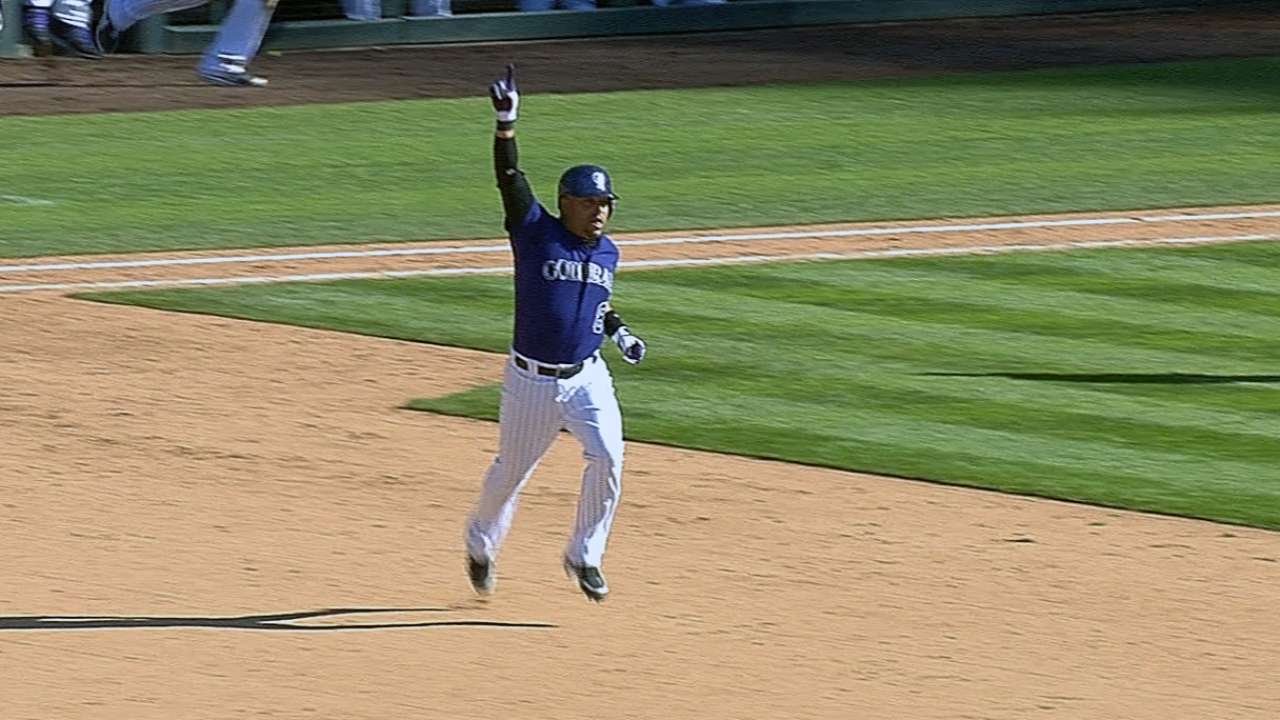 DENVER -- The climb was rather mountainous and highly improbable. To beat the Braves on Wednesday and avoid getting swept in a three-game series, the Rockies had to overcome vaunted Braves closer Craig Kimbrel when they were down to their last out in the ninth, and then find a way to win in extra innings.
That's what happened, as the Rockies beat the Braves, 6-5, in 12 innings. With one out in the 12th, Yorvit Torrealba singled, scoring Wilin Rosario, who had led off the inning with a double against Luis Ayala.
The Rockies broke a season-high three-game losing streak. And they beat the Braves for only the second time in 11 games, an accomplishment made sweeter because they rallied against Kimbrel, who was 8-for-8 in save situations and had not blown a save or allowed a run since Aug. 31, 2012.
"That's why it's so big," Torrealba said. "That's probably one of the best closers in the game right now. He's really filthy. He executes his pitches whenever he needs to. He don't give you free passes either. He goes right at you, right away. It's huge."
Dexter Fowler's two-run double off the left-field wall with two outs in the ninth tied the game against Kimbrel. Jonathan Herrera, whose throwing error at shortstop in the sixth helped the Braves score twice and take a 5-3 lead, lined a one-out double to right to put a man on in the ninth.
"With Herrera, I went up 0-2, and I tried to elevate," Kimbrel said. "And I didn't get it up enough and he got an 0-2 hit. That was kind of the momentum builder for them."
Pinch-hitter Troy Tulowitzki followed with a single that moved Herrera to third, hitting what Kimbrel called "a great curveball." He struck out Eric Young Jr., but Fowler's hit scored both runners after it just eluded left fielder Justin Upton.
Facing Kimbrel, Fowler said he was looking for "something to hit, something around the zone. The guy's going to come right at you. Got a good pitch to hit and barreled it."
Fowler said he initially thought he had connected for a home run. Then he realized the wind was blowing in and said he thought Upton would "catch it for sure," only to happily see the ball bang off the wall.
"I misread it," Upton said. "It was hit a lot harder than I thought it was. I had to retreat, and I never got back to where I could catch it. Off the bat, it looked like he inside-outed it, and it just carried and carried a long way. I just couldn't catch up to it."
In their half of the ninth, the Braves tried to score on a suicide squeeze. Had they succeeded, Kimbrel would have taken the mound with a three-run lead. But with one out and Jordan Schafer on third, Ramiro Pena tried to bunt a hard slider from Rex Brothers. He missed and Rosario ran down Pena and tagged him out.
"I thought we had the right combination of guys doing it, Schafer running and Pena at the plate," Braves manager Fredi Gonzalez said. "We just couldn't execute it."
Rockies manager Walt Weiss said he thought the Braves would attempt to squeeze during Pena's at-bat. But Rosario said he wasn't expecting the play.
"But as soon as I saw the guy move, we got good luck that he threw a perfect pitch," Rosario said. "He can't touch the ball, and I definitely get the guy out. That's the first time in the Majors [that play] happened for me."
Rosario led off the 12th with a double against Ayala. Kimbrel had struck out Rosario to end the ninth with runners on first and second, getting Rosario to flail at fastball that was over his head and inside.
"I got an opportunity the first time to win the game," Rosario said. "But I strike out against one of the best closers we have in the National League. The second time when I got the opportunity, when I got the double, I say, 'We win because one way or the other we got to get one hit only.' And I'm 100 percent sure I'm going to score."
He did just that when Torrealba lined an 0-1 single to left off Ayala, the seventh Braves pitcher.
"Facing Ayala before, usually he throw sliders away and sinkers inside," Torrealba said. "The first pitch was kind of too quick. I saw the board and it said fastball and said, 'All right, just let it come to you.' He tried to go inside with a two-seamer. Came around the middle and I was able to hit a rope."
Torrealba was the last man on the Rockies' bench with Todd Helton unavailable to a left forearm strain. Weiss pinch-hit Torrealba in the 10th and then kept him in the game at first base and moved Young from right field to second base, his original position but one he last played in 2011.
Torrealba played first base for three innings in one game last season for the Blue Jays, and said he plays that position rather than catcher in winter ball in Venezuela.
"It's not like I feel really comfortable," he said, "but if they ask me to do it, I will do it."
All Torrealba had to do in two innings at first base was catch one throw in the 11th from shortstop Tulowitzki. That was the first of two innings for winning pitcher Matt Belisle, as four relievers combined to allow one infield hit in six scoreless innings following six innings from Tyler Chatwood, starting in place of injured Jhoulys Chacin.
"The bullpen was outstanding," Weiss said. "Tyler gave us a chance to win, kept us in the game. He did his job."
Jack Etkin is a contributor to MLB.com. This story was not subject to the approval of Major League Baseball or its clubs.