Hudson's bid for 200th win foiled in extra innings
Kimbrel allows first runs since Aug. 2012, Braves fall in 12th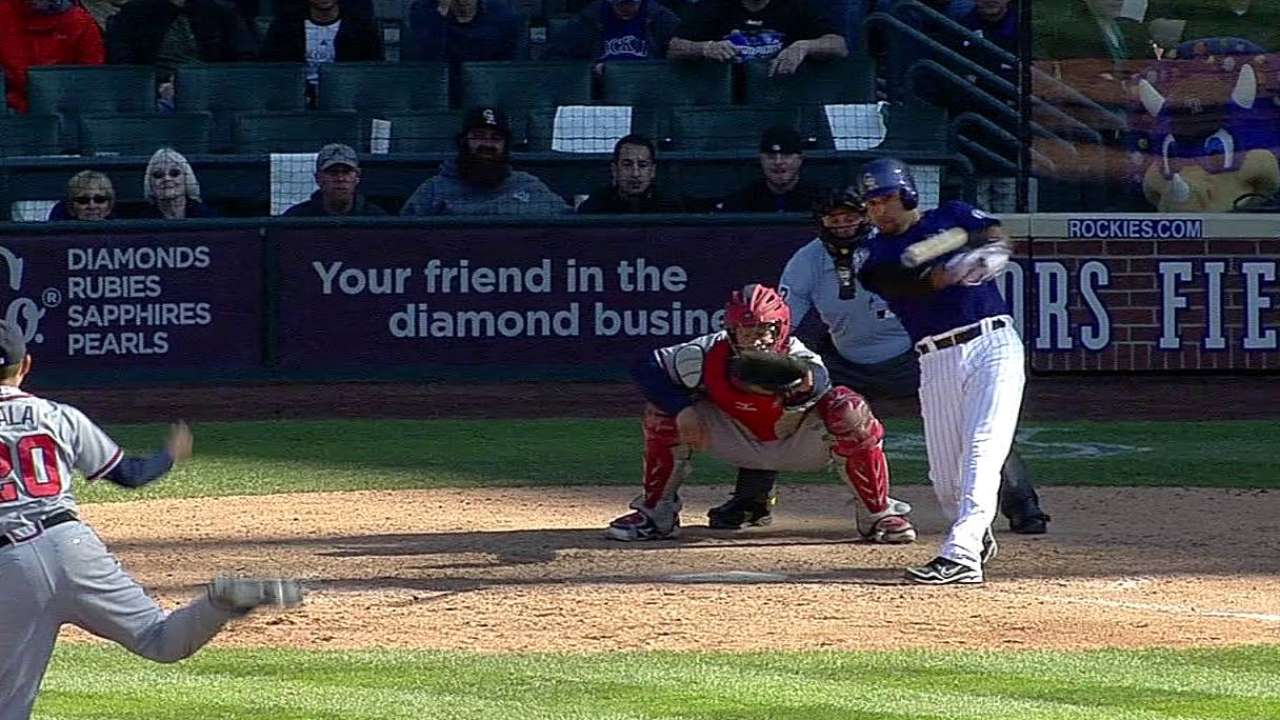 DENVER -- The Braves were one out shy of celebrating Tim Hudson's 200th victory when the Rockies snatched the milestone from his grasp with a two-out, two-run double to the wall off the bat of Dexter Fowler in the bottom of the ninth, tying the game against closer Craig Kimbrel and sending it into extras, where the Braves would ultimately fall, 6-5.
It was Kimbrel's first blown save and first run allowed since Aug. 31, 2012, and it matched his career high of two runs allowed, a mark he last hit in 2011.
"Pitching at this place, it doesn't matter how big a lead you have and who's on the mound, you never really feel too comfortable," Hudson said of Coors Field, the only National League ballpark where victory has eluded him. "We had a two-run lead there late, with the best closer in the game out there -- you couldn't be in a better situation. If there's any place that can humble you, it's here."
Atlanta entered the bottom of the ninth with a 5-3 lead and Kimbrel poised for his second save in as many days. Kimbrel yielded a one-out double down the right-field line to Jonathan Herrera. The Rockies then brought Troy Tulowitzki off the bench, and he delivered a pinch-hit single to left, putting men on the corners with one out. Eric Young was overpowered by Kimbrel's 96-mph four-seamer, bringing Fowler up with two out and two on.
"I got to give it to them," Kimbrel said, acknowledging the Rockies' resilience. "With Herrera, I went up 0-2 and I tried to elevate, and I didn't get it up enough and he got an 0-2 hit. Any pitcher is going to be disappointed to give up an 0-2 hit at any point during the game. That was kind of the momentum builder for them. Tulo came up and hit a good curveball, and they put themselves in a great situation. With Fowler coming up, I tried to go in on him, and just didn't get it in enough and he was able to get the barrel to it. That's what happens when you hit the barrel out here in Colorado."
Fowler's blast sent a deep-positioned Justin Upton turning first to his right, then to his left as he tried to get a bead on the ball, leaping at the last second and missing the catch by an inch or two as the ball hit the left field wall with Upton crashing fast behind it.
"I misread it," Upton said. "It was hit a lot harder than I thought it was. I had to retreat, and I never got back to where I could catch it. Off the bat it looked like he inside-outed it, and it just carried, and carried, a long way. I just couldn't catch up to it."
From home plate, Fowler went through a series of emotions, from elation to disappointment to splendid surprise.
"At first I thought I hit it out," Fowler said. "Then I looked up and I was like, 'The wind's blowing in. He's going to catch it for sure.' And it hit off the wall."
The Rockies finally broke the deadlock in the 12th, as catcher Wilin Rosario legged out a double to left off Luis Ayala, the Braves' seventh pitcher used. After an intentional walk to Michael Cuddyer and a strikeout on a fouled bunt attempt from reliever Matt Belisle, Yorvit Torrealba finished it with a run-scoring single to left to prevent a Braves' sweep.
The pendulum swung back and forth all day, with Atlanta yielding its homer mojo to Colorado as Cuddyer and Josh Rutledge hit the Rockies' first back-to-back homers of the season to pace the Rockies to a 2-0 lead in the second inning.
"Those are a couple pitches I wish I'd have back," Hudson said. "A couple hangers. Hanging curveball, hanging changeup. They didn't miss them. At this place, games can get away from you pretty quickly. I was able to settle down and start making pitches and have a couple decently quick innings. It was probably one of my better games I've thrown here. We had a chance to come out with a win, but give those guys credit. They battled. They beat the best bullpen in the game, so tip your hat to them."
The Braves took the lead in the fourth, with Freddy Freeman and Hudson driving home runs. The Rockies knotted it up again in the bottom of the inning when starting pitcher Tyler Chatwood singled on a high bouncer back to the pitcher to score a run. Atlanta reclaimed the lead in the sixth when Evan Gattis laced a leadoff double to center and scored on a throwing error from Herrera on a grounder to short by Dan Uggla.
A key opportunity for the Braves to add an insurance run came in the top of the ninth after Jordan Schafer was walked to open the inning then balked to second by Rex Brothers. Schafer stole third, and with one out and Ramiro Pena at the plate, manager Fredi Gonzalez opted for a suicide squeeze.
"We tried to get another run, because every run you add on is important," Gonzalez said. "I thought we had the right combination of guys doing it, Schafer running and Pena at the plate. We just couldn't execute it."
Brothers threw an untouchable slider that Pena missed, and Rosario chased Schafer down for the tag, his first time defending a suicide squeeze in the Majors.
"We had a chance to sweep the series with our guy, with our closer on the mound, and we couldn't do it," Gonzalez said. "They get a lot of these kind of games here. They get the last at-bats and they bloop one, the next guy hits one out of the ballpark -- I've seen a lot of those games. So to win two out of three is a good thing."
Owen Perkins is a contributor to MLB.com. This story was not subject to the approval of Major League Baseball or its clubs.