Mariners' road woes continue in loss to Astros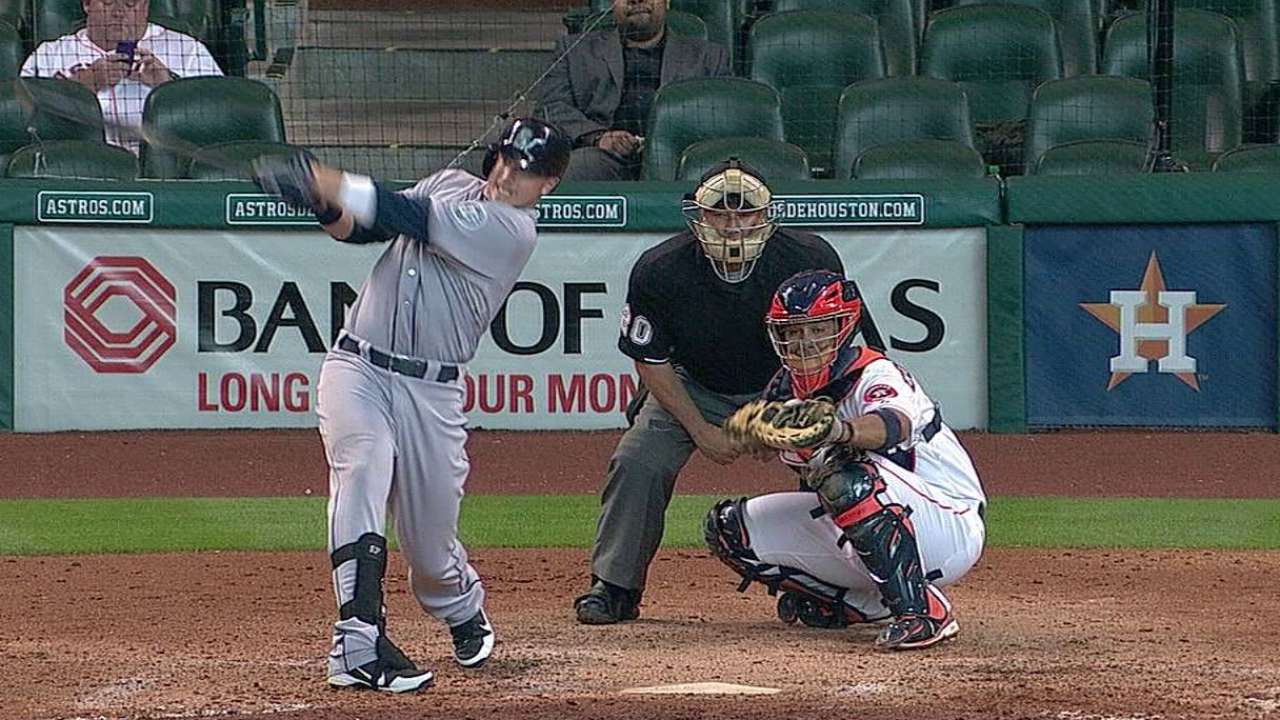 HOUSTON -- A rugged stretch on the road for the Mariners concluded Wednesday with a 10-3 loss to the Astros as Joe Saunders' woes away from Safeco Field continued.
Saunders has yet to allow an earned run in 13 1/3 innings in his new home park in Seattle, but he has now dropped three straight road games with a 12.51 ERA. The veteran left-hander gave up eight runs on 11 hits in this one -- including two home runs and five doubles -- before being lifted with no out in the sixth.
"It was just a bad day; that's all I can really say," Saunders said. "Turn the page on it. Get 'em next time. Forget it easily. That's it. Bad days happen."
Saunders, who signed a one-year, $6.5 million contract as a free agent in February, fell to 1-3 with a 6.33 ERA in five starts. In his three road games, he has allowed 27 hits and 19 runs with nine walks and five strikeouts in 13 2/3 innings.
The road was not kind for any of the Mariners this past week as they went 1-5 on their Texas trip, dropping two of three in Houston after being swept by the Rangers in Arlington. They were outscored 37-15 in the six games.
Manager Eric Wedge pulled his team together in the clubhouse afterward to discuss the situation, emerging red-faced several minutes later.
"I had a few things I wanted to relay to them," Wedge said, "but I'll keep that to us."
What the third-year skipper was willing to share was a belief that this group was better than it had shown in the first four weeks. Wedge made one move Wednesday in benching shortstop Brendan Ryan in favor of Robert Andino, but he said he did not think more changes were necessary.
"I think we've got the players in the locker room there to be a good team," Wedge said. "It's been a bad road trip, and we're not off to the start we'd like; that's for sure. But we've got the players in there to be a good team, and that's what bothers me more than anything.
"What we have to do is peck away and get this thing turned around and start to move in the right direction. We do that and get on a roll and everything will be all right. And I'm confident we will."
Seattle heads home carrying an 8-15 record and has yet to win a series this season. The Astros (7-14) have now won two series against their new American League West rivals, their only series wins of the year.
The Astros jumped on Saunders from the get-go with five hits -- including two doubles and a home run -- in the first three innings. But Saunders minimized the initial damage with two double-play grounders and a runner caught stealing by backup catcher Kelly Shoppach.
Astros left fielder Chris Carter clubbed a soaring home run leading off the second to give Houston a 1-0 lead, but Saunders danced around most of his troubles until the fourth, when shortstop Ronny Cedeno finally made him pay with a three-run blast to left field.
Houston ripped three more doubles in the next two innings before Wedge gave Saunders the hook when a two-run single by Matt Dominguez made it 7-1. Blake Beavan could not stem the tide, as he surrendered a three-run homer by Brandon Laird before finally closing out the five-run sixth.
"Joe struggled today," Wedge said. "He was up a little bit and didn't quite have the command that he normally does."
Highlights for the Mariners were minimal, though Justin Smoak hit his first home run of the year in the top of the ninth off reliever Paul Clemens, and Andino laced an RBI single to cut the final margin to 10-3.
Seattle's lone run off starter Lucas Harrell came in the sixth, when Kendrys Morales grounded into a double play that scored Endy Chavez from third.
Chavez, filling the center-field vacancy created by injuries to Franklin Gutierrez and Michael Saunders, went 2-for-5 and is hitting .263.
Third baseman Kyle Seager extended his hitting streak to 13 games with a sixth-inning single, and Dustin Ackley continued his recent uptick with a 3-for-4 afternoon that extended his hit streak to five games. Ackley is 12-for-30 in his past eight games, raising his average from .114 to .230.
"It helps when you throw a few hits out there and start to build some confidence," Ackley said. "Then you start being a little more aggressive and getting pitches to hit. Things have been working out lately."
Ackley acknowledged it was difficult to enjoy personal success when the team was struggling, though he expressed confidence that things could turn around just as quickly for the group.
"We're kind of banged up a little bit," he said. "We've still got [Michael] Saunders coming back, and he'll be a big help. [Michael] Morse is playing with a broken finger. When you've got important guys in your lineup like that, it's tough and puts more pressure on other guys to do things, and that kind of snowballs into trying to do too much or trying to get the big hit instead of just getting on base. And I think that's where we're at right now."
Greg Johns is a reporter for MLB.com. Follow him on Twitter @GregJohnsMLB as well as his Mariners Musings blog. This story was not subject to the approval of Major League Baseball or its clubs.