Patient Bucs wait for Phils' bullpen, stun host
Inge's go-ahead single caps comeback after Wandy keeps it close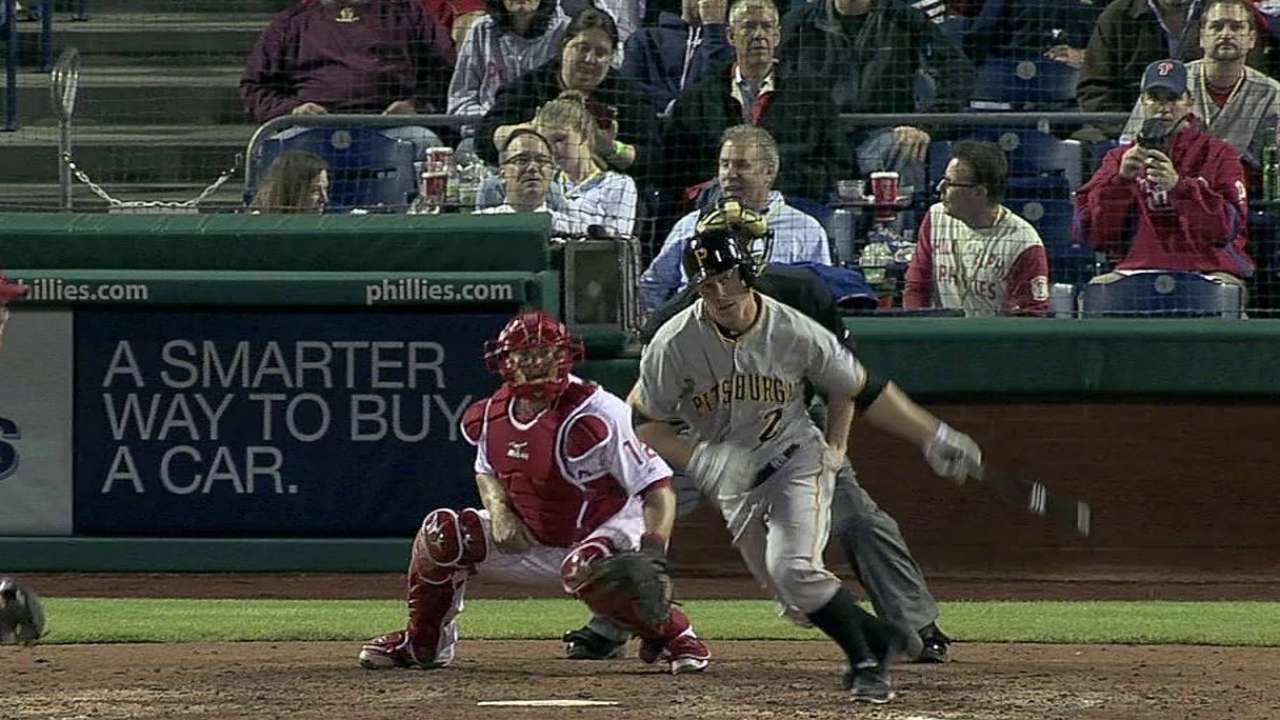 PHILADELPHIA -- Brandon Inge returned from the disabled list on Tuesday with the goal to do whatever the Pirates asked of him. Two games later, it's hard to imagine the Pirates asking for anything more than what they have received.
Wandy Rodriguez allowed three runs, including solo home runs by Chase Utley and Ryan Howard, on nine hits, but Pittsburgh rallied against the Phillies' bullpen for a 5-3 win at Citizens Bank Park on Wednesday. After Pedro Alvarez's seventh-inning home run off of reliever Antonio Bastardo made it 3-2, a two-run eighth capped by Inge's go-ahead single with the bases loaded off setup man Mike Adams led to a much-needed Bucs win.
"You just try to do whatever the skipper [Clint Hurdle] asks you to do," Inge said. "[Coming off the bench is] different for me. It's a learning curve for me. I'm having to ask guys about it. I'm just trying to get a scouting report from some of the guys that have done it before."
Pinch-hitter Jose Tabata led off the eighth with a walk. Starling Marte followed with an infield single and Travis Snider -- 0-for-3 up to that point -- singled into right to score Tabata and tie the game at 3. Adams walked Andrew McCutchen to end his night without recording an out and left the bases loaded for reliever Jeremy Horst.
To counter Horst, Hurdle went to the right-handed bat of Inge. On Tuesday night, Inge provided all the offense the Bucs needed in a 2-0 win as his RBI double off Cole Hamels scored the first run of the game. On Wednesday, Inge swung at Horst's first offering and his RBI single through a drawn-in infield handed the Pirates a 4-3 lead. Horst did get a 3-2-3 double play two pitches later by Neil Walker followed by a ground out by Alvarez, but the damage was done.
"I think it's more of a mindset," said Inge, who is a career .326 (43-for-132) with the bases loaded, with 123 RBIs. "You know that you can really tremendously help your team. One run there is great, anything over that is complete bonus. You know what kind of impact you can make with the bases loaded.
"I think most guys try to focus more. It's been a learning curve, because I think earlier in my career, I put too much pressure on myself. Now I'm just trying to have some fun and drop some runs. It's a better mindset. You can't worry about bases loaded and just compete against that pitcher."
Meanwhile, Rodriguez had opened the year in dominant form, having allowed just one earned run over 16 innings of work. That included just five hits and one walk -- but that type of efficiency wasn't the story against the Phillies on Wednesday.
Rodriguez had just one clean inning, and at least one runner reached second in five of the 5 2/3 innings he worked. Still, the veteran battled and opened the sixth with consecutive groundouts.
That's when the wheels came off for Rodgriguez as Ben Revere reached on an infield single and moved to third on a single through the left side by Humberto Quintero. Pinch-hitter Kevin Frandsen's single gave the Phillies a 3-1 lead and led to Rodriguez being lifted for Vin Mazzaro.
"Today I didn't have my best stuff, but I tried to compete," said Rodriguez, who got a no-decision. "I tried to hold it together to a run or two. I made three mistakes, and they scored three runs. I had a couple of mistakes with my location. Like I said, I was just competing."
Through much of the early going, both teams struggled with the large strike zone of home-plate umpire Dan Iassogna. A prime example was the first inning, when Marte opened the game with a walk off Roy Halladay.
Halladay managed to strike out the side despite his 25-pitch first frame. All three strikeouts by Snider, McCutchen and Garrett Jones were looking as both Snider and McCutchen took outside corner fastballs for the third strike.
Halladay settled down and threw just 18 pitches over the next two innings to enter the fourth without allowing a hit.
"That first inning, we stretched [Halladay] out and made him throw 25 pitches," Hurdle said. "It was like wrestling in with a two-point reversal with two short innings and before you know it, he has less pitches than Wandy. We didn't adjust accordingly. He had a method to his madness out there."
Down 1-0 in the fourth, Jones reached on a two-out walk. Walker was then hit by a pitch and Alvarez followed with a single into left-center to tie the game at 1. The rally ended as Russell Martin, looking to extend an eight-game hit streak, struck out looking on a high curve. Martin stared down Iassogna to no avail.
Rodriguez's bumpy night started with a first-inning leadoff single by Jimmy Rollins to left-center. Rollins decided to challenge McCutchen's arm in center and tried to stretch the single into a double. McCutchen gunned Rollins down. Utley followed with a home run into the right-field stands for a 1-0 lead.
Michael Radano is a contributor to MLB.com. This story was not subject to the approval of Major League Baseball or its clubs.