One out from win, Dodgers lose in walk-off fashion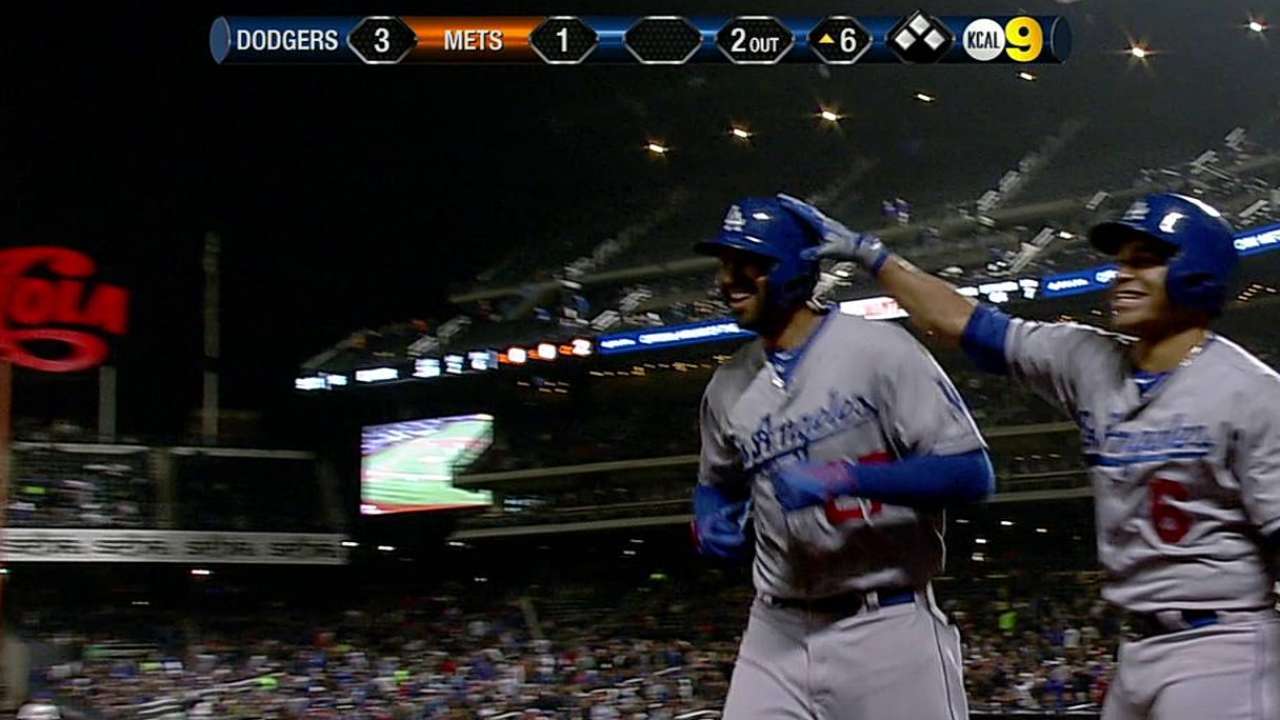 NEW YORK -- The Dodgers on Wednesday night couldn't enjoy the good because of the bad.
The Dodgers blew a lead in the bottom of the ninth and lost the game in the bottom of the 10th to the Mets, 7-3, on Jordany Valdespin's walk-off grand slam while wasting Ted Lilly's first start in nearly a year and Matt Kemp's first home run of the season.
Lilly and Kemp are both coming off operations on their left labrum, so they have hurdles to clear. Manager Don Mattingly predicted before the game that Kemp's home-run swing would return, even though this one was delayed an extra 2 1/2 minutes, as umpires needed instant replay to overturn the incorrect call on the field.
Kemp got tired of postgame questions about the home run, which ended an 86 at-bat drought.
"Home runs are going to come," Kemp said. "We don't need to talk about home runs. Talk about the game. We've just got to get better, score more runs, do a better job of everything. We've just got to win these games."
The Dodgers had only four hits (none after Kemp's homer, which came in the sixth inning), and the game might have been lost sooner if not for defensive gems by Mark Ellis and Jerry Hairston.
Lilly, at 37, had a bigger hurdle than Kemp to clear -- convincing the world that he wasn't done. He never thought he was, and he made a stand 10 days ago when, with Dodgers starters dropping like flies, he refused to make an extra Minor League rehab start without assurance that he would be activated.
He was, and he pitched nicely, allowing one run over five innings, pitching smartly out of jams and actually outpitching Mets sensation Matt Harvey. It was Lilly's first Major League start since last May 23, at Arizona, and he struck out seven.
"I was definitely under the impression I had to prove myself at this level, and understandably, coming off shoulder surgery, prove to myself, too," said Lilly. "I didn't give up on myself, but I needed to prove to myself I can continue to be here. It's not so much what other people think. We lost a game. If it goes different, I still think I'm healthy, and I should be able to compete.
"This is just one game. I expect to make the rest of my starts for this club. It's still a long year."
But Lilly is in the rotation because Zack Greinke was hurt in a brawl, as was Chris Capuano, and Chad Billingsley underwent Tommy John surgery and Aaron Harang was traded.
All the pitching depth the Dodgers thought they had is thinned, so Lilly became the eighth starter the Dodgers have used in 20 games, the most in 49 years.
The domino effect also has been felt in the bullpen.
Stephen Fife, who filled in on Sunday for Billingsley, pitched 4 2/3 innings after Hyun-Jin Ryu went six innings in the first game of Saturday's doubleheader and Josh Beckett went 5 2/3 innings in the second game. After a day off on Monday, Clayton Kershaw threw only five innings on Tuesday, and Lilly matched it.
That left the bullpen to pick up 17 innings since Saturday, which is why Josh Wall was on the mound in the 10th inning on Wednesday night. Lilly wishes he could have given his club at least one more inning.
"I was out of bullets," said Mattingly. "[You] play the cards you're dealt at that point."
Brandon League suffered his first blown save of the year by allowing a run in the ninth. The runner, pinch-hitter Mike Baxter, reached base when left fielder Carl Crawford, inserted in a double switch, was unable to make a sliding catch on a sinking leadoff line drive, and the ball caromed off his glove for a double.
"A do-or-die play," Mattingly said.
Baxter scored on David Wright's two-out single off League with two outs and first base open. John Buck, who had struck out three times with a groundout, was up next.
"You don't want to put the winning run on base," Mattingly said. "David is aggressive, and you like to use that against him."
Which is exactly what happened when Wright was caught stealing for the third out of the inning.
Wall took over for the 10th. He allowed a single to Buck and walked Ike Davis on four pitches, then Marlon Byrd sacrificed them over. Mattingly brought in Luis Cruz as a fifth infielder and removed Crawford, intentionally walking Lucas Duda to load the bases and hoping for a ground ball and an out at the plate.
Instead Valdespin hit the Mets' first walk-off grand slam in 22 years (following Kevin McReynolds) on a 2-1 fastball.
Ken Gurnick is a reporter for MLB.com. This story was not subject to the approval of Major League Baseball or its clubs.