D-backs beat Giants in familiar fashion
Giants get game-tying homer in ninth before Arizona wins in extras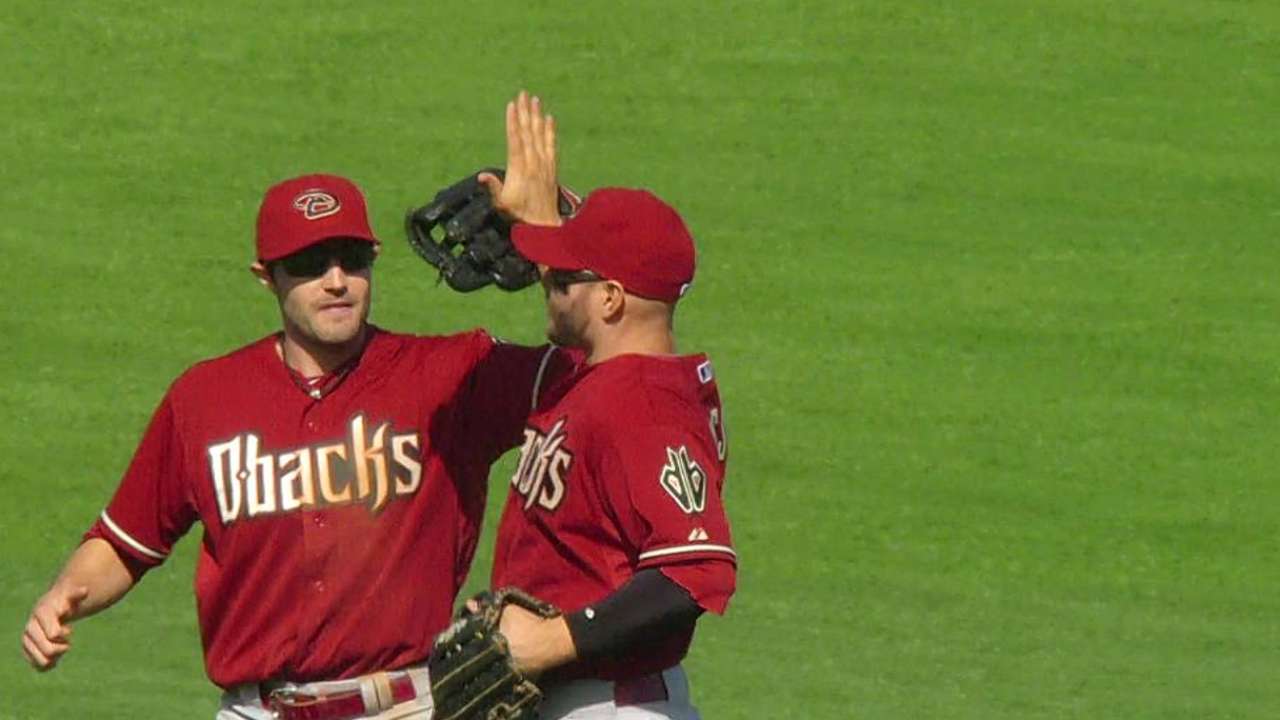 SAN FRANCISCO -- A blown lead, one-run game -- there really was no other way for this road trip to end for the D-backs.
The D-backs' 3-2 win over the Giants in 10 innings Wednesday afternoon capped a three-city trip that included a stop in New York to face the Yankees, Denver and finally San Francisco.
Arizona finished 4-5 on the trip, which featured five one-run games, a pair of two-run games and two extra-inning contests. There was some inclement weather and an early-morning arrival mixed in. All in all, the D-backs outscored their opponents 33-32
"We were in every game," outfielder Cody Ross said. "We could have come out a few times ahead. But that's baseball, and 4-5, it doesn't sound good but we played well, especially later. We struggled against New York early and then won the last one. Then struggled against Colorado and then all three of these games were obviously really close."
The D-backs blew an eighth-inning lead and lost in the ninth in the opener of the series with the Giants, and then Tuesday they coughed up a lead in the ninth before winning in the 11th.
Wednesday, D-backs starter Ian Kennedy and his counterpart Madison Bumgarner locked up in a pitchers' duel that kept the game scoreless through the first six innings.
The Giants scored first on Brandon Crawford's RBI double in the seventh and the D-backs tied the game in the eighth on A.J. Pollock's RBI single.
The D-backs took a 2-1 lead in the ninth when, with two outs, Didi Gregorius hit a blooper to center that dropped in for a hit, and when Angel Pagan took his time getting the ball into the infield, Gregorius stretched the single to a double.
The Giants then intentionally walked Cliff Pennington and Gerardo Parra delivered a line-drive single to center to give the D-backs a 2-1 lead.
With closer J.J. Putz, who had blown two saves on the trip including one Tuesday night, unavailable due to his recent workload, the D-backs turned the lead over to David Hernandez.
It didn't last long as Crawford hit a 1-2 curveball over the wall in right to tie things up.
"It wasn't a good pitch," D-backs manager Kirk Gibson said. "You don't want to throw a breaking ball down and in to a left-hander in this park or any park, and the count was even in his favor. That's not where he was trying to throw it. To be fair to our pitchers, the Giants made a few mistakes, too, their pitchers. That's just the game of baseball."
"Hernandez throws 95, so obviously I had to be ready for the fastball," Crawford said. "Just got the barrel out there for the slider."
The D-backs scored again in the 10th when Paul Goldschmidt drew a one-out walk off Chad Gaudin, and he moved to third when Cody Ross followed with a double to right.
The Giants then intentionally walked Miguel Montero and brought in left-hander Javier Lopez to face left-handed pinch-hitter Eric Chavez. The D-backs then sent up the right-handed-hitting Wil Nieves, who was the last position player left on the bench.
"I had to do it," Gibson said. "Lopez is very tough on left-handers -- [Nieves] did a good job, right approach, and he succeeded."
Nieves lifted a fly ball to center to score Goldschmidt with what proved to be the winner.
"We have a sinkerball guy that we're trying to get him to throw the ball up so I can just hit a fly ball to the outfield and that's all I was thinking," Nieves said. "Just stay closed with my front shoulder and follow the ball the whole way and just don't try to do too much. Just hit a fly ball to the outfield and get one run and I stuck with the plan and it worked."
Left-hander Matt Reynolds, who picked up his first Major League save in his 174th career appearance Tuesday, retired the Giants in the bottom half of the 10th to pick up save No. 2.
"It's really pretty exciting," Reynolds said. "Until last night I had never even been in a save situation like that. So it's fun, your heart gets beating, the adrenaline is going and here too with the crowd and the atmosphere that they have it makes it a lot of fun."
And no matter how long the trip, or how many more wins they could have ended up with had they held leads better, the D-backs were all smiles leaving San Francisco.
"It's been pretty crazy," Ross said. "All the extra-inning games -- tough games at that. But it feels good to win two out of three against these guys and head home on a positive note."
Steve Gilbert is a reporter for MLB.com. Read his blog, Inside the D-backs, and follow him on Twitter @SteveGilbertMLB. This story was not subject to the approval of Major League Baseball or its clubs.