Sarah's Take: Injuries depleting Dodgers' pitching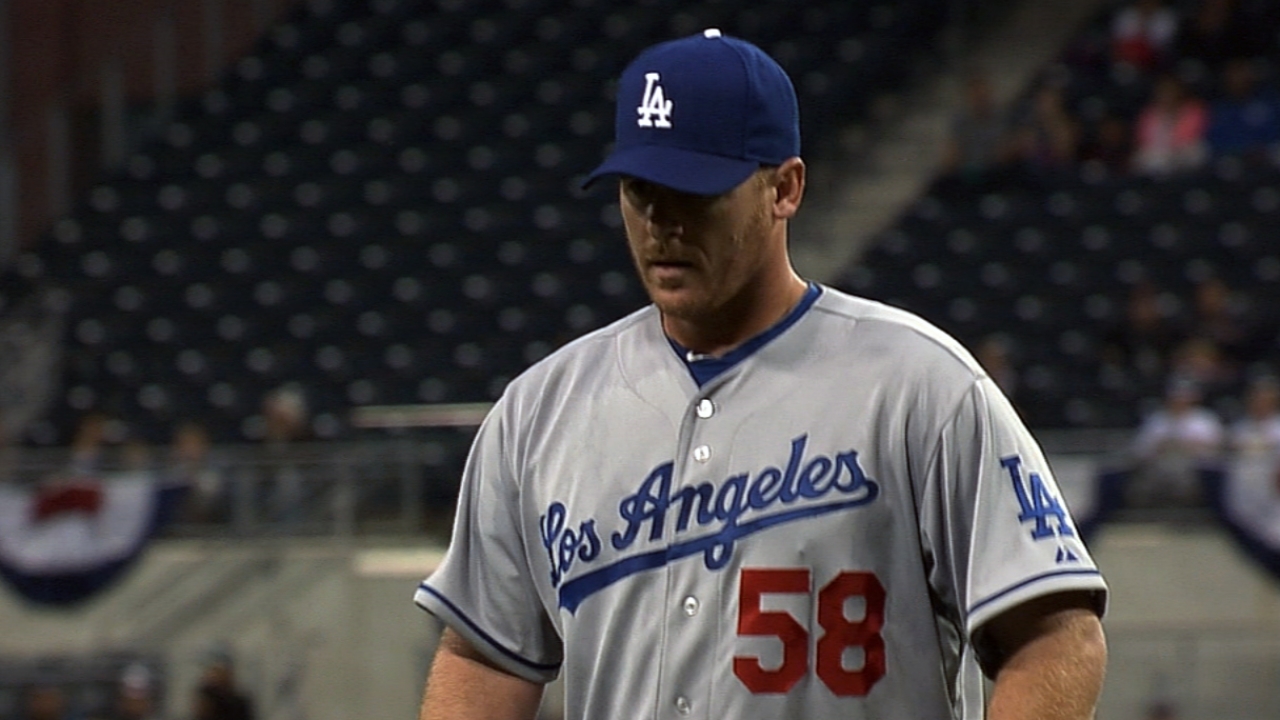 The Los Angeles Dodgers revealed on Tuesday that Chad Billingsley would undergo Tommy John surgery on his right elbow and will be out for the year. After leaving Spring Training with a surplus of experienced starting pitchers, the Dodgers now have a shortage of starters following a rash of injuries. The Dodgers will be in survival mode until Chris Capuano and Zack Greinke return.
Last August, on the day that the Dodgers made the blockbuster trade with the Boston Red Sox, Billingsley left the game with elbow pain. A couple days later, it was revealed Billingsley had a partially torn ulnar collateral ligament, which usually requires Tommy John surgery. Since grueling rehabilitation after the common Tommy John surgery takes at least a year, Billingsley, with the support of the Dodgers' medical staff, elected to try an alternative procedure to avoid the surgery.
Billingsley underwent a series of platelet-rich plasma injections (baseball's current cure-all) to promote healing. Doing rehabilitative exercises, Billingsley missed the final six weeks of 2012. In November, Billingsley threw a simulated game where his fastball hit 93 mph on the radar gun. Billingsley had a regular workout schedule during the winter.
The uncertain health of Billingsley caused the Dodgers to pursue free-agent starting pitchers aggressively. They signed Greinke and Hyun-Jin Ryu. This pair should have guaranteed the Dodgers a good starting rotation, even without Billingsley. Throughout Spring Training, despite beginning the season on the disabled list with a bruised index finger, Billingsley appeared to be healthy. On April 6, the Dodgers traded away Aaron Harang because they felt Billingsley was healthy.
During his two starts against the San Diego Padres, Billingsley's velocity was great, but he didn't use his breaking ball much. Although Billingsley's first start was much better than his second start, five days later against the same team, no fan could tell his elbow was bothering him.
The regular season began a little more than three weeks ago, and the Dodgers have put three starters on the disabled list and traded away another. If they didn't have extra depth in starting pitching, they would have been in trouble.
Greinke's freak injury will cost him anywhere from six to eight weeks. However, Greinke also has experienced elbow pain requiring a platelet-rich plasma injection. His health is uncertain.
Capuano, who was designated for bullpen duty to begin the regular season, pulled a calf muscle in his first start of the season. He landed on the disabled list even though the injury shouldn't keep him from pitching more than 15 days. During his Major League career, Capuano has had two Tommy John operations, so his health is suspect.
Coming off the disabled list and making the start against the New York Mets on Wednesday is Ted Lilly, who hasn't pitched in the Major Leagues since last May. He had a variety of injuries that kept him out until he underwent shoulder surgery in September.
Although Lilly hasn't experienced a setback since shoulder surgery, he hasn't been impressive in his rehabilitation starts. If Lilly didn't have two bouts with the flu during Spring Training, he wouldn't have begun the season on the disabled list. A soft-tossing crafty lefty, Lilly can't afford to lose any more velocity and still be effective at the Major League level. In the final year of his contract, Lilly wants to impress, but he appears to be at the end of his career. The Dodgers wanted Lilly to make more rehabilitation starts, but his reluctance -- and the need for another healthy starter -- prevented that.
When Billingsley couldn't make Sunday's start, the Dodgers promoted Stephen Fife, who pitched satisfactorily. Since Fife doesn't have much Major League experience and his pitches don't impress most people, the Dodgers management doesn't have a lot of confidence in him. Hence, as soon as Capuano returns, and if Lilly does all right, the Dodgers probably will demote Fife. Even though Fife sometimes struggles at the Majors, he has done everything that the Dodgers should expect from a young starter, so they should let Fife replace Billingsley for the entire season unless he proves that he can't perform.
When the Dodgers acquired all of those superstars via trades, they gave away many promising Major League starters. If they have another injury to their starting rotation, the Dodgers will be in serious trouble, because they don't have adequate depth in their Minor League system.
In the first six games of the season, the Dodgers' bullpen was perfect, not allowing a run. Since then, the bullpen has been a weakness. While the starters have been dropping like flies, the relievers have been overworked. An exhausted bullpen this early in the season doesn't bode well for any team.
Though the Dodgers scored seven runs Tuesday, they are second to last in the league in runs scored. They have had massive trouble hitting with runners in scoring position. If their offensive production doesn't improve, the Dodgers aren't going anywhere in October -- except home.
Sarah D. Morris can be reached at sarahmorris27@gmail.com. This story was not subject to the approval of Major League Baseball or its clubs.