Bases-loaded walk sinks Orioles in 11th
Loss snaps the club's 17-game win streak in extra innings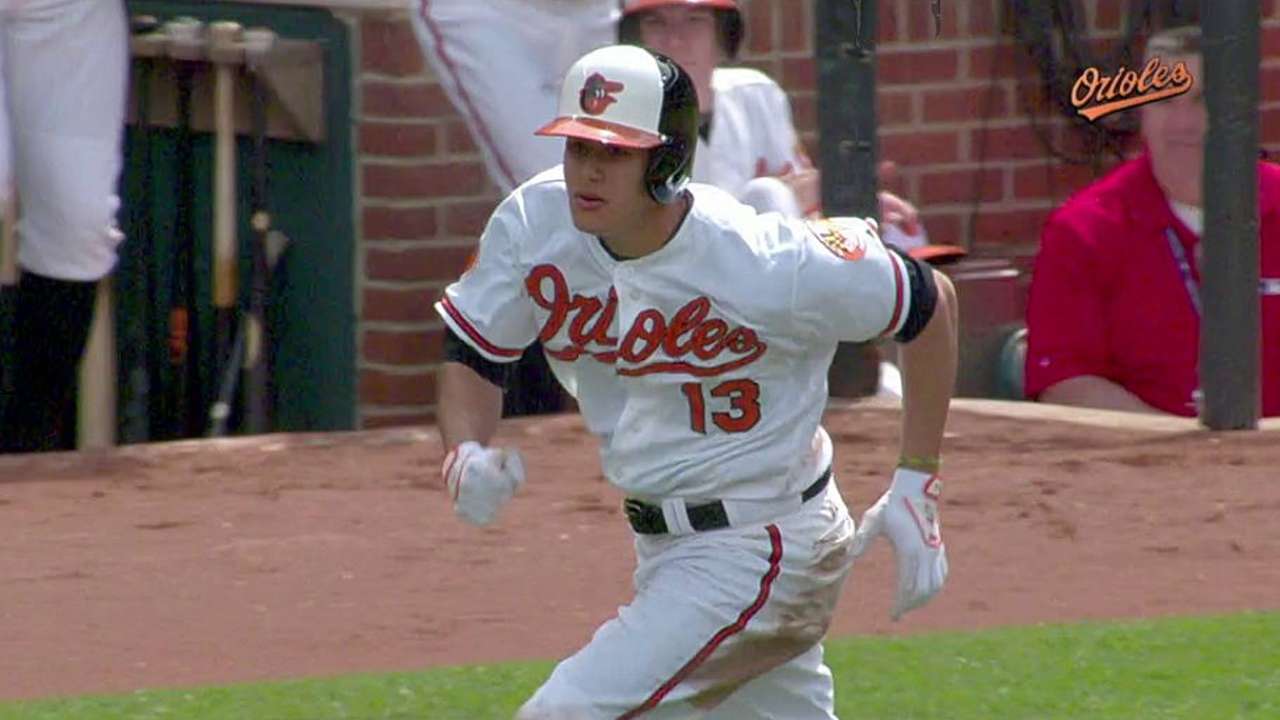 BALTIMORE -- Orioles manager Buck Showalter had wanted to stay away from going to closer Jim Johnson for a third straight game, but an abbreviated start from Josh Stinson and extra innings didn't leave him much choice.
After the offense squandered several late opportunities to score, Johnson -- part of a bullpen that has been magnificent -- surrendered his first earned run of the season with two outs in the 11th inning, resulting in Baltimore's 6-5 loss to Toronto on Wednesday afternoon at Camden Yards.
The defeat, which snaps the club's 17-game win streak in extra innings, ends a nine-game homestand for the O's, who went 6-3 with three series wins.
"I just had a hard time throwing a strike," said Johnson, who hadn't allowed an earned run in his last 22 regular-season outings. "[I] kind of lost feel, and obviously that's a terrible way to lose a game."
On for his second inning after recording the final out of the 10th, Johnson loaded the bases on a pair of two-out singles and a hit batsman, then walked No. 9 batter Maicer Izturis on four straight pitches. Asked if pitching for the third consecutive game was a challenge, Johnson said no and reminded reporters that he's done it before.
"I just lost feel," he said. "That's basically all it is. It started with the [Brett] Lawrie at-bat. I wasn't able to get back on top of the baseball. I talked to [catcher Taylor Teagarden] about it afterward, and hindsight 20-20, I probably should have thrown another pitch to try to change things up. But in that situation, I'm going to try to throw my best pitch."
Johnson entered the game a perfect 8-for-8 in save opportunities. He had pitched 11 innings, allowing six hits and an unearned run with 11 strikeouts and three walks, and is a big part of why the Orioles are off to a 12-9 start.
"Jimmy's been great this year," Showalter said. "I thought he was pretty good today, too. It was what it was. He got a big out against some tough hitters there the inning before and he got two outs there. Just one pitch away. We had opportunities."
The best chance came in the 10th, when the Orioles put their second consecutive leadoff man on with Manny Machado's single off Esmil Rogers. Machado moved to second base after right fielder Jose Bautista dropped Adam Jones' routine fly ball with one out and, after Chris Davis' flyout, J.J. Hardy sent a pitch into left field for a single. But Hardy's hit one hopped to outfielder Rajai Davis, who came up and fired home to nab Machado and keep the game tied.
"After I fielded it, I got a good look at the runner and saw that I had a good chance of throwing him out," said Davis. "After releasing my hand, I felt good about the throw and [catcher] J.P. [Arencibia] made a nice tag, and the rest is history."
Toronto's comeback negated another outstanding effort from the Orioles' bullpen, which tossed five scoreless innings on the heels of starter Stinson's short outing before Johnson's run. Darren O'Day worked around a two-out walk in the eighth and struck out Arencibia in the ninth before handing the ball off to lefty Troy Patton.
Patton retired pinch-hitter Mark DeRosa on a liner and then struck out Lawrie on a called third strike that got Jays manager John Gibbons ejected for arguing. Patton allowed a leadoff single in the 10th, but got two quick outs before handing the ball off to Johnson, one of five relievers used in the loss.
"We didn't play a bad game by any means," Orioles outfielder Nate McLouth, who reached base four times, said. "Their hits came with some damage. We weren't quite able to push that last one across a couple of times."
Down three, the O's came back to tie it and chase Blue Jays starter Brandon Morrow from the game in the seventh. After Nolan Reimold worked a one-out walk, Ryan Flaherty doubled him in to give the Orioles their third hit of the afternoon and first since the first inning. Flaherty's double brought on lefty Aaron Loup, and one out later, McLouth came through with an RBI single and proceeded to steal second base. McLouth scored his third run of the game when Machado drove a full-count pitch into right-center field for a game-tying triple.
"We're going to fight to the end," Machado said of an Orioles club that has been particularly tough to beat in the later innings. "It's something that, ever since I came up and before, something that we've had, that the team's had, you never give up until that last out is made and the game's over. We're not going to stop fighting."
The Orioles, who scored a first-inning run, were behind early, as Stinson surrendered the first of four home runs in the top of the second. Making his debut with Baltimore and the second start of his Major League career, Stinson didn't leave the impression he wanted, surrendering five runs over 5 2/3 innings. He was optioned to Triple-A Norfolk following the game.
As for the rest of the Orioles, it's on to Oakland, where the team will play a four-game series to kick off a three-city road trip on the West Coast.
"When you can win any series, especially in your division, that's big, so we'll take it," Johnson said. "It's not going to dampen our spirits. We'll go out west and hopefully continue to play good baseball."
Brittany Ghiroli is a reporter for MLB.com. Read her blog, Britt's Bird Watch, and follow her on Twitter @britt_ghiroli. This story was not subject to the approval of Major League Baseball or its clubs.