McAllister fights command; Tribe never gains control
Righty walks five, allows three runs; Raburn comes up empty in clutch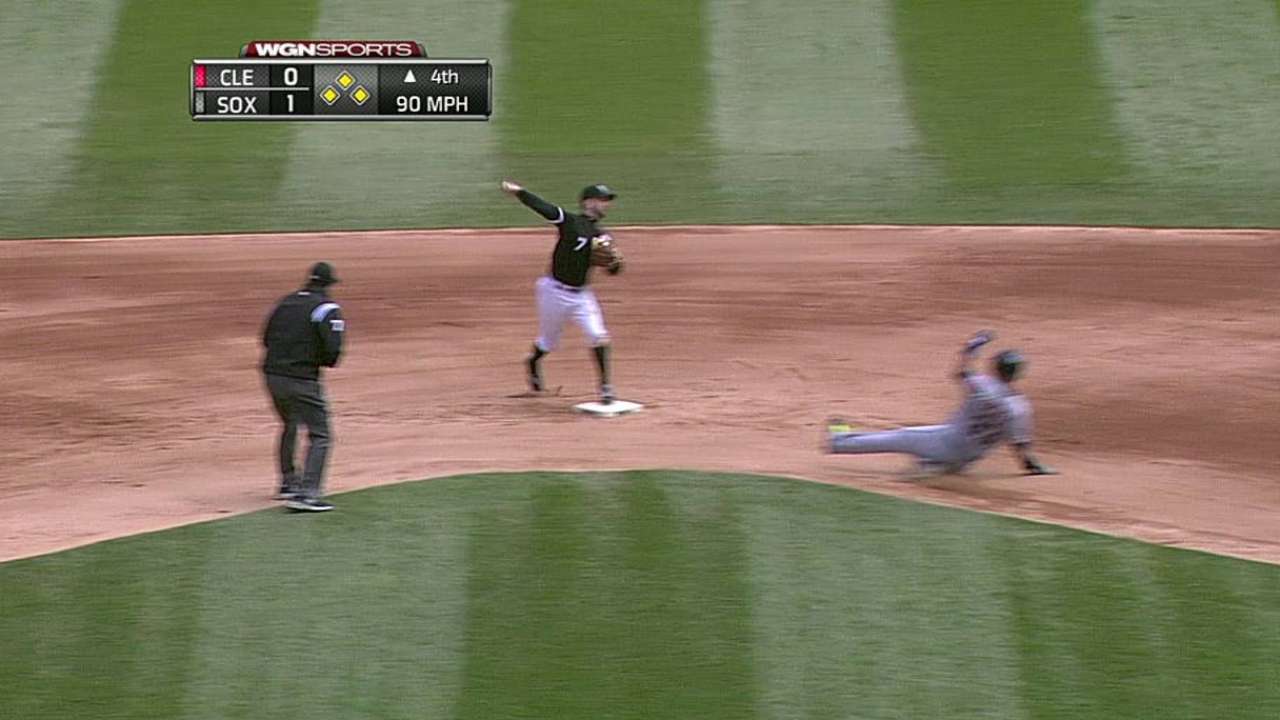 CHICAGO -- Ryan Raburn saw a first-pitch fastball and saw his chance. White Sox lefty Jose Quintana had been cruising, but Cleveland found a way to work the bases full in the fourth inning and this was an opportunity to swing the momentum.
"I just tried to kind of play hero," Raburn said.
Raburn hacked at the offering and chopped it into the ground for a rally-killing double play that sucked the wind out of the Tribe on Wednesday. It was an afternoon of missed chances that led to a 3-2 loss to the White Sox at U.S. Cellular Field.
Quintana continued to puzzle the Indians' lineup and Tribe starter Zach McAllister's few mistakes were magnified in light of the cooled Cleveland offense. The end result was a split of an abbreviated two-game series before the Tribe heads to Kansas City for the final stop on this 11-day road trip.
There have been plenty of signs of life of late for the Indians' offense, beginning with the team's 19-run onslaught on Saturday in Houston. Prior to Wednesday's game against Chicago, though, Indians manager Terry Francona chuckled when asked if he thought his lineup was starting to heat up.
Francona was not about to go there.
"I will never say that," said the manager. "The minute I say it, we'll get two-hit. It just never fails."
Cleveland (8-11) managed five hits in the loss to Chicago (8-12), but Francona's point was made.
Quintana has enjoyed a lot of success in his young career against the Indians -- evidenced by his 1.48 ERA against the Tribe. The left-hander turned in seven shutout innings in a no-decision against Cleveland on April 12 and followed that up with five shutout frames to open Wednesday's outing.
"You can tell he's pitching with confidence," Francona said. "He does a lot of everything. He changes speeds. He uses the whole plate. He has that cutter. He goes up, down, soft, hard. He pitches. You get into situations where you can do some damage and he tries to get you a little over-aggressive."
The Tribe finally got to Quintana in the sixth, when the lefty issued a leadoff walk to Drew Stubbs and then allowed a single to Michael Brantley. Jason Kipnis followed with an RBI single to right field, snapping his 0-for-8 skid at the plate and ending Quintana's career-best scoreless streak at 18 2/3 innings.
At that point, the White Sox turned to reliever Nate Jones, who promptly allowed a sacrifice fly to Mark Reynolds that cut Chicago's lead to 3-2. Kipnis did what he could to apply some pressure, stealing both second and third base, but Jones struck out Nick Swisher and induced a flyout from Raburn to escape further damage.
Quintana was charged with two runs on four hits in his five-plus innings of work. Two runs off the lefty seemed like an outpouring, considering Cleveland had only scored two runs against him in the previous four meetings combined.
"He's been pitching great," White Sox manager Robin Ventura said. "Up until that sixth inning, he just looked strong, and he gets stronger as he goes along."
The Tribe -- playing without Asdrubal Cabrera (right quad), Carlos Santana (flu) and Michael Bourn (right hand injury) -- needed more from its offense on this afternoon.
In the first inning, Alejandro De Aza drew a leadoff walk against McAllister, stole second base and then scored on a single from Jeff Keppinger. Alex Rios pushed Chicago's lead to 3-0 in the fifth, when he tomahawked a high 0-2 offering from McAllister deep to left field for a two-run home run.
"I don't even think that was a bad pitch," McAllister said. "I wasn't necessarily surprised that he hit it. But I was surprised he hit it that well, that's for sure. He's a good hitter."
McAllister did his best to control the damage of the nine baserunners he put on in his 5 2/3 innings, but the White Sox scored just enough to eke out their fourth win in 14 games. The big right-hander matched a career high with five walks and ended with four strikeouts in the hard-luck loss.
"He dodged some traffic," Francona said of McAllister. "They almost left with one run. He got ahead of Rios and a fastball came across the wrong part of the plate. Even though it was elevated, he ran into it for two runs -- two big runs. He kept competing and he kept them off the board."
Under the circumstances, Raburn was kicking himself for coming up short in the fourth inning.
With Chicago holding a 1-0 lead, Brantley singled to right off Quintana and Reynolds later added a one-out double. Quintana then issued a walk to Swisher to load the bases for Raburn. Cleveland's right fielder got a little too trigger happy, grounding into the critical double play.
"He's a fastball hitter. That's OK," Francona said of Raburn's aggressive approach. "The result wasn't what we were looking for, but I don't ever want to second-guess guys when they get a good pitch to hit. The game is hard enough."
Raburn did second-guess his swing.
"It's one of those at-bats I wish I could go back and do it over," Raburn said. "But I can't. It's part of the game. Sometimes you get them and sometimes you don't. ... I was trying to be aggressive. I was just a little too over-aggressive. It wasn't quite the pitch I should have went after."
Jordan Bastian is a reporter for MLB.com. Read his blog, Major League Bastian, and follow him on Twitter @MLBastian. This story was not subject to the approval of Major League Baseball or its clubs.