Shark smells blood, but bats can't back him in loss
Samardzija strikes out eight with cut finger; Cubs 0-for-6 with RISP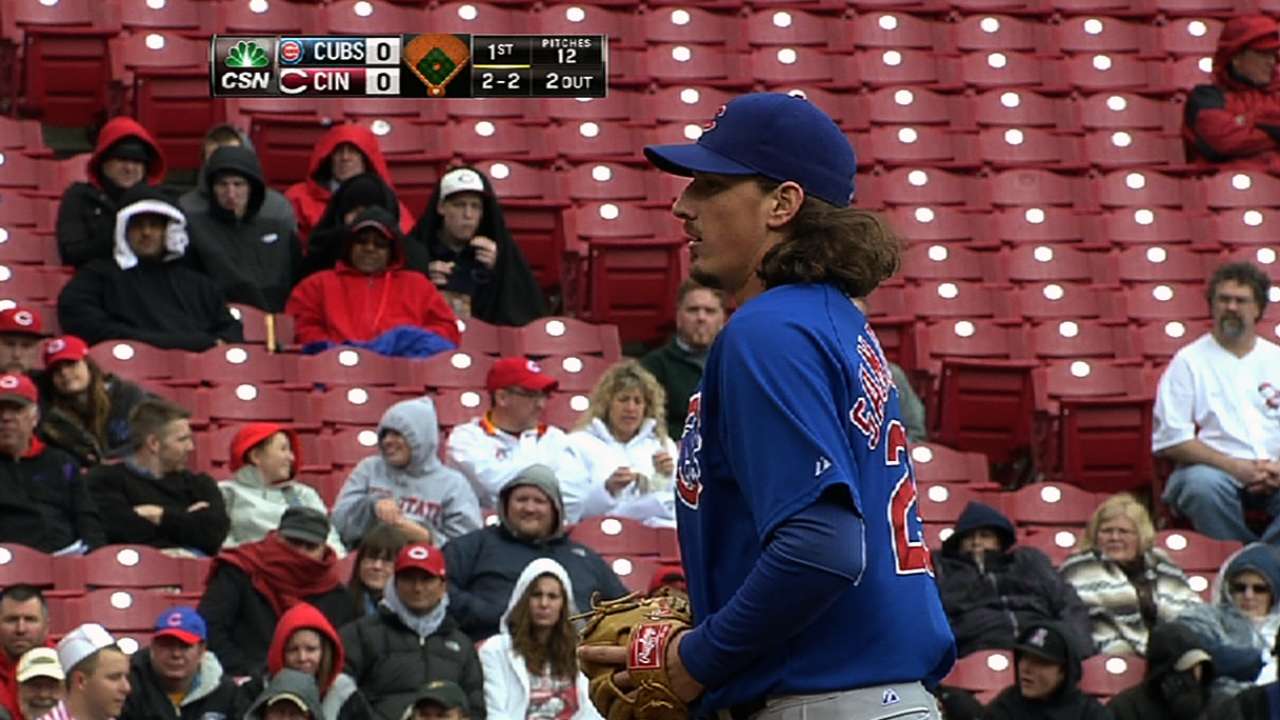 CINCINNATI -- What's a little blood to a former football player?
Jeff Samardzija shrugged off a cut finger, suffered in the first inning, but couldn't stop Todd Frazier, who belted a solo home run to lift the Reds to a 1-0 victory Wednesday over the Cubs.
Samardzija (1-4) cut the index finger on his right hand trying to grab Shin-Soo Choo's ball in the first. Cubs manager Dale Sveum and athletic trainer PJ Mainville went out to check on Samardzija after home-plate umpire Jordan Baker noticed some blood.
"It got compressed a little bit and a little baby cut," Samardzija said, downplaying the injury. "It was a little interesting. It wasn't so much the feel of it, but more so the liquid coming out of it than anything else. They let me pitch, which was good. Everything physically was fine. It was more aesthetic than anything else."
In the second, Samardzija didn't appear to have any problems as the Great American Ball Park radar gun registered his fastball at 98 mph. He fanned eight over six innings and now has 39 strikeouts this month, good for seventh place on the team's all-time list for most K's in the month of April. Matt Garza fanned 51 in April 2011 for the team high.
Samardzija almost tried to make another barehanded grab of Choo's ball in the fifth but pulled back at the last minute.
"'Almost' is the key word there," Samardzija said.
"I'm sure he learned his lesson," Sveum said.
Samardzija said the injury wasn't a distraction. He dashed off the field quickly after each inning so Mainville could work on it. Samardzija didn't wear a batting glove on his right hand to avoid aggravating it.
Sveum kept an eye on his starter but didn't need to pull him.
"He was pretty sharp," Sveum said. "There were no worries there."
Mat Latos (1-0) didn't seem to have any problems. He retired the first 10 batters before Julio Borbon doubled with one out in the fourth. Cody Ransom dropped a single in center to open the sixth and eventually reached third, but was stranded.
Frazier connected with two outs in the sixth, launching a 2-1 pitch 480 feet to straightaway center and off the boat-like structure. It was the seventh longest home run at Great American Ball Park. Samardzija has faced Frazier since his freshman year in college, when the Reds' third baseman played at Rutgers.
"He's a heck of a hitter," Samardzija said. "It was a cutter that kind of stayed over the plate. You're facing a good lineup like that, and every pitch has to be where you want it or else they'll take advantage of it. I thought I pitched him good all day, but he hammered that ball. He definitely got his money's worth on that."
"I was just trying to get that fastball. I haven't seen many of them lately," Frazier said. "When you get it, you've got to do something with it. ... I took a couple of steps and kind of figured it was out. But I didn't really know how far until I looked up and saw it bounce off of the boat. It was pretty fun to watch."
After Latos allowed a walk and a single to lead off the eighth before exiting, the Cubs ended up with runners at second and third with two outs against Jonathan Broxton. David DeJesus hit a roller up the middle that had the makings of a base hit, but shortstop Zack Cozart went deep behind second and made a perfect pickup and throw to get DeJesus at first to end the threat.
"That's an unbelievable play in that situation," Sveum said. "That's how you win games, when you make plays like that."
Samardzija posted the Cubs' 12th quality start, and his effort lowered the starters' ERA to 2.97, yet the Cubs' starting pitchers have only three wins.
"We're out here to do our job," Samardzija said. "It's not frustrating -- it's just the first month of the season. We're a pretty close-knit group of starting pitchers, and we share a lot of information and share a lot of knowledge in between starts. I can't tell you how many times a guy has been pitching, and the other two guys have sat with him and gone over the scouting reports.
"You have faith in your team, it's early in the season and you keep pitching and see what happens."
The Cubs did keep the three games of this series against the Reds close, which was encouraging after getting swept by the Brewers.
"We seem to find a way to keep the game close and scrape across a couple runs when we need them," Samardzija said. "You've got to take it as a positive. You need to look at what went well and build on it. We've played some really good teams over the last few weeks. ... We're right there and need to stay positive and finish this month strong."
Seventeen of the Cubs' 20 games have been decided by three runs or fewer. On Wednesday, they went 0-for-6 with runners in scoring position, continuing to rank last in the Major Leagues.
"We kept the best offense in the National League to a couple runs each night," Sveum said. "We're just having trouble hitting the outfield grass when we get runners on base."
The start of the game was delayed nearly 90 minutes because of rain, which gave both teams some extra down time after playing two straight extra-inning contests.
Carrie Muskat is a reporter for MLB.com. She writes a blog, Muskat Ramblings, and you can follow her on Twitter @CarrieMuskat. This story was not subject to the approval of Major League Baseball or its clubs.