Frazier's resounding homer rewards Latos in shutout
Reds third baseman clubs 480-foot blast; starter deals for first victory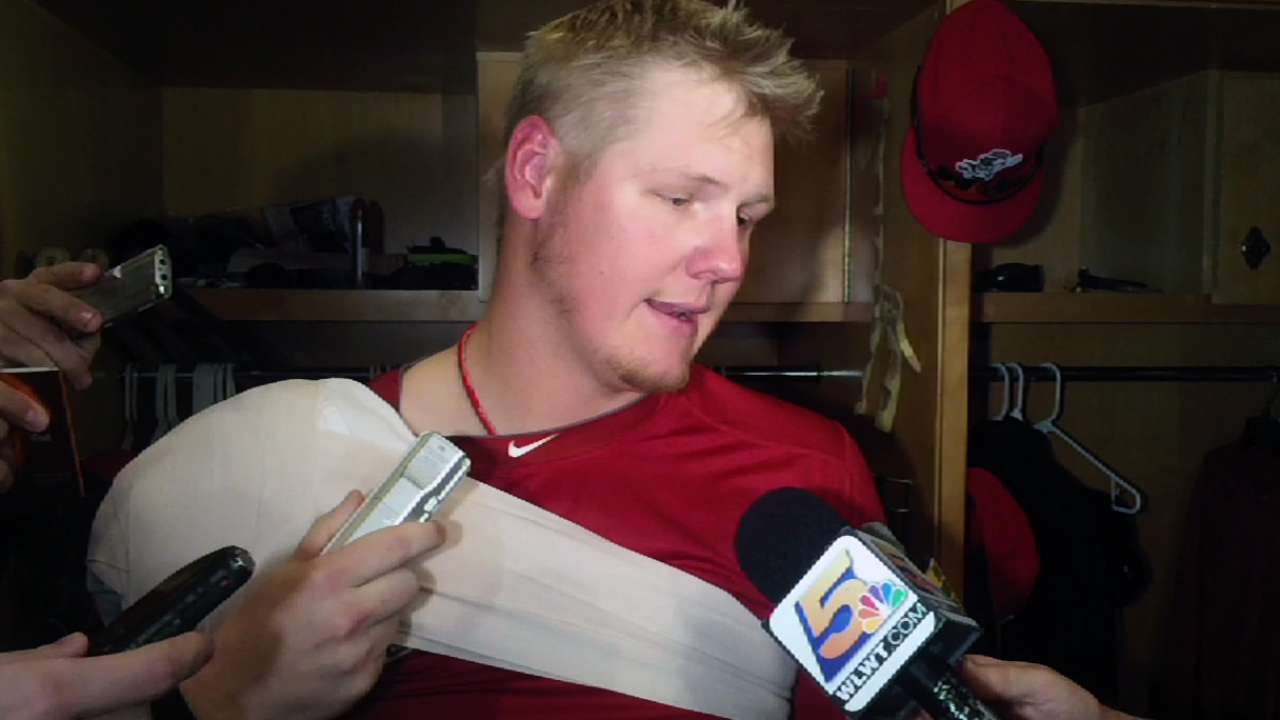 CINCINNATI -- It was a successful Reds homestand that was defined by strong pitching for all 10 games, so seeing it finished up with a 1-0 win over the Cubs on Wednesday afternoon wasn't terribly shocking.
How that one run was acquired, though, should be good for numerous video replays, some stories at the nearby watering holes and around the office the next day. It came via Todd Frazier, who hit a titanic home run that traveled 480 feet.
"It was pretty far. I thought it went a little further. I thought it was over five [hundred]," Frazier said.
Before Frazier's shot, with two outs in the sixth, there was a scoreless deadlock between Reds starter Mat Latos and Cubs righty Jeff Samardzija. On a 2-1 pitch from Samardzija, Frazier hit a drive off of the riverboat above center field. The estimated distance of the homer was good for seventh all-time at Great American Ball Park.
"I lost sight of it. I thought it went into orbit some place," Reds manager Dusty Baker said.
"I've got to hit the ball three times to get it that far," Reds shortstop Zack Cozart said.
Samardzija, a former Notre Dame pitcher who had often faced Frazier in college games vs. Rutgers, paid for leaving a cut-fastball out over the plate.
"He's a heck of a hitter," Samardzija said. "You're facing a good lineup like that, and every pitch has to be where you want it or else they'll take advantage of it. I thought I pitched him good all day, but he hammered that ball. He definitely got his money's worth on that."
Going into the at-bat, Frazier had been 0-for-10 for the series.
"I was just trying to get that fastball. I haven't seen many of them lately," Frazier said. "When you get it, you've got to do something with it. ... I took a couple of steps and kind of figured it was out. But I didn't really know how far until I looked up and saw it bounce off of the boat. It was pretty fun to watch."
There are no bonus runs for distance, but it proved to be just enough to support another good outing from Latos. He worked seven-plus innings, allowing four hits, a walk and striking out four, to finally get his first victory after some tough luck.
On the 8-2 homestand, which included three series wins over the Phillies, Marlins and Cubs, the Reds' pitching staff had a 1.91 ERA and held opponents to a .201 batting average. Only 16 batters were walked compared to 107 strikeouts. Nine of the 10 games saw quality starts from the rotation.
Latos retired his first 10 batters before a one-out double from Julio Borbon in the fourth inning. Latos said he had no secondary pitches working for him, so he stuck with fastballs.
"I didn't have anything today," Latos said. "I had a four-seamer and a two-seamer, was all I had today. It was tough. Everybody in the big leagues can hit a fastball. It was just a matter of hitting my spots and being able to make key pitches when I needed to."
Latos' day began ominously. He had to alter his pregame routine upon learning of a rain delay that halted the first pitch for 89 minutes. Two batters into the game, Borbon hit a comebacker off of Latos' right foot to bring out the trainer.
"Toe is bruised, but whatever. Just another 1-3 putout was all," Latos said.
Latos didn't have a runner reach third base against him until he returned for the top of the eighth. It was an effort toward bullpen preservation, but he did not get far. Dioner Navarro drew a leadoff walk, and Luis Valbuena hit an infield single to the shortstop.
Jonathan Broxton replaced Latos to face Cody Ransom, who moved the runners with a sacrifice. Broxton struck out pinch-hitter Alfonso Soriano and got a ground ball up the middle from David DeJesus. Cozart made a fantastic play to get the ball and throw from behind second base to get DeJesus at first base to end the inning.
"I went a long ways to get the ball," Cozart said. "I was going to throw it no matter what, because it was two outs and you never know. When I threw it, I kind of saw out of the corner of my eye as I fell down that he wasn't that close to the bag. I was kind of shocked, because he can run well. Personally, I've been struggling at the plate, so when I make plays like that, it feels pretty good."
Aroldis Chapman gave up a two-out single in the ninth but kept the Cubs scoreless for his fourth save.
It was only the ninth 1-0 game in the 11-season history of Great American Ball Park -- but the second this season. The other came near the start of the homestand vs. the Phillies in a suspended game that was claimed the following day. This 1-0 win meant Baker didn't have to exhaust his bullpen again after extra-inning games in three of the past four days.
"Hopefully this will set us straight, because we have seven more before we get a break," Baker said. "We don't want to limp into Washington, and especially St. Louis. That set us straight for a couple of days."
Mark Sheldon is a reporter for MLB.com. Read his blog, Mark My Word, and follow him on Twitter @m_sheldon. This story was not subject to the approval of Major League Baseball or its clubs.