Case closed: Bailey seals comeback victory vs. A's
Right-hander strikes out side in ninth; Lester grinds out fourth victory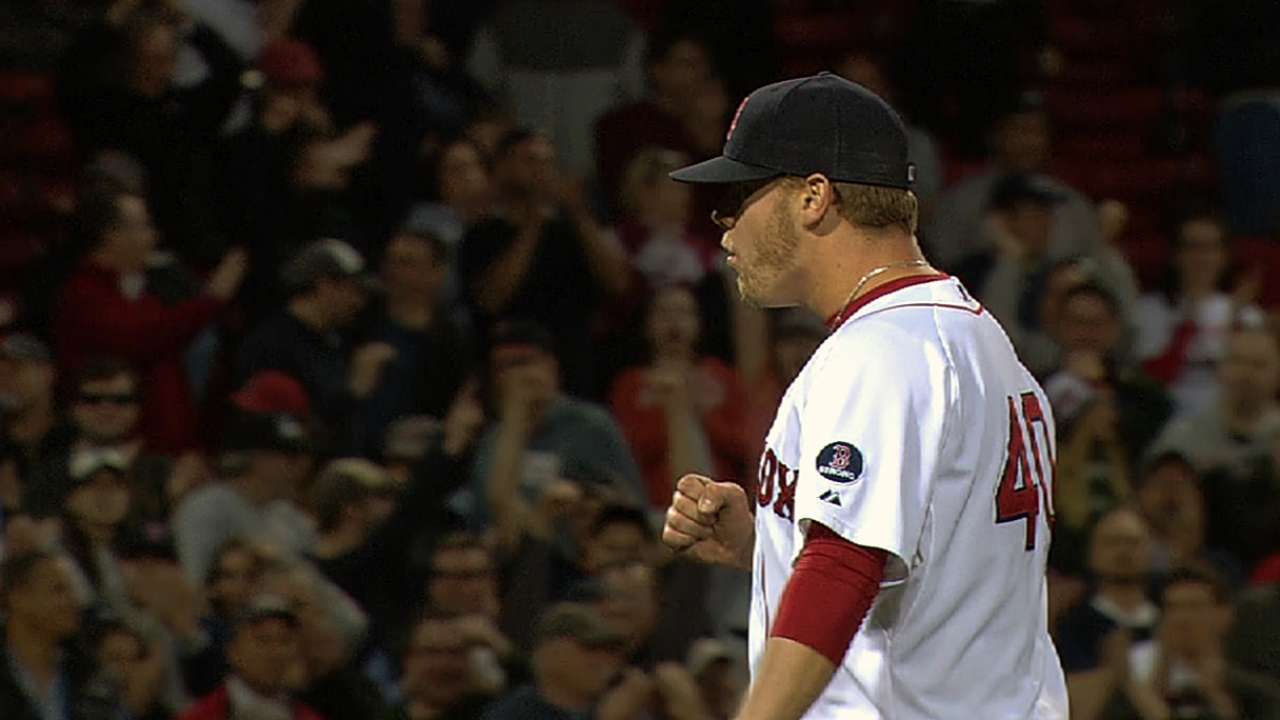 BOSTON -- If the closer's job was taken away from Andrew Bailey over the winter, he is doing everything in his power to make sure that doesn't happen again.
Bailey turned in perhaps his most dominant performance of the season while closing out Wednesday's 6-5 victory over the Oakland Athletics.
In succession, he struck out John Jaso, Seth Smith and Jed Lowrie. They all went down swinging. It was a 19-pitch display of dominance that reminded people why Bailey was a two-time All-Star with Oakland, and why the Red Sox traded for him in the first place in December of 2011.
"You've got to go out there and throw up a zero, no matter what inning it is," said Bailey, who has a 1.59 ERA. "Of course, there's going to be a little bit more adrenaline [in the ninth], but I'm a high energy guy out there anyway. Whether it's the eighth or the ninth, I take the same mentality out there. Everybody wants to be a closer and wants to pitch the ninth inning, but right now, I'm the guy."
Bailey could be the guy for the rest of the season, or he could be the guy for just a few more days. Manager John Farrell has not revealed his plans once closer Joel Hanrahan returns from the disabled list.
Hanrahan will start a Minor League rehab assignment on Friday and should rejoin the Red Sox at some point next week.
"Unfortunately, Joel went down and he'll be back soon," Bailey said. "It's not my decision to make, but I was brought here to do a job last year. Injury got in the way and I wasn't able to do that. My goal is just staying out in the field this year and they know what I can do. It's just nice to be back out there and getting wins. We're off to a great start and the team is playing well. That's really all that matters."
In truth, Bailey might have gotten a little break in his save on Wednesday. Lowrie drilled Bailey's 2-2 pitch down the right-field line and it was ruled foul. Though television replays were inconclusive, the ball looked like it might have hit some chalk.
"That's part of the game," Bailey said. "That's one of the best things about baseball, is the judgment aspect of it. You know, I'm a big proponent of getting things right. It's also a game of inches and judgment calls. It was on my side today."
A's manager Bob Melvin wasn't pleased.
"What did I see? I saw chalk fly," Melvin said. "It makes a huge difference. Now you have a guy up with a runner in scoring position and anything can happen. It's where you wish that there were more replay for boundary calls, too. Not just home runs."
Bailey saved the win for Jon Lester, who is now 4-0 on the season. In fact, Lester and Clay Buchholz are a combined 8-0, which is the biggest reason Boston is 14-7 and has been in first place for every day of the season.
In this one, Lester had to grind it out, throwing 113 pitches over 5 2/3 innings. The lefty gave up six hits and three runs, walking six and striking out five.
"I wouldn't say I didn't have good stuff," said Lester. "I thought I had good stuff. Early on, it was a little bit of a battle, a lot of foul balls. It was big to get a win right there. The offense picked me up, coming back after that three-run inning to score three and tie it up. They kept doing a good job later after that to score some more runs."
Impressive as they were when David Ortiz was out of the lineup, the Red Sox look a lot more potent with the big slugger occupying the cleanup spot.
Ortiz was in the middle of both of his team's key rallies on Wednesday afternoon, belting a double off the Green Monster to jump-start a three-run rally in the bottom of the fourth and going the other way for an RBI single to give his team insurance in the three-run sixth. In his first four games since August, Ortiz is batting .500 (8-for-16).
"I'm not trying to do too much," Ortiz said. "I'm trying to stick with whatever they give me."
Dustin Pedroia had a pair of hits in the No. 3 spot in the lineup and Mike Napoli delivered yet another key hit, an RBI double, from the fifth spot.
A 3-4-5 combo of Pedroia, Ortiz and Napoli has the potential to be a dangerous one throughout the season.
Stephen Drew, who has been slumping since his return from a concussion, came up with a big hit, a two-out, two-run triple in the fourth.
"It's coming," said Drew. "I would like to say I'm there, but you know, in this game, it's the top level. I didn't have that many ABs coming out of Spring Training and now I'm just trying to grind to get that feel back."
In his first four starts, the most runs Lester had allowed in a game was two. He topped that with one pitch on Wednesday, serving up a three-run homer to Chris Young with one out in the fourth. Just like that, Oakland had a 3-0 lead.
The Red Sox didn't stay down for long. They came roaring back in their half of the fourth for three against A's lefty Brett Anderson. The Boston bats got it going again in the fifth for another three-spot.
Shane Victorino, who would leave the game with recurring back woes, drilled an RBI double to left to give the Sox their first lead of the day at 4-3 in the fifth.
Ortiz went the other way for an RBI single to left that made it a two-run game. Daniel Nava came off the bench to pinch-hit for Jonny Gomes, and he delivered an RBI single to right that had Red Sox owner John Henry pumping his fist in his seat next to Boston's dugout.
In fact, Nava wound up going 2-for-2 off the bench.
There were some bumps in the road for Junichi Tazawa and Koji Uehara, both of whom gave up a run, but Bailey put up an impenetrable wall in the ninth and took it home.
"For me, I'm confident enough to go out there and know that I can put up good numbers," Bailey said. "I think unfortunately I've had a little bit of an injury bug throughout my career, but I'm healthy now and I'll try to keep on rolling."
Ian Browne is a reporter for MLB.com. Read his blog, Brownie Points, and follow him on Twitter @IanMBrowne. This story was not subject to the approval of Major League Baseball or its clubs.