Disputed call leaves A's fuming after loss to Sox
Young goes deep twice at Fenway, but Anderson's struggles continue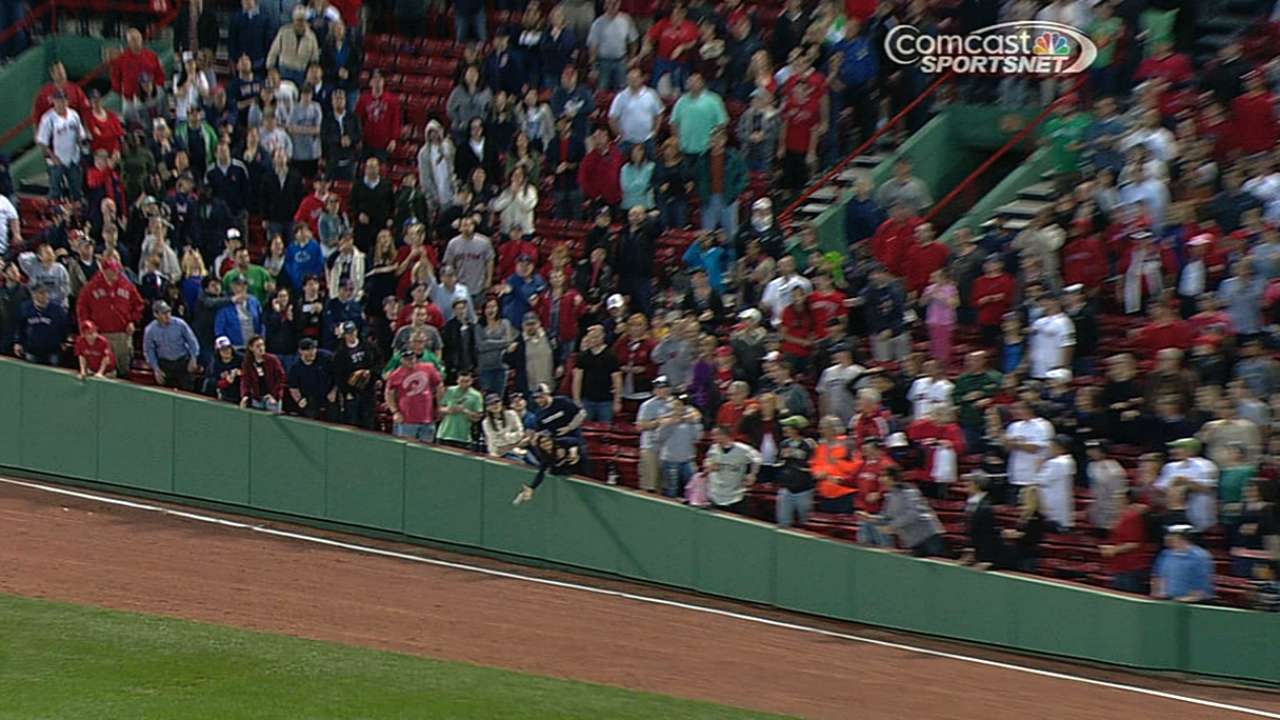 BOSTON -- What Jed Lowrie deemed "a game-changing call" was just that but nothing more -- nothing that could have camouflaged other concerns surrounding his team.
Had first-base umpire Greg Gibson called the ball Lowrie hit down the right-field line in the ninth inning fair, rather than foul, the A's would've been saved an out and afforded a prime opportunity to tie a game that instead ended 6-5 in Boston's favor when Lowrie struck out two pitches later.
"I saw chalk fly," insisted manager Bob Melvin, who was visibly upset. "It makes a huge difference. Now you have a guy up with a runner in scoring position and anything can happen."
The A's might have walked away from their six-game road swing 2-4, rather than 1-5, had they received the call. Still, the losses would've outweighed the wins, and Brett Anderson still would be searching for some "mojo."
The lefty dropped the word four times in a span of less than four minutes when speaking to reporters, not too long after getting knocked around for six runs while failing to get out of the fifth inning.
"They hit mistakes and non-mistakes, and it's kind of getting old at this point," Anderson said. "I'm a better pitcher than that and I have to go out there and prove myself."
The southpaw allowed only two combined earned runs in his first 13 innings of work this season, but he has since surrendered 17 in the 11-plus frames that have followed.
It was just five days ago, on a mound in St. Petersburg, when Anderson departed after just one inning because of a right ankle sprain. His previous start wasn't so memorable, either, as the Tigers tagged him for seven runs. Neither was the one that came before it in Houston, where he suffered a bruised left thumb.
Anderson really hasn't looked himself since Opening Night, and his troubles have contributed to concern surrounding the entire A's starting staff, largely the same one that compiled a 3.80 ERA last year, the third best mark in the American League.
This season, though just 22 games old, Anderson and fellow youngsters Jarrod Parker, Tommy Milone and A.J. Griffin have allowed 58 earned runs spanning 91 innings for a 5.74 ERA. Bartolo Colon, with a 2.42 ERA, is the only one offering consistency.
"Baseball's a humbling game," Anderson said. "You can't get complacent in this game, because there are guys eying to take your job. I'll go out there and pitch that way a little bit, with that mindset of going out there to pitch for your job, per se, and give you a little extra motivation.
"Maybe help a grandma across the street or burn my locker to get some better mojo going, because I'm a better pitcher than that."
"It just seems like he's out of sync at times, where for whatever reason at times he loses his command, gets behind," Melvin said.
Anderson appeared to be heading in the right direction Wednesday, as he allowed just two baserunners his first time through the order. But five batters reached base the second time around, and the damage only escalated from there. Anderson boarded nine of his final 10 batters, and a three-run lead gained by his teammates off Jon Lester courtesy of Chris Young's three-run shot over the Green Monster suddenly turned into a 6-3 deficit.
The A's tacked on two more runs by day's end, one the result of another home run from Young in the eighth, but that's all they were allowed -- despite Lowrie's near-double in the ninth off closer Andrew Bailey -- from a Red Sox club that has won nine of its last 12.
"It's where you wish that there were more replays for boundary calls, too," Melvin said. "Not just home runs."
"It's easy to say that now, but I have been [supportive of more replay] in the past," Lowrie said, "and it doesn't change the way I feel about it after this call. I think it's good for the game. It's about getting it right."
Jane Lee is a reporter for MLB.com. Read her blog, Major Lee-ague, and follow her on Twitter @JaneMLB. This story was not subject to the approval of Major League Baseball or its clubs.