Bats quiet again as Nats can't back Strasburg
Washington drops under .500 for first time since 2011 season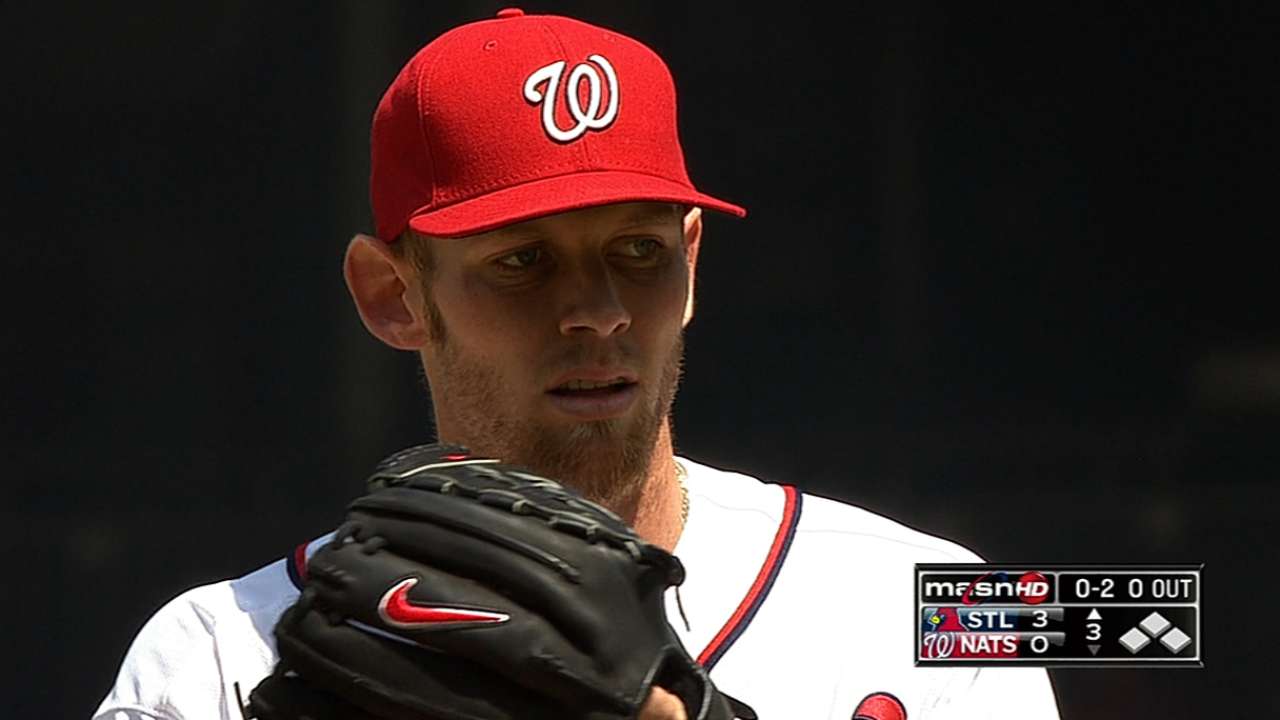 WASHINGTON -- The Nationals' clubhouse was quiet on Wednesday.
After a fourth straight loss and a ninth loss in 12 games, no music was played. Manager Davey Johnson talked about switching up the lineup. Jayson Werth stared into his locker.
"They always say it's better to be lucky than good, and we're neither right now," Werth said.
Werth homered in the eighth inning and Stephen Strasburg pitched seven strong innings, but the Nationals were swept for the second time in three weeks with a 4-2 loss to the Cardinals before 33,694 at Nationals Park. The preseason National League favorites fell one game below .500 for the first time since the last day of the 2011 season.
"It's frustrating," Johnson said. "We're just not doing the things we're capable of doing, guys are trying to do too much. [Shortstop Ian Desmond] looks like he's trying to hit the ball to the light tower. Little things where guys are trying to create something, and it's not there yet. It's just one of those things."
Strasburg was rattled in a three-run first inning, but retired 15 of the last 16 batters he faced. He struck out seven, walked one and allowed just five hits over seven innings of work. After falling behind in the count against four of his first five batters, Strasburg threw first-pitch strikes to 13 of the next 15.
"I was trying to throw the perfect pitch," Strasburg said. "I tell myself going into the game 'Don't do that,' and I go out there and I do it. I was really happy that I was able to make the adjustment, get the feeling back."
The Cardinals got to Strasburg early as leadoff hitter Matt Carpenter doubled on the second pitch of the game. Matt Holliday and Yadier Molina each singled, with Molina's hit plating two runs, and Carlos Beltran walked and then later scored on Anthony Rendon's error. When all was said and done, the Cardinals led 3-0 after one inning.
Strasburg settled down in the third, fourth and fifth, retiring the Cardinals in order each time. But the offense didn't follow suit.
On a beautiful afternoon in the nation's capital, the Nationals' performance at the plate was far from pretty. Washington ended a 19-inning scoreless streak in the sixth inning, but finished with just two runs on seven hits. After three innings, the team had just one hit -- a bunt single by Desmond in the second -- and two strikeouts.
"We're just trying to get the ball rolling," Desmond said. "It is what it is. What are you going to do? Sit back? That doesn't ever work. It'll get going."
The Nationals' offense finally got going in the sixth, when the most unlikely catalyst -- Strasburg -- singled up the middle and scored on a Bryce Harper groundout three batters later. Denard Span (single) and Tyler Moore (walk) also reached base, but were stranded at the corners when Desmond struck out to end the inning.
The Nationals haven't scored in 34 of their past 37 innings, but Johnson and his players said they aren't concerned. Cardinals manager Mike Matheny agreed.
"I don't even look at them as scuffling," Matheny said. "They're a team to worry about. They're a good club, and they're going to score their share of runs. It's just a matter of when."
Despite his fourth quality start of the season, Strasburg fell to 1-4. Johnson will insert Steve Lombardozzi into Thursday's lineup, most likely at third base. And with four-game series against the Reds and Braves looming, the quiet players in the Nationals' clubhouse hope they can catch their offensive stride sooner rather than later.
"This is definitely not the end of the world," Werth said. "We're just going through it. ... Hopefully we'll get over this soon and start playing good baseball and things will start going our way. At some point, I really do believe the ball will start bouncing our way."
Tom Schad is an associate reporter for MLB.com. This story was not subject to the approval of Major League Baseball or its clubs.