Gallardo leads Brewers to ninth straight win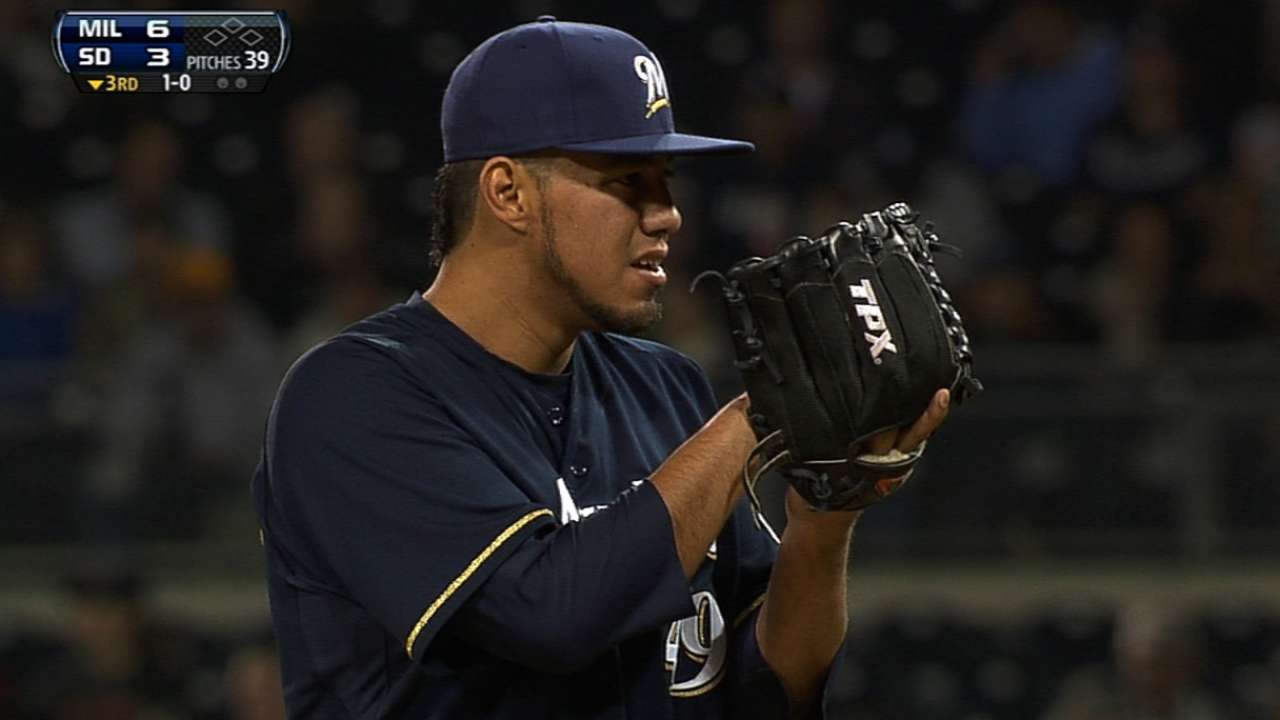 SAN DIEGO -- Timely hitting, solid defense, efficient starting pitching and a lockdown bullpen -- what more can a big league club ask for?
The Milwaukee Brewers have put on a clinic on how to win ballgames during their current winning streak, which they extended to nine games on Tuesday night with a 6-3 victory over the Padres.
The Brewers were again solid in all phases of the game, using a five-run second inning and a quality start by Yovani Gallardo to propel the club to its longest winning streak since it won 10 straight in August 2003.
"Pitching has been really good," said Brewers manager Ron Roenicke, who was ejected in the fifth inning for arguing a check-swing call. "We're scoring early, then they're holding on. The bullpen's unbelievable. All I see is zeroes. Every time they come in, they throw up zeroes. That's why we're winning."
After falling behind in the first, Milwaukee batted around in the second, banging out six hits that scored five runs. Yuniesky Betancourt's two-run single gave the Brewers a 3-2 lead, and catcher Jonathan Lucroy's bases-loaded double brought home two more for a 6-2 lead and knocked Padres starter Clayton Richard out of the game after just 1 2/3 innings.
Gallardo struggled a bit with his command early. But he managed to settle down and toss his second quality start in a row, allowing three runs on eight hits over 6 2/3 innings.
"I don't know why he's out of whack like he is," Roenicke said. "The good thing is, if he can keep us in ballgames and win ballgames when he's struggling, it's going to be a nice thing when he gets it going."
Gallardo only managed 58 strikes over 108 pitches, but was aided yet again by some top-notch defense. Shortstop Jean Segura made a couple very difficult plays -- one a double play on a line drive, one on a backhand in the hole -- and first baseman Alex Gonzalez turned an important double play early on.
"You look behind you, and all the guys are making those great plays -- It motivates you," Gallardo said. "If you have everybody behind you, it motivates you even more to just keep battling."
The veteran right-hander ran into trouble in the seventh, loading the bases on three consecutive two-out walks. But the bullpen saved the day once again as left-hander Tom Gorzelanny came on and struck out Yonder Alonso on three consecutive sliders to end the threat.
John Axford and Jim Henderson followed with a scoreless frame apiece, as the Brewers bullpen has now allowed just four runs in its last 33 1/3 innings.
"We're a close group down there, and that's a good thing," said Axford, who cited a mechanical adjustment as the key to his six-outing scoreless streak, which followed a stretch of nine earned runs over 3 2/3 innings. "We're all just feeding off each other, we're all rooting for each other, and that's the biggest thing."
The Brewers jumped out to a 1-0 lead in the first when Ryan Braun's RBI groundout plated Segura, who had tripled. The Padres quickly responded, taking what would be their only lead of the night on back-to-back RBI singles from Carlos Quentin and Alonso.
But Milwaukee struck for five in the second inning and wouldn't look back from there.
The only blip on an otherwise calm night for Milwaukee was Roenicke's ejection. It appeared Padres third baseman Chase Headley went around on a check swing, but third-base umpire Clint Fagan and home-plate ump Gary Darling didn't think so. When Roenicke objected from his spot at the top step of the dugout, Darling tossed him.
After the game, Roenicke voiced his displeasure at being ejected. But things are going so well right now for his club, he was light-hearted about that, too, saying at least he got to watch his lights-out bullpen from a better angle -- on the manager's office flat screen.
Given the way the Brewers have been playing, there's not much Roenicke can complain about.
AJ Cassavell is a reporter for MLB.com. Follow him on Twitter @ajcassavell. This story was not subject to the approval of Major League Baseball or its clubs.