Brantly's four RBIs key hit parade as Marlins roll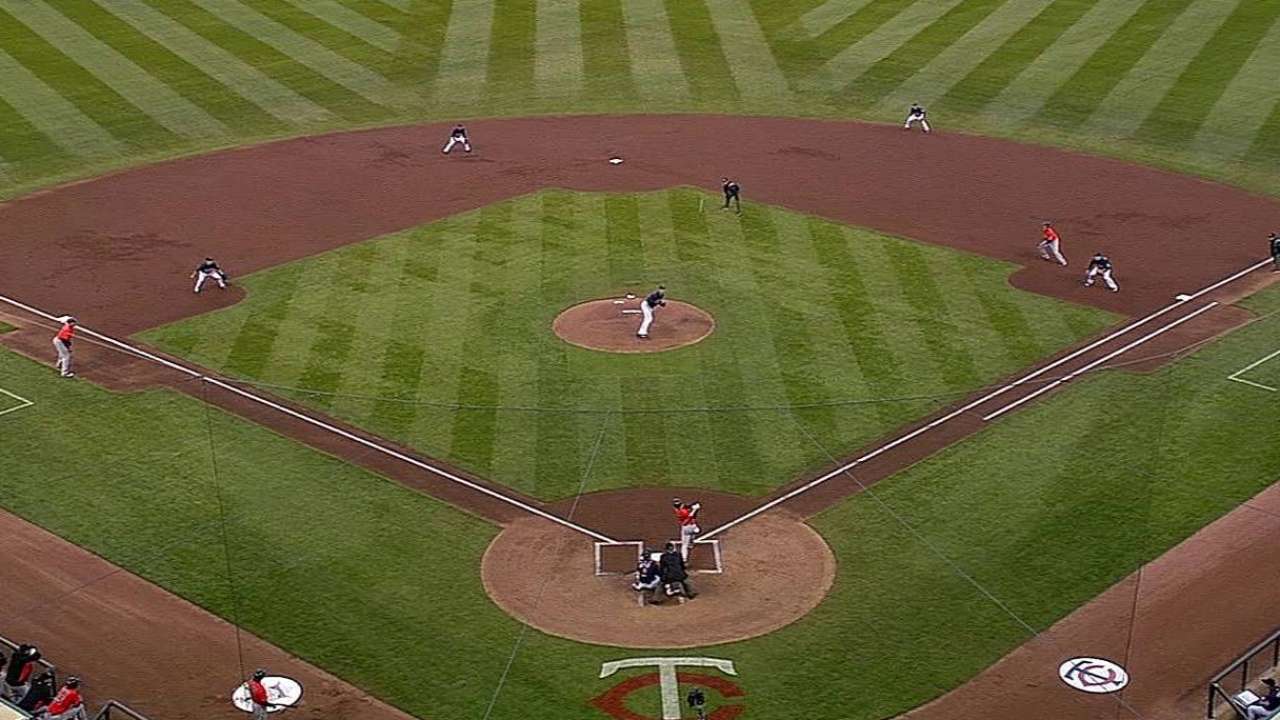 MINNEAPOLIS -- Before Game 2 of Tuesday's day/night doubleheader, Marlins manager Mike Redmond stressed the need for more run production.
His team responded.
Rob Brantly had three hits and a career-high four RBIs, and the Marlins defeated the Twins, 8-5, to gain a split on a cold day at Target Field.
"It was a good game today," Brantly said. "I'm glad our team responded the way they did after the first game. We came back hungry and we went after it."
Miami posted a season-high 16 hits to give Ricky Nolasco enough support to collect his first victory of the season. The right-hander (1-2) improved his franchise-record wins total to 77.
"That was fun," Redmond said. "We had some great at-bats. Guys really battled. These guys, they've been able to turn the page. We've had some tough losses. We lose that first game and we came out swinging the bats. We've been pretty resilient that way. I'm proud of our guys. We knew eventually we'd get it going and score some runs."
The eight runs also equaled a high for the season, previously posted on April 16 against the Nationals.
Giancarlo Stanton added two hits and two RBIs.
Miami claimed a two-game split at Minnesota, bouncing back after losing, 4-3, in Game 1.
Nolasco battled for five innings, overcoming the elements and some sloppy play. The right-hander was given an early four-run lead, but nothing has been easy for Miami thus far. And Tuesday night was no different.
Nolasco made it through five innings on 99 pitches, striking out four.
Well before throwing his first pitch, Nolasco dealt with an unexpected rotation switch. About 10:30 a.m., he was walking into the ballpark getting ready to start Game 1. At that time, he was informed rookie Jose Fernandez, who was initially scheduled to start the night game, would be pitching in the afternoon.
Nolasco went back to the hotel to rest up, but his routine was altered.
"I was told at 10:30," Nolasco said. "I'm not going to talk about that situation. I know what I've got to do. I've still got to go out there and pitch. Happy or not, whatever the situation is, I have to go out there and do my job."
The conditions added to the adversity.
The temperature warmed up slightly -- to 42 degrees -- for Game 2, after being at 38 degrees for the afternoon contest, won 4-3 by the Twins.
When closer Steve Cishek, who picked up his second save, recorded the final out, the temperature was 34 degrees.
"It wasn't fun," Nolasco said of the challenge for the entire day. "Just grinded it out. I felt like I did just well enough to win."
Miami's bats heated up in the first inning, too, off Minnesota right-hander Mike Pelfrey.
The Marlins scored three runs in the first. Brantly provided a two-out, two-run double off the wall in right-center. The inning was prolonged because Justin Ruggiano legged out an RBI fielder's choice -- avoiding a double play -- with the bases loaded.
Placido Polanco, who singled with one out, scored the first run when Ruggiano was safe at first.
"Early, I fell behind a lot and made bad pitches," Pelfrey said. "I put myself in a situation where I had to throw strikes and the walk didn't help either. And then I made that mistake to Brantly for that double and they ended up scoring three runs."
In the second inning, the Marlins pushed across a run on Stanton's fielder's choice RBI ground ball to third with the bases loaded.
Nolasco breezed through the first two innings, retiring six straight on 25 pitches. But in the third inning, the Marlins had breakdowns in several areas.
Nolasco gave up three runs, with two earned. Eduardo Escobar, who singled to open the inning, scored on a wild pitch. Brian Dozier walked after drawing out an 11-pitch at-bat, and Joe Mauer had an RBI single.
Joe Mahoney was charged with an error at first base on a slow grounder by Oswaldo Arcia, as the third run scored. Brantly also had a passed ball in an inning Nolasco threw 35 pitches.
Miami tacked on a run in the fifth inning on Brantly's RBI double. And in the seventh inning, Brantly and Chris Valaika each chipped in with run-scoring singles.
In just three of their first 20 games the Marlins scored more than three runs. They were able to exceed that plateau with four runs through two innings.
"We swung the bats really well tonight," Nolasco said. "I thought we put together a lot of at-bats. Any time a team gives you a four-run lead early in the game, it can just change the way you pitch. You can start challenging guys. In that third inning, I got a couple of tough breaks. They found some holes. I was able to limit the damage and keep them there. I'll take that on a day like today."
Joe Frisaro is a reporter for MLB.com. He writes a blog, called The Fish Pond. Follow him on Twitter @JoeFrisaro. This story was not subject to the approval of Major League Baseball or its clubs.