Rockies, Garland unable to heat up in nightcap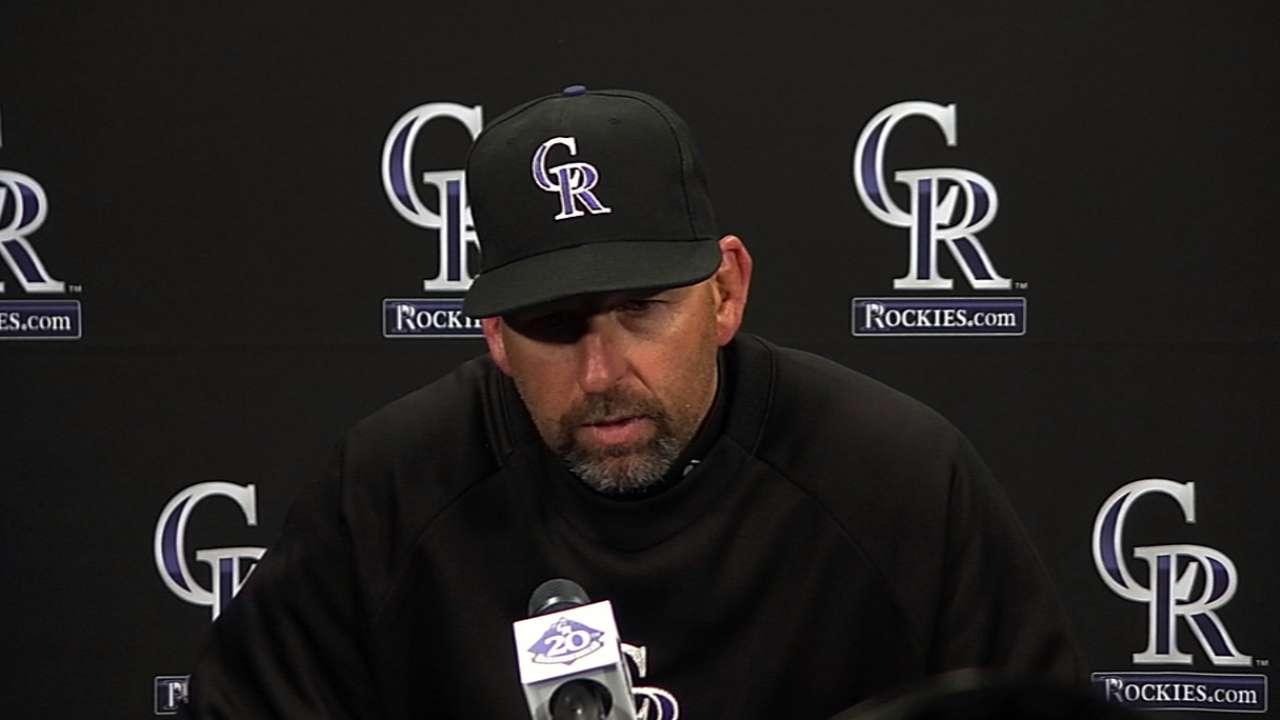 DENVER -- Coors Field is a wonderful place to homer an opponent into submission. For the first time this season, the Rockies know how it feels to be on the wrong end of clubbing bats.
Juan Francisco homered for two runs in the fourth and the Upton brothers, B.J. and Justin, hit consecutive solo shots in the fifth as the Braves completed a doubleheader sweep with a 10-2 victory Tuesday night to complete a freezing day that was icy for the home team.
All the homers in the nightcap came off Rockies right-hander Jon Garland (2-1), who gave up 10 hits in six innings. The Braves (15-5), who entered the day tied with the Rockies (13-7) for the Majors' best record, also hit three homers in the opener, a 4-3 Atlanta victory with Jeff Francis absorbing all the long-ball damage. The Braves also entered the day leading the National League in home runs by one over the Rockies, who have lost three straight for the second time this season.
The first-pitch temperature in the first game was 23 degrees, lowest in a Major League game since STATS Inc. began tracking it in 1991, and it was a balmy 30 at the start of the nightcap. Yet the team from "Hotlanta" seemed to take over Coors Field, with Braves fans among the brave and shivering attendees vocally cheering and tomahawk-chopping to their hearts' content.
Before Tuesday, Garland had given up just one home run in 33 career innings at Coors.
"I've maintained this whole time, if you don't make pitches, you're going to get hit," Garland said. "A lot of those pitches were up, didn't move. I was walking guys, putting guys on in front of hits. It was just a bad night overall."
Rockies manager Walt Weiss gave a simple but difficult-to-accomplish plan for beating the Braves.
"You've got to keep them in the yard," he said. "We had a tough time doing that today. They ended up with six homers in the two games. That's what they do. It's a quick-strike team. They hit the long ball."
The Rockies have lost a series at home for the first time this season, and are 5-3 during a homestand that ends with Wednesday afternoon's series finale. Needing a starter to fill in for Jhoulys Chacin (back strain), the Rockies called up right-hander Tyler Chatwood, who was 1-0 with a 1.84 ERA in three starts at Triple-A Colorado Springs.
Garland said his troubles had more to do with not being able to keep balls down in the strike zone than the weather.
"It made it miserable," Garland said. "It wasn't fun. It made it a little bit tougher to grip the ball, but I'm not going to sit here and say it's the reason I missed my pitches. Throughout the game, I was able to make pitches.
"It's not fun, especially for position guys who are standing around. Even for a pitcher, you're moving around, but I couldn't feel my feet after the second inning."
Braves right-hander Julio Teheran (1-0) entered with a 7.31 ERA but left the Rockies feeling cold in seven innings. Teheran gave up eight hits but allowed only one run on Michael Cuddyer's two-out single in the third for a 1-0 lead.
"We got some hits off of him, but he did a good job of battling," Rockies second baseman Josh Rutledge said. "When we did get those hits, we couldn't put any runs across."
In the fourth, Francisco's fourth homer of the season and Jordan Schafer's two-out RBI single gave the Braves a 3-1 lead.
B.J. Upton's homer was his third and Justin Upton's was his 11th. It marked the third time they've homered in the same game since both joined the Braves over the winter -- B.J. as a free agent, Justin in a trade with the D-backs. It was their first back-to-back homers, and it marked the 27th time in Major League history that brothers had gone deep in the same contest.
The sweep was big for a Braves team that had lost four of their last five before Tuesday, a stretch that included dropping three of four in Pittsburgh.
"To come out here and do what we did today with the conditions, and not give away at-bats, get good pitches to hit, and put some hits together, that can boost us," Justin Upton said.
The Rockies tacked on a run in the ninth on three consecutive two-out singles by Yorvit Torrealba, Jonathan Herrera and Eric Young Jr. It was part of a three-hit night for Young, who is 12-for-30 (.400) during the current homestand.
Thomas Harding is a reporter for MLB.com. Read his blog, Hardball in the Rockies, and follow him on Twitter @harding_at_mlb. This story was not subject to the approval of Major League Baseball or its clubs.