Braves erupt to sweep twin bill in frigid Colorado
Uptons belt back-to-back jacks as Teheran cools off Rockies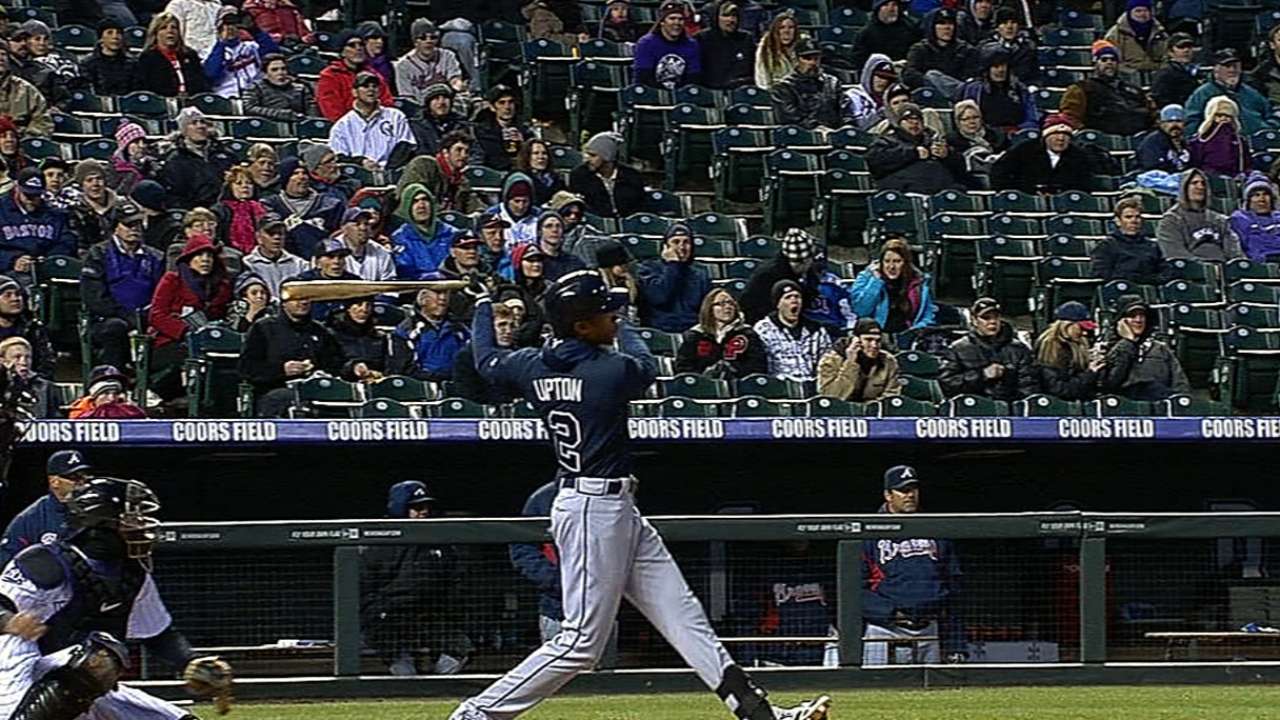 DENVER -- The Braves continued their 20-year legacy of domination over the Rockies on Tuesday, exploding in the nightcap of a doubleheader and rewriting the history books while blasting three homers in two innings to top the Rockies, 10-2, and complete a clean and cold sweep of the twin bill.
On a day that started with 23-degree temperatures at first pitch of the first game and peaked at 30 degrees in late afternoon, the Braves resumed their homer-happy ways to the tune of six roundtrippers on the day for a best-in-baseball 35 homers.
Juan Francisco, B.J. Upton and Justin Upton all homered off Rockies starter John Garland in the span of two innings, giving the Braves five runs in the fourth and fifth innings after Colorado took a 1-0 lead in the third. It was Justin's Major League-leading 11th homer, following hard on the heels of B.J.'s third and marking the first time big league brothers had gone back to back in 75 years. The only other players to do it were Hall of Famers Lloyd and Paul Waner for the 1938 Pirates.
"They make your lineup a lot better," Braves manager Fredi Gonzalez said. "For me, Justin is your No. 3 hitter. It doesn't matter who's on the mound that night, he's No. 3 and he fills that void. Boy, has he had a great April so far."
Justin's 11 homers in April set a Braves record -- with a week to go in the month -- and he's homered in every game B.J. has homered in.
"I'm a mean little brother," Justin joked. "It's always cool when you can see him have success before you and then you go and do the same thing. It was definitely cool, and for us to tack on those runs we needed, it was nice."
Gonzalez had considered resting one of them for a game of the doubleheader, but Justin keeps heating up at .307 (23-for-75) with a team-high 16 RBIs, and though B.J. has had a slow start to the season, Gonzalez saw his swing coming around and decided to keep him in the lineup.
"That's why they give me the big bucks, to pay attention to those things," Gonzalez joked of the decision to roll with B.J. "With him and Danny [Uggla] and [Andrelton] Simmons, you stay in their corner, because you see the work that they do. As long as their confidence level's there and they keep working and fighting, then you got to stay in their corner and keep putting them in there."
Julio Teheran helped make it a lopsided night, in keeping with the Braves' 106-60 record over the Rockies since Colorado joined the league in 1993 and a 15-3 record since the start of 2011. Teheran held Colorado to one run on eight hits -- all singles -- walking none and striking out three over seven innings for his first win of the year and his first quality start in eight big league attempts.
"I never pitched in weather like this before," Teheran said. "It was really cold the whole game, but I was trying not to think about it. I was just trying to concentrate on my pitches and something I did in the start before, trying to get ahead in counts."
The only damage against him came in the third inning when Eric Young Jr. hit a one-out infield single to second. Dexter Fowler followed with a single to center and Michael Cuddyer plated Young with a two-out single to left.
"He did a nice job," Gonzalez said. "They got a run early off him, but then he settled down and gave us seven innings. We were able to add on some runs late in the game and help him out.
"I'll tell you one thing he did really, really well was every time we scored a run, he got a shutdown inning and got us back into the dugout so we could keep swinging the bats. That's nice to see."
Colorado had won eight of its past nine games entering the doubleheader, while Atlanta had lost four of five, but the tide turned as Teheran and the bullpen stifled the Majors' hottest hitting team entering the day and battered a pitching staff that had been surprisingly strong.
"This Atlanta club, you've got to keep them in the yard," Rockies manager Walt Weiss said. "We had a tough time doing that today. They ended up with six homers in the two games. That's what they do. It's a quick-strike team. They hit the long ball."
While all their runs in the first game came from homers, the Braves found other ways to add on in the nightcap. Gerard Laird and Jordan Schafer contributed a pair of hits to produce another run in the fourth, and Simmons sparked a sixth-inning rally with a leadoff bunt single to third. Two walks, a sacrifice and a sacrifice fly pushed across an insurance run, and a four-hit, four-run rally in the ninth gave Justin Upton, Francisco and Laird multihit games.
"Getting two games in after last night and early this morning with the snow -- we got the games in," Gonzalez said. "We swung the bats well. Our No. 8 hitters had six or seven hits and kept turning that lineup over."
The eight-hole hitters were Reed Johnson, who went 4-for-4 in Game 1, and Schafer, who was 2-for-4 with a walk and an RBI in Game 2. Johnson and Schafer will be platooning in right field while Jason Heyward recovers from Monday's appendectomy, and they showed themselves extremely capable of filling the void.
The two victories over Colorado gave Atlanta sole possession of the best record in baseball at 15-5.
"Coming off of three losses in Pittsburgh, that definitely wasn't fun," Justin Upton said. "To come out here and do what we did today with the conditions, and not give away at-bats, get good pitches to hit and put some hits together, that can boost us."
Owen Perkins is a contributor to MLB.com. This story was not subject to the approval of Major League Baseball or its clubs.