Iwakuma K's 11, but Mariners fall to Astros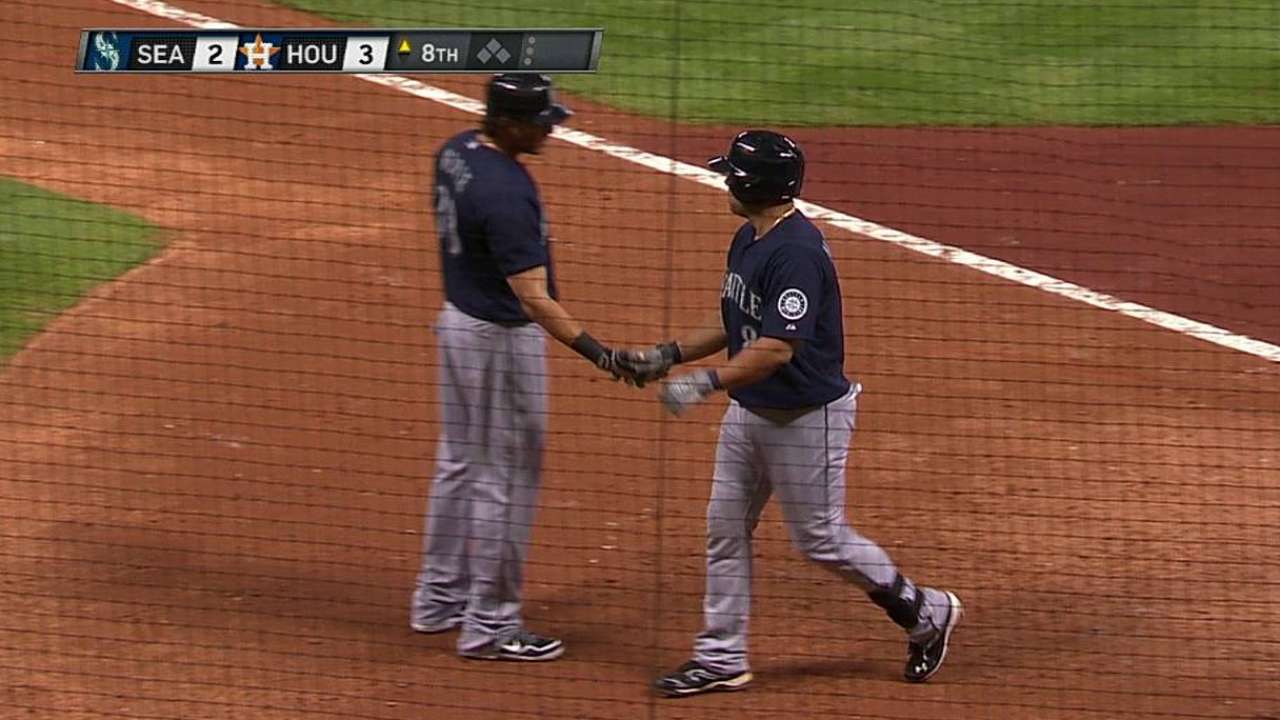 HOUSTON -- Hisashi Iwakuma gave up just two earned runs and struck out 11 in five innings Tuesday, but the Mariners right-hander received his first loss of the season as the Astros topped the Mariners, 3-2.
Iwakuma has been outstanding in five starts this season but has been hindered by a blister on his throwing hand, and he was pulled after 93 pitches while trailing, 3-1.
"It's still an issue," manager Eric Wedge said. "We'll have to make his next start on regular rest, then after that we'll have an opportunity to maybe give him a couple days, working with the off-days. We're just trying to get to that."
The 32-year-old gave up a season-high six hits and allowed three total runs as his record fell to 2-1 with a 1.99 ERA.
Iwakuma said he did not have his normal command, but he also did not blame anything on the sore middle finger that has prevented him from working on his off-speed pitches between starts all season.
"I'm being able to pitch every five days, and that's a good thing," Iwakuma said through translator Antony Suzuki. "It's all about being able to monitor and manage the situation right now, and I'm happy to battle with each day that I'm on the mound. Our trainers are working on it every inning. That part makes it tough, but besides that I've been able to pitch."
The Mariners have more than just Iwakuma's blister to worry about, however. Lack of timely hits cost them again as they failed to take advantage of numerous early scoring opportunities against Houston starter Bud Norris.
Three of the Astros' six wins this season have now come against the Mariners, as they improved to 6-14 with just their second victory in the past 10 games. Seattle (8-14) will try to win its first season series Wednesday afternoon in the final game of a six-game Texas trek.
The Mariners racked up eight hits in the first five innings against Norris while scoring just once, then tallied just one hit in four frames against three Astros relievers.
"The at-bats are definitely getting better, and we did have a lot of hard outs and long outs, but we still have to do better than that," Wedge said. "I do think we've got guys heading in the right direction. That's evident in the quality of at-bats the last two nights. But having said that, it's all about winning and losing. We have to do a better job of finding ways to win ballgames."
Dustin Ackley singled in the second and scored on Endy Chavez's double into the right-center gap, tying the game at 1 before Chavez was caught in a rundown while heading for third.
Kendrys Morales later cut Houston's lead to 3-2 with a monstrous homer to left-center leading off the eighth against reliever Travis Blackley, Morales' third of the season.
But that was all the damage the Mariners could do against an Astros team that came into the game with an American League-worst 5.49 ERA.
Norris lasted just two-thirds of an inning in his last start against the A's, but he kept the Mariners to a single run despite allowing two hits in each of the first three innings.
"I didn't have my best stuff today, but I battled and made it through five innings and kept it a one-run, two-run ballgame," Norris said. "I have a comfort zone at home. Our job [as starters] is to pass it on to the bullpen. Getting the lead makes it easier on us."
Ackley went 1-for-4 on the night and is 9-for-26 (.346) over his last six games, finally elevating himself to the Mendoza Line at .200 after a difficult start.
Justin Smoak again found Minute Maid Park to his liking with a 2-for-4 night. Smoak is 11-for-21 (.524) with two doubles, two home runs and nine RBIs in five games in Houston, the first three coming while he was with the Rangers.
"[Norris] pitched well for them, and we hit some balls hard off him," Smoak said. "We just didn't get the job done tonight. We had guys on and hit balls hard; just things didn't go our way."
Kyle Seager extended his career-best hitting streak to 12 games with a fifth-inning single. He finished 1-for-3 with a walk to raise his average to .278.
But none of that added up to much scoring as Raul Ibanez stranded five runners in an 0-for-4 night, and the Mariners as a team were 1-for-5 with runners in scoring position.
"I think the guys are trying to do too much," Wedge said. "But this is the big leagues. You've got to manage your heart, manage the anxiety, manage your expectations and just go up there and relax and compete."
Houston managed an unearned run in the first when Jason Castro walked, then scored from first when Chris Carter's single got past Ibanez and rolled to the wall.
Astros shortstop Marwin Gonzalez ripped a home run leading off the third inning. It was Gonzalez's third long ball of the season, with all three coming against the Mariners. Iwakuma's other run came when he hit Justin Maxwell in the hand with the bases loaded to make it 3-1.
Greg Johns is a reporter for MLB.com. Follow him on Twitter @GregJohnsMLB as well as his Mariners Musings blog. This story was not subject to the approval of Major League Baseball or its clubs.