Norris solid, but Maxwell injured in Astros' win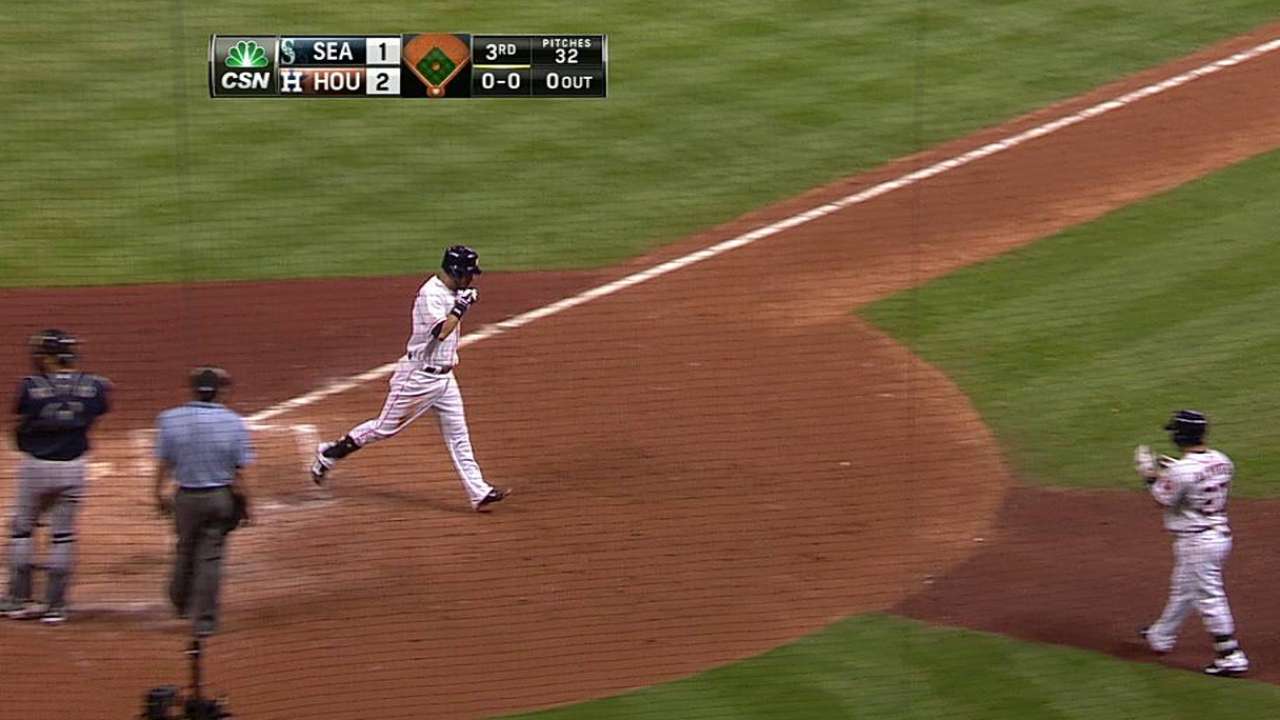 HOUSTON -- When a team is struggling like the Astros, any win is big. But Tuesday's 3-2 win over Seattle at Minute Maid Park was tempered a bit as Houston starting center fielder Justin Maxwell was placed on the 15-day disabled list with a fractured left hand.
Maxwell was hit by a pitch from Seattle's Hisashi Iwakuma in the third inning with the bases loaded that resulted in the Astros' taking a 3-1 lead.
In only five innings, Iwakuma had 11 of Seattle pitchers' 15 strikeouts, but the Astros probably wish Iwakuma had a little better control and had not hit Maxwell, a key component for the Astros.
"It's tough; he's a staple in center field," said Astros starter Bud Norris (3-2), who earned the win in a five-inning stint. "We'll miss his bat in the lineup and his leadership."
The Astros did receive some power in Marwin Gonzalez's third home run of the season among Houston's eight hits. The Astros (6-14) have homered in seven consecutive games and have 22 home runs through 20 games.
Gonzalez has hit .500 (6-for-12) with three home runs and four RBIs in four games against the Mariners this season.
"Marwin had a big hit tonight," Astros manager Bo Porter said. "He's made great strides."
For the seventh time in the last eight games an Astros starting pitcher failed to last beyond the fifth inning. But Norris gave up just one, and the Astros benefited from Gonzalez's third-inning home run while surviving a mammoth eighth-inning homer by Seattle's Kendrys Morales off Travis Blackley.
"Every win is big," said Astros reliever Hector Ambriz, who replaced Blackley after he gave up Morales' 444-foot homer to left-center and retired all three batters he faced and set up the save for Jose Veras. "What matters is we got the win."
The win was only Houston's second in the last 10 games since a three-game winning streak that included two at Seattle.
Norris was coming off the shortest start of his five-year career, two-thirds of an inning last Wednesday in a loss at Oakland.
On Tuesday, Norris avoided trouble for the most part, allowing eight hits and two walks, but Seattle's only run off Norris came in the second inning on a RBI double by Endy Chavez. Norris is 2-1 at home this season with a 2.75 ERA.
"The start in Oakland didn't go the way I wanted," Norris said. "I didn't have my best stuff today, but I battled and made it through five innings and kept it a one-run, two-run ballgame.
"I never got in a groove, but I work well with [Astros catcher Jason] Castro. I have a comfort zone at home. Our job is to pass it on to the bullpen. Getting the lead makes it easier on us."
Norris did not pitch great, but he was effective enough to keep the Astros in the game.
"He's got the fastball, slider, changeup to lefties," said Justin Smoak, who along with Morales and Michael Morse had two hits among nine total for the Mariners. "He pitched well for them, and we hit some balls hard off him.
"We just didn't get the job done. We had guys on and hit balls hard; just things didn't go our way tonight."
The Astros did not face either Felix Hernandez or Iwakuma when the Astros played at Seattle April 8-10. On Monday the Astros faced Hernandez, who notched his 100th career win in beating the Astros, 7-1. On Tuesday, Iwakuma gave up three runs (two earned) and six hits.
The three-game series concludes Wednesday before the Astros embark on a four-game series at Boston and three games at the Yankees.
The Astros showed some hustle Tuesday in a two-run third inning. After Gonzalez's homer gave Houston a 2-1 lead, Jose Altuve followed with a single. Altuve raced from first to third on a line-drive single to center field by Fernando Martinez. Altuve safely beat the throw at third from center fielder Chavez, and Martinez, who never broke stride in running to second, just beat the throw to second base from third baseman Kyle Seager.
Later in the inning, the Astros went ahead, 3-1, when Maxwell was hit by Iwakuma's pitch, forcing in Altuve after Carlos Pena was intentionally walked.
Richard Dean is a contributor to MLB.com. This story was not subject to the approval of Major League Baseball or its clubs.