Phils can't muster offense behind Hamels' solid effort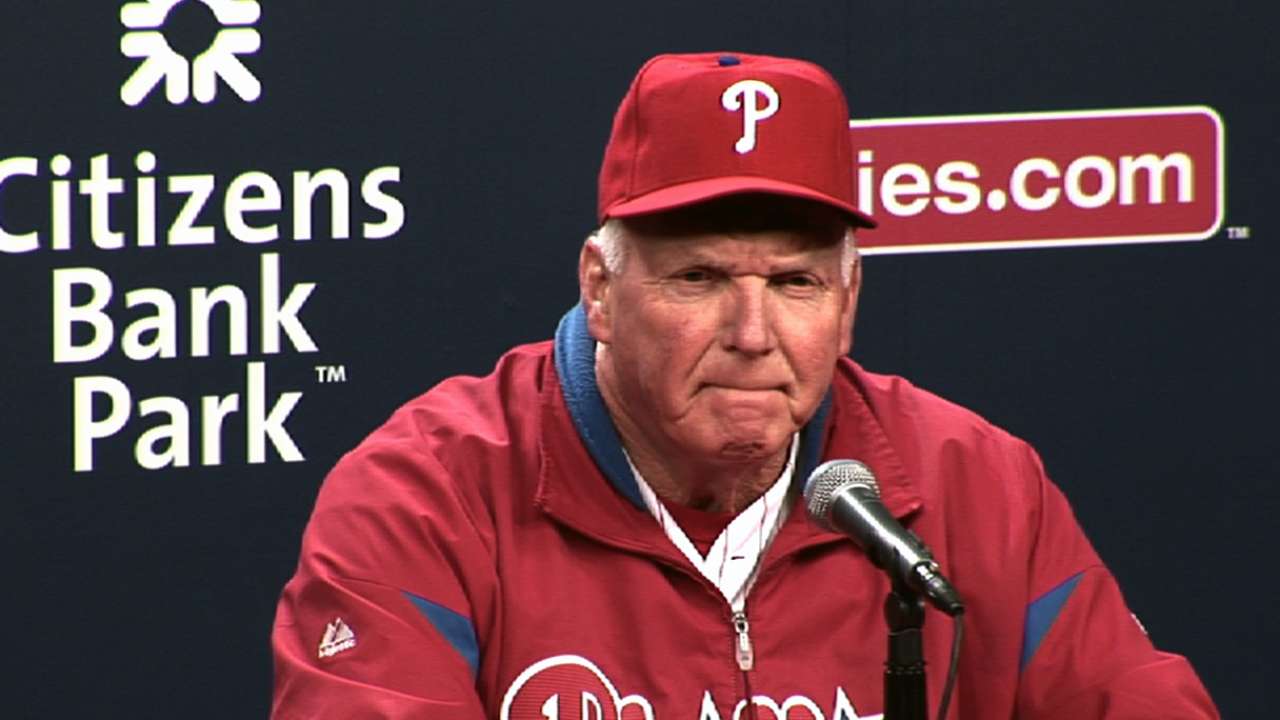 PHILADELPHIA -- This loss left Charlie Manuel wondering what everybody else seems to be wondering.
Can the Phillies hit a fastball? Can they hit, period?
He would like to find out.
"We're going to see if they can hit," he said following Tuesday's 2-0 loss to the Pirates at Citizens Bank Park. "Believe me, I'm pulling for every one of them. But that's what we're going to see."
For nearly two weeks, Manuel has watched the Phillies fall short offensively. They have scored just 31 runs in their past 12 games, including their third shutout loss of the season Tuesday. Pirates left-hander Jeff Locke did little to impress Manuel, who said the Pirates' starter did nothing "fantastic." But he still dominated his hitters, who wasted another fine performance from left-hander Cole Hamels.
"He challenged us," Manuel said of Locke. "If I went up there and looked fastball, I would have gotten good balls to hit. We've got to hit some of those fastballs. I hope that don't put a lot of pressure on somebody."
It might help to have Carlos Ruiz and Delmon Young back in the lineup. Ruiz is expected back Sunday in New York. Young could be back in the next couple weeks, if he proves he can play competently in right field.
But Ruiz and Young are not saviors. They need much more than that.
Phillies shortstop Jimmy Rollins believes Manuel will eventually see the results he desperately seeks.
"It happens sometimes," Rollins said. "Throw pitches right down the middle, guys miss them. Paint, guys hit them. It can happen like that. The good thing is, it will come around. Everybody works. That's not a problem. Guys are in the cage, doing what they need to do. It's just transferring it from the cage to the game. Especially if guys are working on new things, it takes a little while to build a little confidence. Sometimes you have to try something different, and it takes a little while."
So it's just a matter of time?
"We've got a lot of it," Rollins said. "We've just got to make sure we take advantage of it."
The Phillies have nine quality starts in their last 12 games, but just five wins to show for it. Hamels has pitched three of those games. He is 0-3 for the first time in his career, and the Phillies have lost five consecutive starts by Hamels for the first time ever.
Hamels struggled terribly in his first two starts this season, allowing 13 earned runs in 10 2/3 innings for a 10.97 ERA. But he has allowed six earned runs in 21 innings in his last three starts for a 2.57 ERA, including two runs in eight innings Tuesday.
The Phillies scored just four runs in his last three outings.
"I'd have to say maybe four or five years ago that would've been frustrating, but I know what I can control and what I can't," Hamels said. "I'm able to go out and execute pitches, pitch deep into the ballgame, obviously try to limit the damage to keep the team in an area of being able to jump on it and get a win. That's all I can do."
The Phillies entered the night with a mediocre .539 on-base-plus-slugging percentage against left-handers, which ranked 29th in baseball. Only the Pirates (.507 OPS) had been worse. The Phillies picked up just their second hit of the night when John Mayberry Jr. hit a leadoff triple to right field in the fourth. Locke then plunked Domonic Brown with a pitch to put runners at the corners with no outs.
Leadoff triple. Hit by pitch. Got to score at least one run, right?
Nope. The Pirates had the infield in when Ben Revere hit an easy chopper to Brandon Inge at third. Mayberry broke for home on contact, giving Inge an incredibly easy decision to throw to the plate. Mayberry was out by a country mile for the first out. Erik Kratz quickly dashed any remaining hopes of a tie game when he bounced into an inning-ending double play.
"Mayberry is going there," Manuel said. "That's like a guy with first and third and nobody out, and he hits it back to the mound, he's going on that. He's been going there as long as baseball has been around. Ever since Abner Doubleday invented the game, he's been going there."
It was the Phillies' best chance to score, but that play wasn't why the Phillies lost. They lost because they did nothing the other eight innings.
"You have to get it done," Manuel said. "Baseball is a game where what you did last year doesn't count. What you are doing now counts. Just because you hit last year doesn't mean you will hit this year. The game will bite you. The game doesn't care how much money you are making. It doesn't know. It can get you. We can talk all we want to. I've heard people get mad or upset. You can be the best player in the world, but you've got to hit. If you don't hit, the first thing that someone does when you go bad is look for someone that can hit."
Todd Zolecki is a reporter for MLB.com. This story was not subject to the approval of Major League Baseball or its clubs.